Victory Motorcycles racer Matt Smith was sharp during final eliminations of the AAA Texas NHRA FallNationals Sunday at Texas Motorplex, but he couldn't get his Gunner past the second round.
Smith had a perfect reaction time in the first round and an excellent light in the second, but No. 1 qualifier Jerry Savoie ended Smith's day in that session with a slightly quicker ET.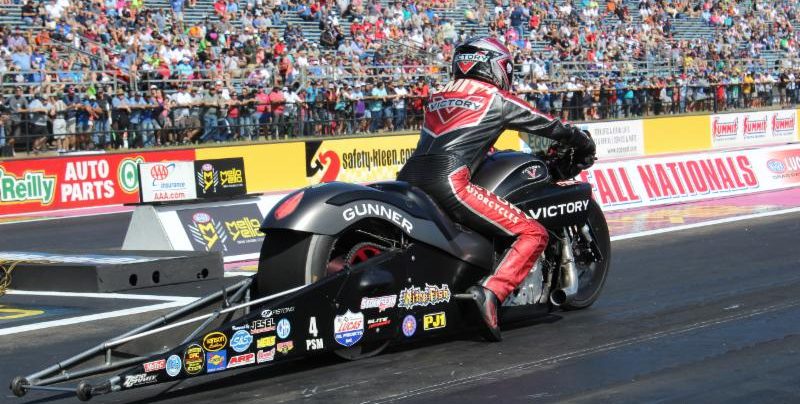 In the first round against No. 8 qualifier Cory Reed, Smith ripped off a perfect .000-second reaction time, with Reed posting a terrific .013 light hiumself. Smith then outran Reed with a pass of 6.893 seconds at 194.35 mph, compared to Reed's 6.926-second pass at 190.43 mph.
"I guess I was perfect, but I got lucky on the side of a mistake basically," Smith said with a wry smile. "We've been close all weekend, but a triple-zero is too close. We got away with one there and we won the round."
Like Reed, Savoie had a .013 light in the second round, and his pass of 6.853 seconds at 195.36 mph was enough to beat Smith's 6.958-second pass at 191.05 mph on a respectable .021-second reaction time.
"This Victory Gunner, we're still struggling with it a bit," Smith said. "We're running OK, that's it. We're not running like we should. We've got to make some changes. We've got to change the fuel injection system that we use.
"We've got to do a lot of testing over the winter and get the new fuel injection system we want to put on and get back like we used to when we were winning our races and championships."
Smith is a two-time Pro Stock Motorcycle champion who has shown some speed in 2016, but he's still looking for his first win on a Victory Gunner.



"We're out here to win races," Smith said. "We didn't show it this weekend. We just didn't run like we should have. Before, we've been running really good and had some kind of problem. But, no problems this weekend; we just didn't run well enough. We'll study the tune-ups and see what happens in Vegas."
Smith would like to use the final two races of the season in Las Vegas and Pomona as tests for 2017, but with anticipated changes for new year, he can't do that.
"We're developing new software for the new fuel injection system," Smith said. "We've got to do that, and we can't run it at all this year, but it will be legal for next year. We're getting that done and we'll be back on good terms next year and run faster."