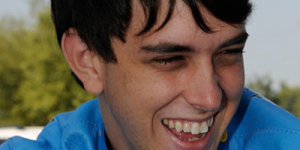 In his two years of NHRA Pro Stock Motorcycle racing, LE Tonglet has experienced the thrilling, unexpected ride into prominence with his fantastic 2010 Countdown to the Championship finish and then a confusing conclusion to the 2011 Full Throttle Racing Series.
His two round-wins at last year's Automobile Club of Southern California Finals secured the championship, making him just the third rookie to win the coveted title and, at 20, the youngest. He also won five races, including four times in five Countdown final rounds, and earned the $20,000 Auto Club Road to the Future Award.
While he thrived then, he's fallen behind the leaders after five Countdown races this year.
"We are ready to get this season over and out of our minds," said Tonglet, driver of the Nitro Fish/Tonglet Racing Suzuki GSX-R. "We want to start getting things together for next year."
Only the Auto Club Finals, Nov. 10-13, at Pomona, Calif., separate them from a new beginning.
Tonglet's playoff performances certainly have not been mirror-images of a year ago, and his results in the 10 regular-season races were not a precursor of what was to come. He won four times – at Atlanta, Chicago, Sonoma, Calif. and Brainerd, Minn. – and climbed from sixth place (283 points) into second (741) before the Countdown.
Since then, however, he has been plagued by mechanical problems. He mustered a mere three round-wins and plunged to eighth place while the leaders pulled away.
"This Countdown hasn't gone as planned, and it certainly isn't as good as last year," he said. "We have worked on the motor and hope we don't hurt anything in this race. We started hurting stuff when the Countdown began and that's when we dropped in points.
"The competition this year has been very tough, and I don't see that slacking off. We've had more than 20 bikes entered at each race." There are 26 on the Finals' entry list.
Even though the results weren't what he sought, the tight racing that ensued has presented Tonglet with an opportunity to move up a few notches should he win a few rounds on Sunday. Only 30 points separate him from fifth place (2,329-2,299), and each round-win is worth 20 points.
"We want to win some rounds on Sunday and see what happens," he said. "That would be a positive way to go into the off-season."