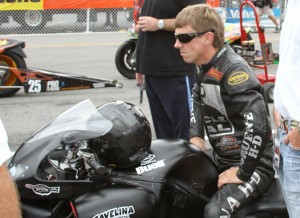 A first round loss in Vegas did not take away all of Michael Rays confidence heading to Pomona, California for the World Finals. " I am really optimistic about this weekend. We ran really good in Vegas, all three of the Matt Smith Racing Buells ran really good. Last race of the year, no pressure to build off of for next weekend, so we are going to throw everything at it and have a good time. We are really excited the bike has been running very good going to try to repeat and improve from last weekend."
A good confidence boost is always when a driver likes the track their heading to. "I raced there a few times Pomona is a real nice facility. It is kind of hollowed grounds for drag racing you can say southern California is where it all started. For a young rookie, an up and comer like my self, I get to come back here and race is really an honor."
For Ray this race is much more then the world finals it's a chance to prepare for the 2012 season. "We got a lot of potential sponsors for next year that are going to come out this weekend so we really want to run good, but the big thing is we are building for 2012 right now. Officially starting today we are working on 2012 to come out here and have a good time."
Ray wants to leave the season on a high note and is ready for the break to prepare for 2012.
"We are fully committed to running with Matt Smith Racing next year. It is not going to be a single bike deal, as far as me going out on my own, it is going to be with Matt Smith under the Matt Smith Racing canopy. We are actually working with a couple production and sports marketing companies to try to put some pretty promising deals together for next year. Definitely not going to do it on my own not ready to go do something like that yet."
Qualifying for the 47th annual Automobile Club of Southern California NHRA Finals at Auto Club Raceway in Pomona begins Thursday at noon, Friday at noon, and Saturday at 11am and 1:45pm.