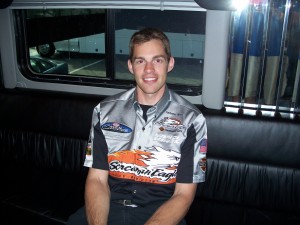 The law of averages caught up with LE Tonglet and his Nitro Fish Suzuki GSXR Pro Stock Motorcycle team Sunday in the title round of the Toyo Tires Nationals at Maple Grove Raceway.
Tonglet's remarkable rookie streak of three consecutive victories and an impressive string of 15 round wins was stopped by Andrew Hines, the driver who was in the opposite lane each time while LE was piling up the extraordinary numbers.
Hines avenged his trio of setbacks when the win light went on in his lane 6.916 seconds after he left the starting line.  Tonglet wasn't far behind, running 6.913 at 190.40 mph.  Hines left the starting line first, .020-second to .043.
Hines also extended his lead over Tonglet to 52 points with two NHRA Countdown to the Championship events remaining.
"We had a lot of good eliminations runs," Tonglet said.  "It would have been nice to win for (Nitro Fish owner) Kenny Koretsky at his hometown track."
"I've been ecstatic with what LE and the Tonglet family have done," commented Koretsky.  "It's really hard to win four races in a row, especially against a driver like Andrew Hines."
Tonglet began his march to the final round by watching Karen Stoffer and Hector Arana lose via red-light starts.  He had times of 6.860 and 6.884 seconds, respectively, before moving to the semifinals.  His 6.881 at 192.85 mph sent home Matt Smith (7.002 at 187.39) and set the stage for the finale.
"We're going to go to our next race at Las Vegas (Oct. 29-31) and come out swinging," Tonglet concluded.