The past few months have been an unmitigated emotional roller coaster for talented Nitro Harley racer Tommy Grimes.
After another dominant season, Grimes, 47, Winston-Salem, N.C.  and his team embraced the euphoria of garnering a second-consecutive NHRA Harley-Davidson Top Fuel Drag Racing Championship in Nov.
A few weeks later, the championship season joy quickly turned to sorrow and despair.  Grimes and his team were stunned when their beloved team owner and motorcycle drag racing legend Ray Price passed away in his sleep at the age of 78 on Dec. 16.
"I was in the paint booth at my work and when I came out I had five missed calls. I had a bad feeling the messages would change my life," Grimes said. "It was very difficult.  Ray was not only a friend, he was my father figure."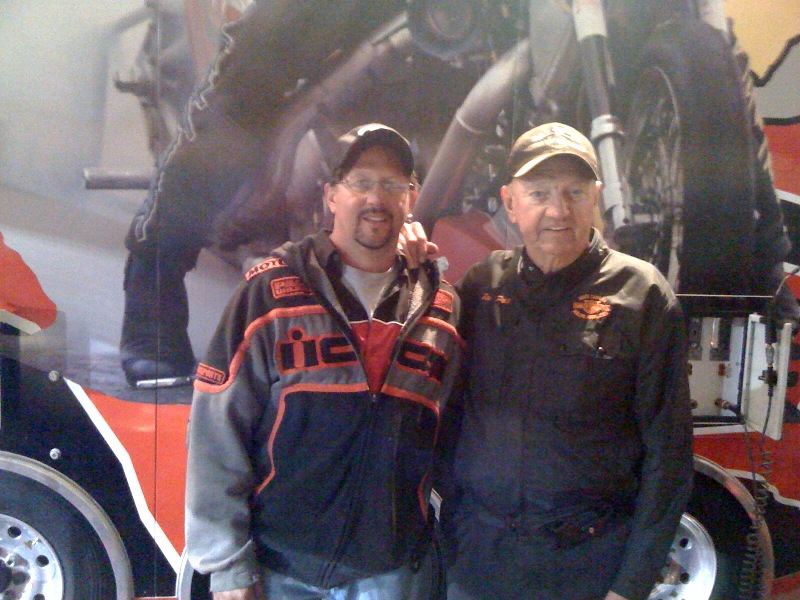 On Jan. 5, management at Price's dealership announced the retirement of the successful team. The news came as a shock to Grimes.
"Ray told me no matter what happened he wanted us to continue on. He said if something happened to him we would continue.  When the dealership called us and said it was best to retire, I was dumbfounded, but what could I say? I wanted to race in Ray's honor this year," said Grimes, a four-time season champion and a 16-time Wally winner.  "You go from one end to the other end. We went from being on top and had a plan to build a new bike, then we lose Ray and the team."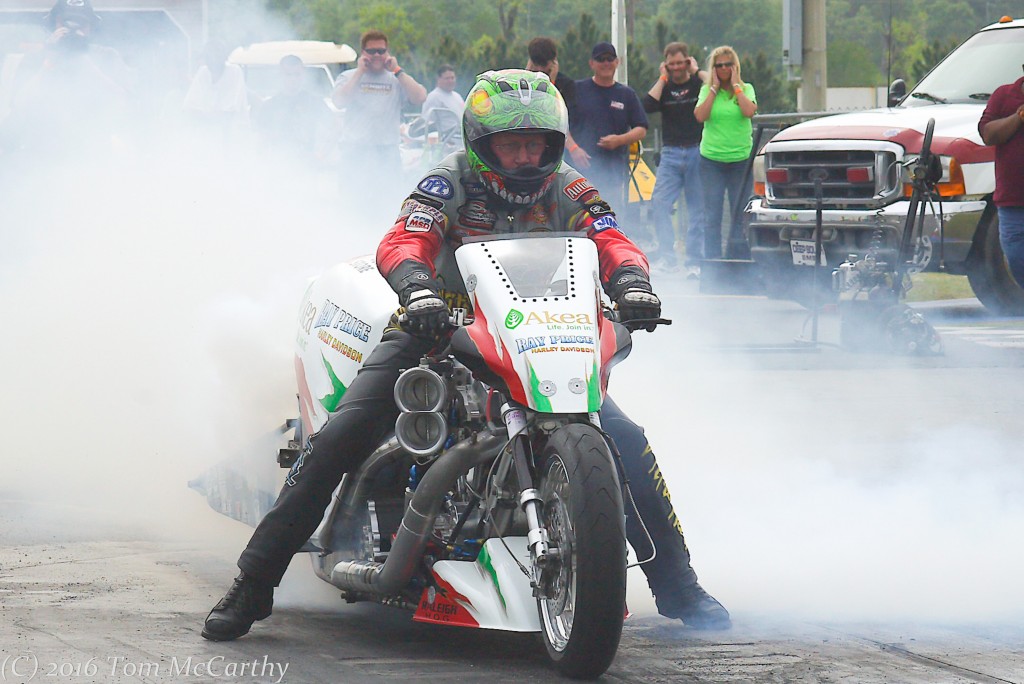 Grimes said the rest of the team was just as stunned at the announcement by Ray Price Harley-Davidson General Manager Mark Hendrix.
"Everyone else on the team had full intentions of continuing on," Grimes said. "I really feel bad for them. All I did was fly in and fly out. Those guys pay their bills by working on the race team. Ray had a race shop too."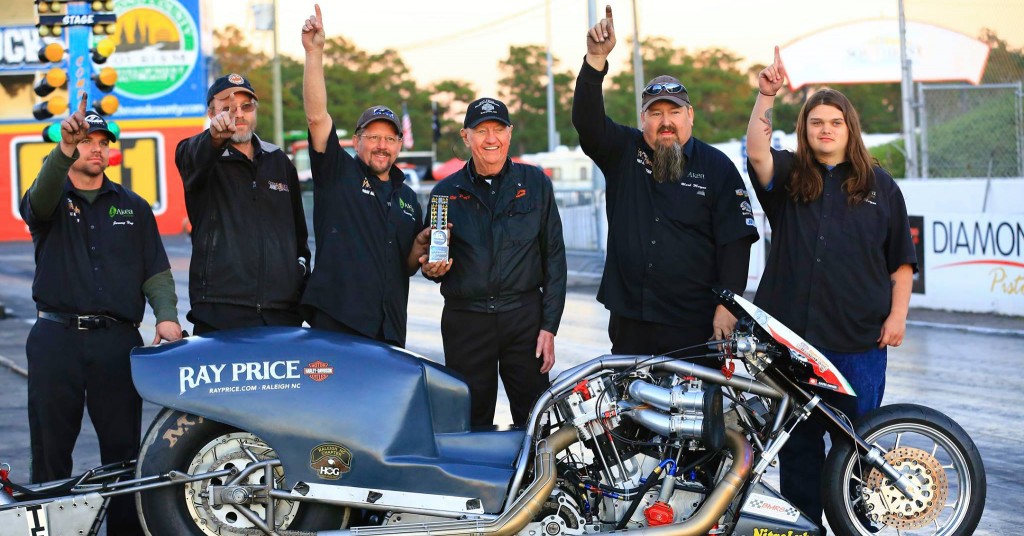 All of this has Grimes unclear on 2016 plans. For the first time in more than 20 seasons Grimes is left without a ride. It's something his wife tells him will drive him crazy.
"I didn't retire, I was told I was retiring," Grimes said. "I plan to do some testing and I'm willing to ride anything."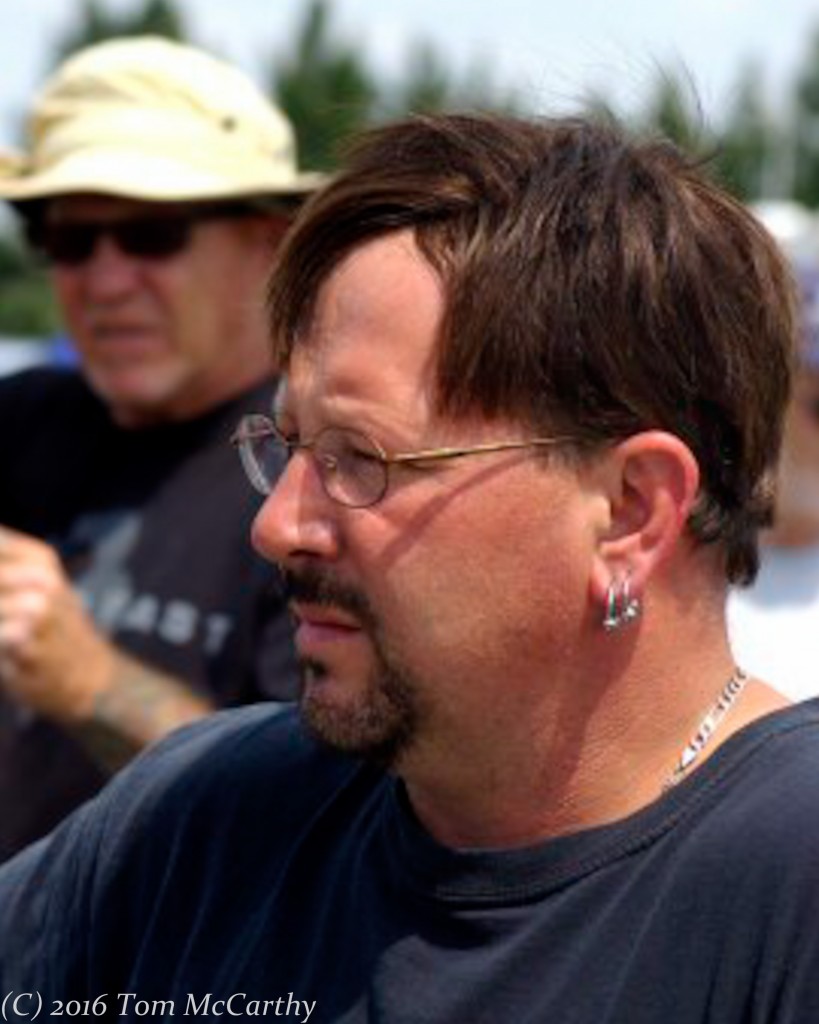 After the retirement announcement Grimes regrets turning down other opportunities that were presented shortly after Ray's passing.
"When it all went down I got a lot of phone calls to ride other bikes. I told everyone I'm not jumping ship until I find out what is going on. I wanted to stay loyal to my team," Grimes said.
Grimes says all of the team's equipment is for sale, excluding the Nitro Harley, which Grimes says will more than likely end up in Price's museum on the second floor of his dealership.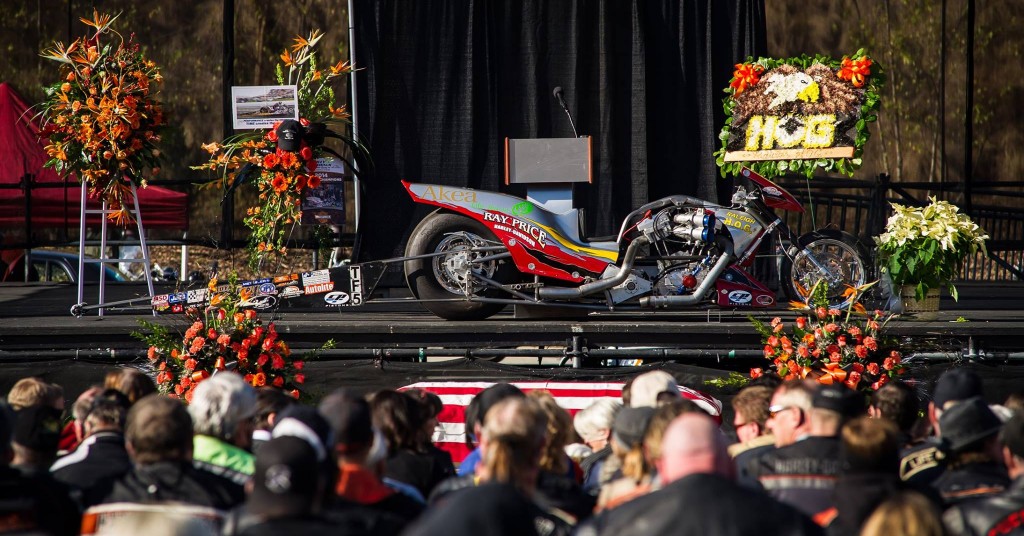 Grimes, an NHRA Pro Stock racer from 2000-2005, once had his own operation. He sold all is equipment when he got the opportunity of a lifetime from Price thanks to an introduction from his friend and fellow racer Freddie Robbins.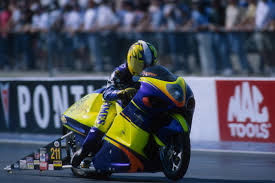 "The only reason I quit Pro Stock is I just thought what an honor it is to ride for Ray," Grimes said. "I never rode a Nitro Harley in my life and had no intention to do so. I always thought those guys were crazy. But my first pass down the track I was hooked."
People grieve and move on in different ways. For Grimes, nothing would be more appropriate than to race this season in Price's honor.
"I was trying to put something together for Ray. He was my inspiration in drag racing and life. I know Ray worked extremely hard on making the NHRA nationals happen this year. I want to be there to support Ray. I just can't do it on my own," Grimes said.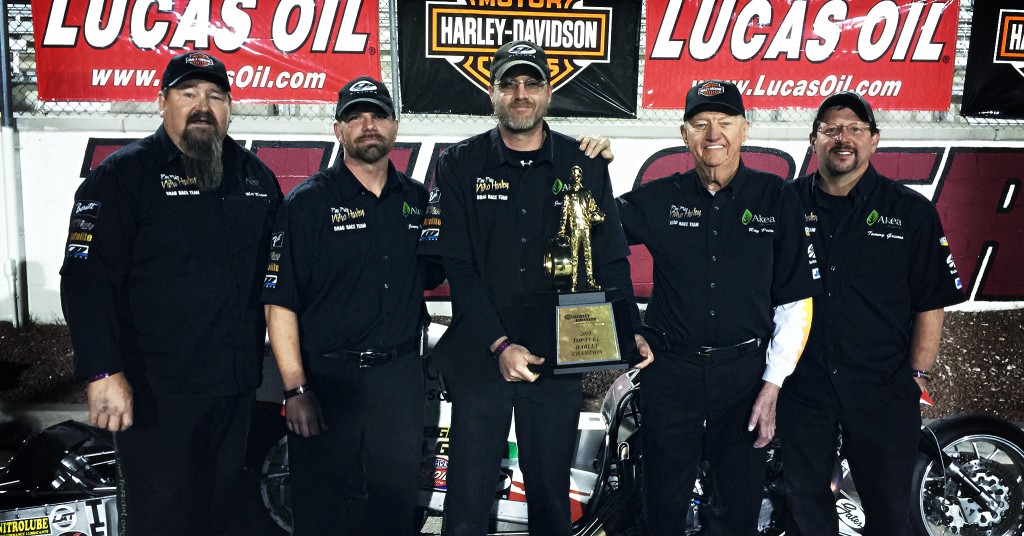 Grimes has racing options, being licensed in Top Fuel Harley, Pro Stock Motorcycle and Top Alcohol Funny Car.
If all else fails, the veteran has a backup plan for this season.
"If I can't find a ride I'm going Jr. Dragster racing," laughed Grimes, who has two sons, Tyler, 11 and Logan, 8. "I really appreciate my family and my wife Stephanie for standing behind me. If I call her from the races and I'm down, she talks me up. If I'm down about not qualifying well, she reminds me I can still win. Her upbeat attitude makes me feel great."
One thing is for sure, Grimes will never forget what Price meant to him and the sport. Grimes and Price grew very close in their 10 years of racing together.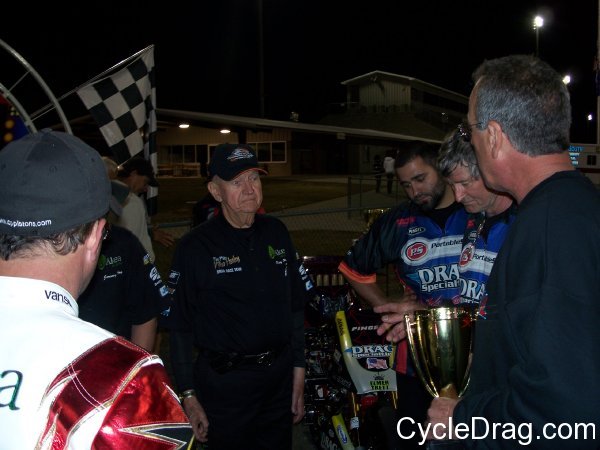 "He meant the world to me. He taught me everything about Top Fuel Harleys. And he taught me how to carry myself.  He said even on the bad days you keep your head up high. I never wanted to let him down," Grimes said.  After being with him, if I quit racing today, I couldn't ask for more. It was a blessing and an honor."
Have an opportunity or a ride for Grimes? Call him at the shop at 336-766-7908 or send him a message on Facebook.