Sometimes the most memorable and sentimental races have little to do with what happens on the track.
Two-time defending NHRA Harley-Davidson Drag Racing Series champion Tommy Grimes of Winston-Salem, N.C. was moved to tears at the Carquest Auto Parts Nationals from Phoenix, Ariz., Feb. 26-28.
It was one of the most meaningful and sentimental events of Grimes' career, but not for performance. In fact Grimes was eliminated in the first round. It was what the race represented and invoked that made it so special.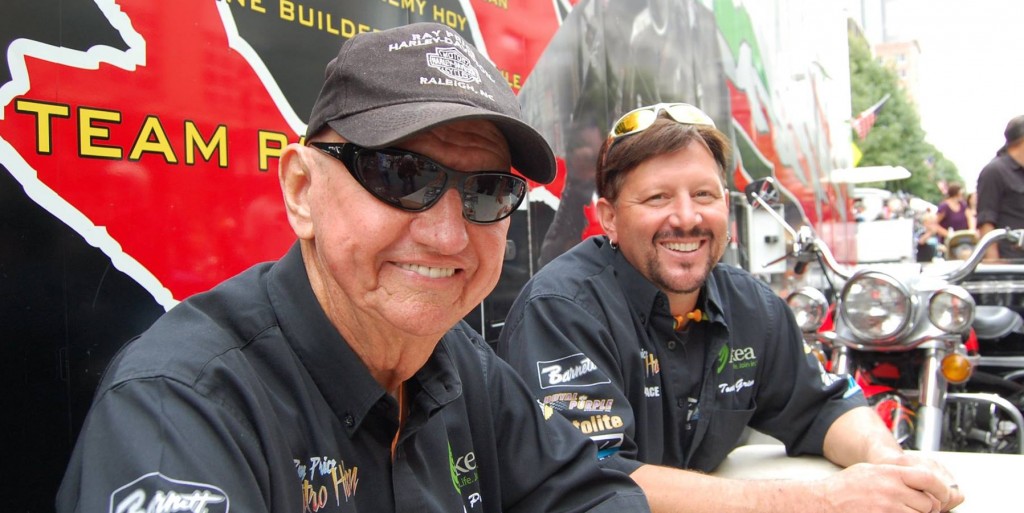 Last December Grimes and his team suffered the loss of its beloved team owner, motorcycle drag racing legend Ray Price, who passed away in his sleep at the age of 78.  A press release from Price's dealership announcing the retirement of the race team soon followed. It left Grimes even more dejected, as he wanted badly to run the 2016 season as a tribute to his fallen mentor.
"You go from one end to the other. We went from being on top and had a plan to build a new bike, then we lose Ray and the team," said Grimes, a four-time season champion and a 16-time Wally winner. "It was devastating."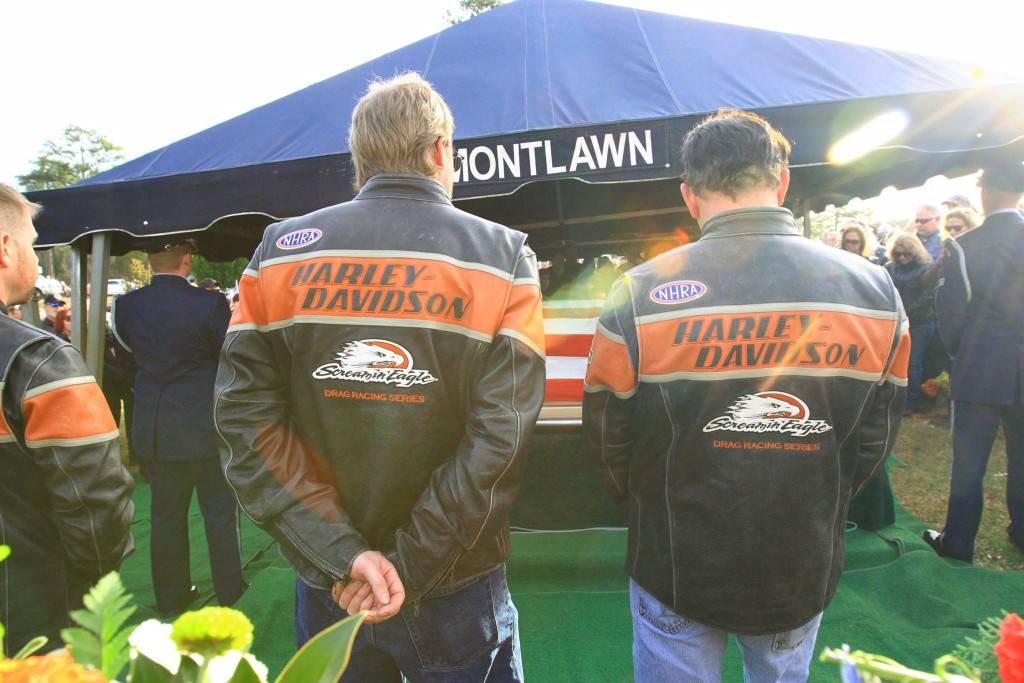 Soon after announcing he was looking for a ride on Cycledrag.com, Grimes got a call from Top Fuel Harley legend and owner of multiple bikes, Mike Bahnmaier, who asked if Grimes could race one of his freshly overhauled machines in Arizona.
Grimes grabbed his Price Racing leathers and seized the opportunity.
"As I rolled up through the lanes for my first pass there were tears rolling down my face the whole time," Grimes said. "Then something amazing happened. When they fired up that motorcycle something special just came over me and I could tell Ray was sitting right there with me, smiling ear to ear. It was awesome."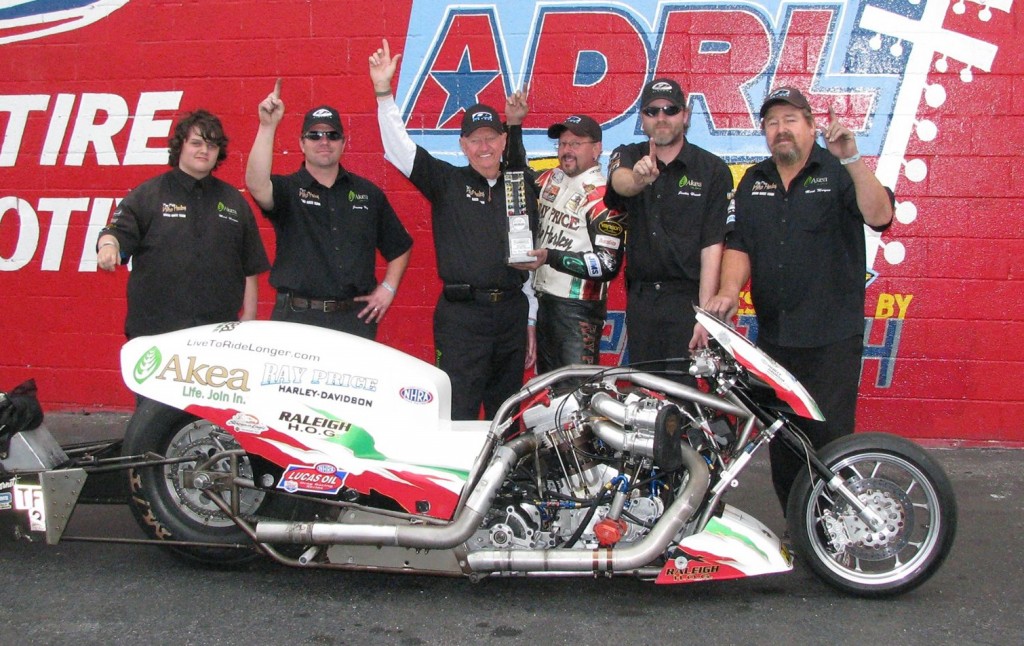 Grimes qualified eighth and was ousted in the first round by top-qualifier and eventual winner Jay Turner who ran 6.25 to Grimes' wounded 10.98. It was the second motor Grimes hurt that weekend. With a grin on his face, Grimes knew it was a tribute Price would have been proud of.
"Ray never minded me tearing up parts, but he was mad at me for letting off the throttle to try to save them," laughed Grimes. "He told me one time, "You hold the throttle wide open and I can afford whatever you tear up." I said, yes sir."
Even though it was an early exit and a long way back home from Arizona to North Carolina, Grimes said the race was just what he needed.
"It sure did make me appreciate things a little more," Grimes said. "I thought I wasn't going to race at all this year.  When you lose something special like I had and you get another chance to go do it, you appreciate it more."
Grimes is hoping he gets to ride for Bahnmaier a few more times this season.
"It was great working with Mike," Grimes said.  "When he got back from Arizona he went in for surgery on one of his hands. He is still finalizing his plans for the rest of the season."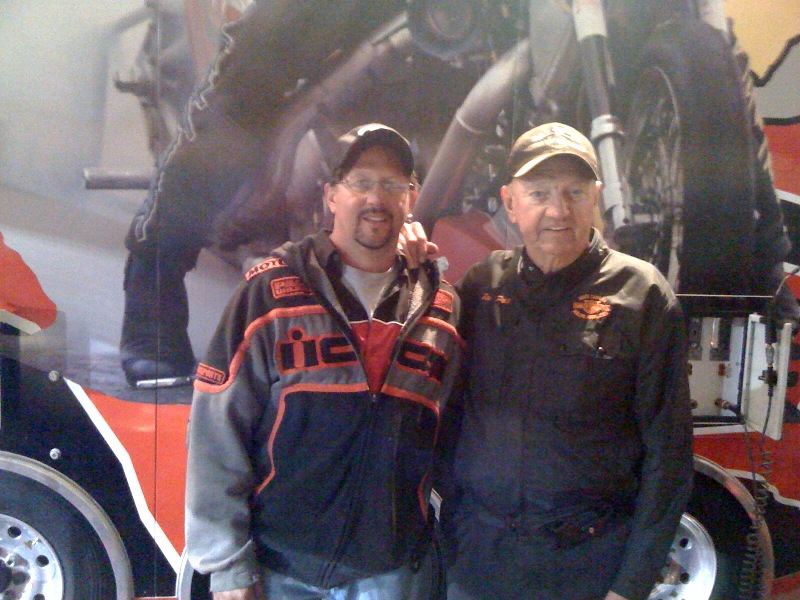 Grimes plans for the rest of the season are still unclear at this juncture, although he would like to continue paying tribute to Price.
Anyone in need of a rider can inquire about Grimes riding services by sending him a message on Facebook.
2016 NHRA Harley-Davidson Drag Racing Series Schedule
Feb. 11-14
Auto Club Raceway at Pomona (Top Fuel only)
Pomona, Calif.
Feb 26-28
Wild Horse Pass (Top Fuel only)
Phoenix, Ariz.
Feb 26-28
Royal Purple Raceway (Non-Top Fuel Event)
Baytown, Texas
April 29-May 1
Virginia Motorsports Park (Non Top Fuel Event)
Petersburg, Va.
May 20-22
Summit Motorsports Park
Norwalk, Ohio
June 3-5
New England Dragway (Top Fuel only)
Epping, NH
June 3-5
Route 66 Raceway (Non Top Fuel Event)
Joliet, Ill
June 10-12
Osage Casino Tulsa Raceway Park
Tulsa, Okla.
June 17-19
Bristol Dragway (Top Fuel only)
Bristol, Tenn.
June 17-19
Bandimere Speedway (Non Top Fuel Event)
Denver
July 22-24
Sonoma Raceway
Sonoma, Calif.
Aug. 19-21
Cecil County Dragway
Rising Sun, Md.
Oct. 28-30
Rockingham Dragway
Rockingham, N.C.
Nov. 5-8
The Strip at Las Vegas Motor Speedway
Las Vegas