The following are excerpts from a teleconference featuring NHRA Mello Yello Drag Racing Series driver Andrew Hines.
THE MODERATOR: Gainesville does mark the start of your season. Where are you guys in preparations after you left Pomona back in November?
ANDREW HINES: We're starting to get ramped up here to head out on the road for testing here early next week. Engines are going together for their final specs for what we have decided on over the winter, and we're getting closer and closer by the minute. We're still waiting on some new paint to show up from our painter for the bodies we are going to debut here in Gainesville, and all in all, it's been a very productive off-season and I can't wait to get back out there. It's been a long four months for our motorcycle guys and I can't wait to swing a leg over my Harley next Monday and test. I have not been on my race bike since that last Sunday there at the finals. It's always a fairly uneventful off-season for us here. We spend most of our time working on developing horsepower on our dyno. It's not conducive for us to drive 1,000 miles or more down to Florida or southern Georgia to go test. We focused more of our time on research and development and we try to put all our eggs in one basket for this first test session and see what shakes out for what we like. Worst case we always keep a couple engines like we had at the end of the previous season. We have a couple of good backups and we'll have four brand new bullets ready to go and we'll come out shooting in Gainesville.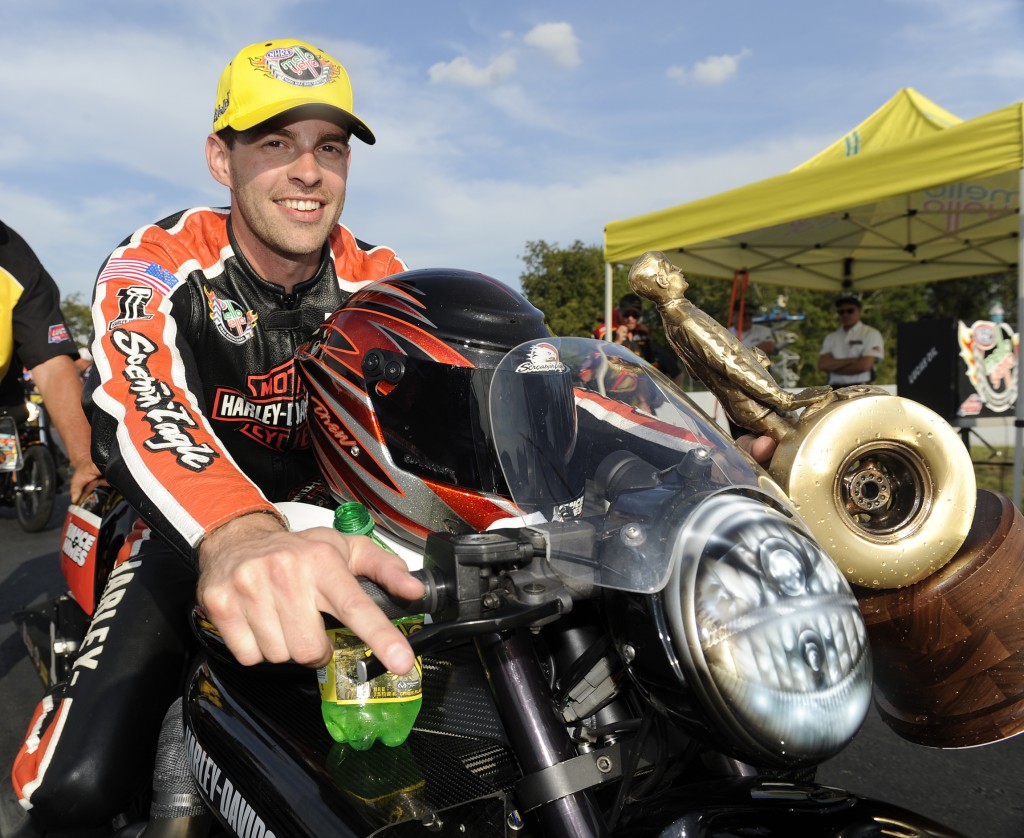 Not everybody, obviously not everybody, can put a helmet on and jump into some calfskin and go 180-miles an hour plus on two wheels. Talk about at the level that you do this at, what's fun about that and what's work?
ANDREW HINES: Well, the fun part comes when you get to race on any Sunday where you get to qualify. I look forward to the first laps of qualifying every single race we go to, just to see where you're going to shake out beginning of the weekend, and get that adrenaline rush that you've been missing either from the weekend prior or a month ago. It's nice to hop on the Harley and got out there and feel the adrenaline rush. You don't really necessarily feel it when you're going down the track but you really noticed it when you're pulling your helmet and gloves off after the end of the track after the turnoff, and you realize, man, that was a cool ride. We're approaching 200 miles an hour, that's definitely on the horizon this year, and it very well could happen at this first race. There should be some big excitement about what could possibly pop up on the score boards there in testing, let alone when we get to Gainesville the first event. It's an eye-opening experience and it's something that I've lived for for the last 15 years, and I can't wait to get out there and do it every single test session at the beginning of the season. A little stressful when you roll up there for the first burnout, but once you get the helmet strapped on and the motorcycle revved up, it's just like you rode yesterday.
You mentioned the off-season, is there a best way to kind of not ride out or ride out what you really want to be doing and not being able to race competitively?
ANDREW HINES: I don't get a chance to do a whole lot throughout the off-season other than we come in here and work at the shop 8:00 to 5:00 Monday through Friday and most Saturdays, as well. Get my adrenaline fix I guess pushing the throttle forward on the engine dyno and listening to that thing make close to 400 horsepower every time I push the throttle forward. It's a different level of stress when you're sitting there watching the engine in front of you pumping out horsepower versus turning the throttle on the race bike and going down the track. It's a different scenario but we don't get a chance to get out and test too often like I said. We'll put it all together here this week and send it on down the track next week.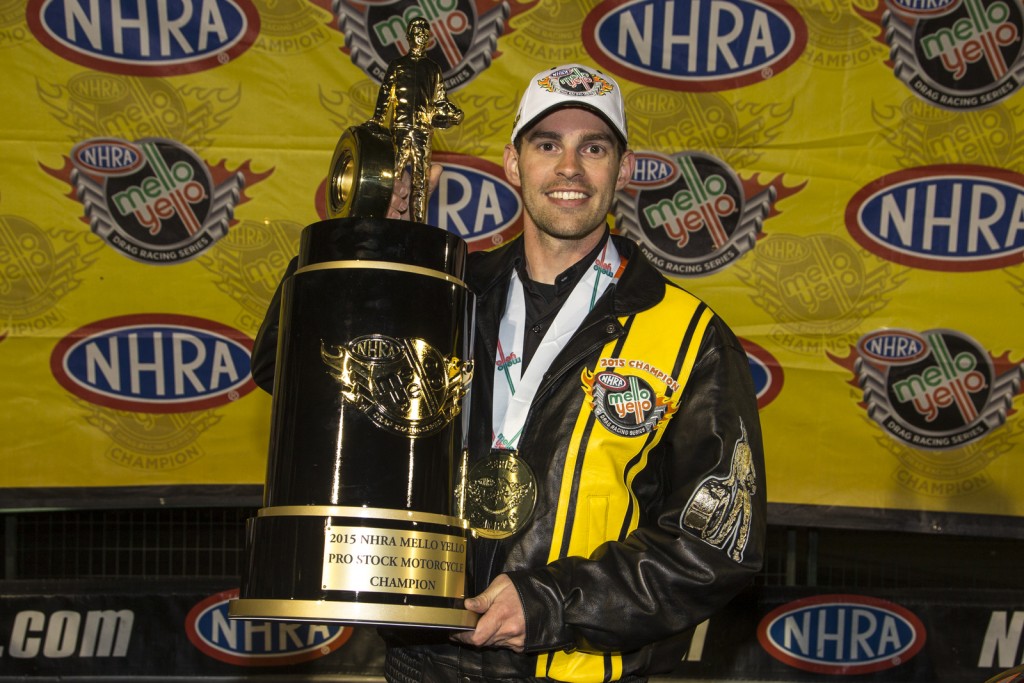 THE MODERATOR: You mentioned the 200-mile-an-hour marker. A lot of people look at that as one of the last, great NHRA milestones to be able to hit. Do you think we're going to see that?
ANDREW HINES: I think we'll see that sitting on a scoreboard somewhere early in this year. It's still really dependent on the weather conditions. But last year we had some notoriously fast runs in Charlotte will you've got a semi-downhill track and good weather there early on in March, April time frame. It could be one session where you might see two, three, maybe even four motorcycles run over that 200-mile-per-hour mark and it might just stack up on who goes out first that qualifying session. It could be as exciting as that, or heck, you might see maybe the last two bikes of a certain session put it upside by side. That would be pretty spectacular. We are all looking for it. I know a lot of us motorcycle guys have been trying to get it the last couple years by doing different things to get the gearing right, make changes. I got pretty good speed a couple years ago in Englishtown, and it's just a matter of all the stars aligning correctly and finding that couple horsepower that we all need to push us to that next threshold.
Just a quick question on this 200-mile-per-hour situation. Have you been that fast in practice away from the main tracks and if you have, what did it feel like?
ANDREW HINES: I ran 199.85 four years ago in testing in Valdosta, Georgia. And it really — I ran 199.23 in Englishtown two years ago. Those two runs, they feel relatively the same but we can tell subtle differences between, say, a 195, 196 run versus a 198, 199 run. It's more on your stopping distance. You feel where you are down on the track. We're tucked in as tight as we possibly can be going down the racetrack, and we don't have a whole lot of bearing on speed other than the orange cones for the timing system in the center of the track. So it's hard to tell that little bit of speed going down the track, but when you shut off, you're like, man, I'm going past this point in the shutdown area way faster than I was the last time. And you can just feel that little difference from run to run.
Have you stayed completely away from Pomona and from Phoenix, the first two events, and going to this next one is going to be the very first time you've been at a drag race at all?
ANDREW HINES: I did go to Pomona for the winter nationals here when the cars ran their season opener. Since I won the championship last year, I got all the hardware, the jacket, the ring, things like that. But it was a good chance to get out there and see the Pro Stock cars with their new fuel injection systems, and just get a chance to feel excitement of Mello Yello Drag Racing again and smell the nitro and smell the gasoline burning out of the natural aspirator Pro Stockers. It's nice to get out there. But man, I was itching by the time the end of Sunday came around to swing my leg over a Harley and go down the track. If my equipment would have been there, who knows, maybe they would have let me make an exhibition run. We didn't have everything together and it was just a good time to go out and be a fan again, sit in the stands, talk to some fans and have a good time and turned into a little mini-vacation with a little less stress of having to actually perform on Sunday.
ANDREW HINES: No, I don't have a problem with the new backup rules or anything like that. Our timing system has become more consistent than it used to be. The biggest thing with the motorcycles is our speed has become way more consistent and predictable than what we have had in years past, and that's mainly due to what NHRA implemented for us having to use what we call a wheel shield or a staging beam on our front wheel. So it gives us a more consistent time. I would be a little bit upset if it didn't happen in my lane. I was the first one to run sub-seven seconds over ten years ago now, 2005. It would be really nice to have that chalked up on my scoreboard with the first six-second run and the first 200. Heck, if anybody other than me does it, it better be my teammates. So we've got to keep it in the family here.
What if Michael Phillips comes out and pops it off in his first event back in a while?
ANDREW HINES: I don't think we're going to see that happen. Takes a while to get your stuff back in order, and I'm not sure — we've got a lot of great bikes in the class. The racing this year is going to be fantastic and just like you saw at the end of last year, it's going to be a crapshoot who is going to win on any given Sunday. Just got to focus on qualifying in the top half this year, that's going to be key.
You said something about new body work coming back from the painters. Is this new body work or is this just body work getting repainted?
ANDREW HINES: No, it's a new piece of carbon fiber but it's the same body we've had for the last two years. Just new paint. Harley likes to mix it up, and we typically go a couple paint schemes every year. We are going to start out the year with the new stuff. Looks pretty good. I just got the images from the painter today. We're excited to see what we've got and it's a different look from anything we've had before.
Along the same lines of body works, does the NHRA allow you any leeway for what fenders look like or slope of the bike, or is that all in cement?
ANDREW HINES: There's interpretation on what it has to look like versus stock. So we have to keep a certain elevation from the top of the tank shell to the tail, and the tail is really designed basically as similar as it can be to a stock Harley V-Rod tail. Just obviously has to be proportioned big enough to fit our big ten-inch slick under there. It gets a little wider and a little longer, but for the most part — hold it right off a stock talk, just widen it a little bit fit our engine underneath it. They are involved in the whole process if we redo a body to come up, check templates and sign off on it before we start making expensive carbon fiber pieces. They do a good job of making sure the styling stays similar to what is expected for the rules and working with Harley's styling to make sure it still meets Harley's quality standards as far as what they want their Pro Stock bike to look like. There's a lot of involved process to get things out there to the track.
In pursuit of this 200-mile-per-hour barrier, have you looked at the shape of helmets or equipment or any of that stuff to make the air flow quicker or easier?
ANDREW HINES: Yeah, we wear Simpson Helmets right now and I've worked with a guy that works at Simpson for my entire career. He used to be with Bell Helmets. He moved over to Simpson, so I went along with him. And our helmet was designed in the wind tunnel to produce less drag and neutral lift versus downforce. So the air just flows pretty much right around it. It's about as neutral a helmet as we can get to keep it stable and still be comfortable and do it's purpose on the racetrack. Every little bit goes into it. We've got a really tiny wind screen we have to stay behind on our V-Rods and we have to do our best to stay tucked in, so aerodynamics is a crucial deal for us.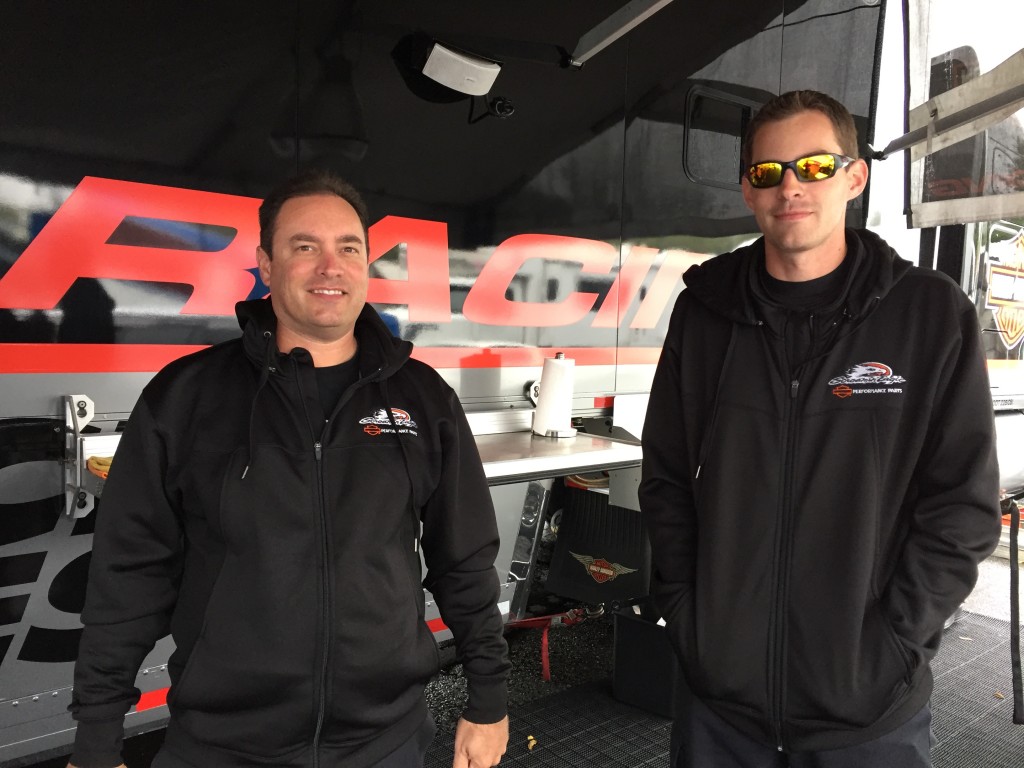 THE MODERATOR: You've got one win in Gainesville back in 2004. Talk about getting a win at the season-opening event and getting a win at such an historic facility.
ANDREW HINES: Nice to get a win early on in the season. I've only ever done that the one time, and that was my first national event win. It's nice to be the points leader, leading after the first race. It takes a little pressure off. You know, the first — the hardest win to get is the first one of the season it seems like. Good job to Greg (Anderson) there by knocking it out of the park in Pomona. But we are going to try to do the same thing. I'm feeling pretty confident about what we have done here with our Harley in the off-season and we're going to go test and hopefully we're going to reap our benefits for all the hard work we've put in over the off-season. When we get out there, I guess the time ticket is going to tell the truth, but we'll see what happens.