For true competitors the appetite for success can be insatiable.
The great basketball coach Bob Knight once said, "Your biggest opponent isn't the other guy. It's human nature."
Motorcycle drag racing legend and Star Racing team owner George Bryce boldly enters the 2016 NHRA season just as hungry, if not hungrier, than he was when he first started racing in 1973.
Bryce's championship run from 1990-2002, which included six NHRA Pro Stock Motorcycle titles, three with the late, great John Myers and three with the NHRA's winningest female racer, Angelle Sampey, is considered by many to be one of the most remarkable streaks of success in dragbike racing history.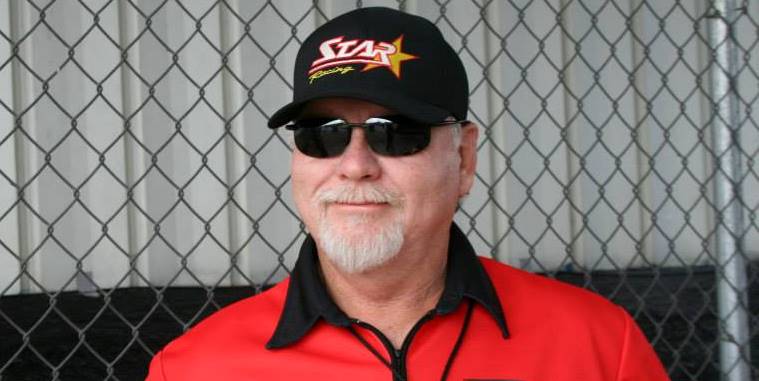 The ebb and flow of triumph in sports can be baffling and frustrating for competitors at times. Despite a herculean effort, it has now been 13 years since Bryce and his squad last captured the season crown.
"The adrenaline of the highs and lows is so powerful. Aspiring to win again is something that pushes me to work so hard," Bryce said.
Star Racing's high performance motorcycle company is one of the most successful shops in the industry. The rigors of running a business are not enough to take Bryce's full focus away from his true passion.
Often more than 90 percent of Bryce's day is dedicated to searching for ways to make his Pro Stock Motorcycle team go faster. It's an endeavor that can take a lot of time and money.
"My daughter Julie asked me, "Did you spend all of my inheritance on racing?" I said yes I did." laughed Bryce.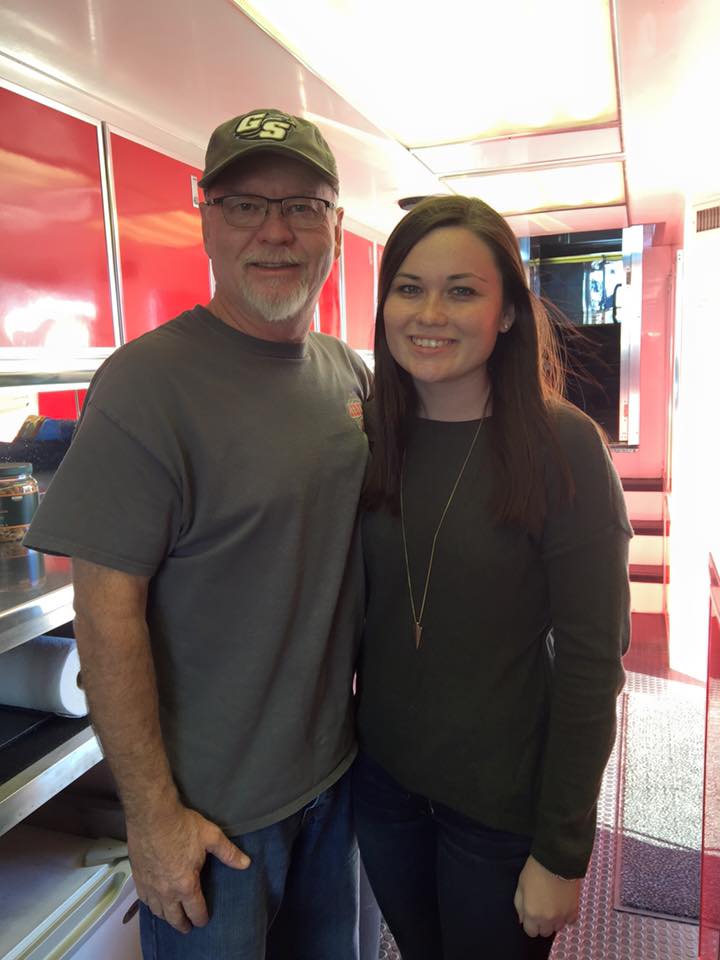 The story Bryce often tells people when they comment on his awe-inspiring 80-Wally display at Star Racing's speed shop in Americus, Ga., provides insight into his intense competitive nature.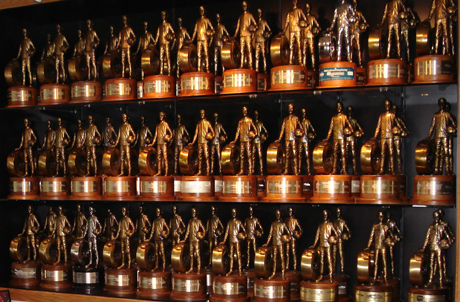 "People say wow, and I say well there are 80 more of them at somebody else's house," said Bryce, who has a final round win percentage of about 50-percent. "We missed out on 80 more by about 10 feet."
The team has also missed out on championships by razor-close margins.
With rider Chris Rivas, Star Racing lost the 2008 title by a mere five points to Vance & Hines' Eddie Krawiec.
"The level of the game has gone up so much that to win a national event now is almost like winning a championship back when I started," Bryce said. "The stakes keep going up."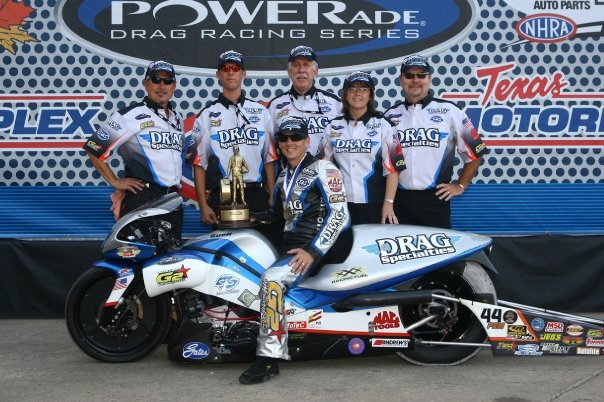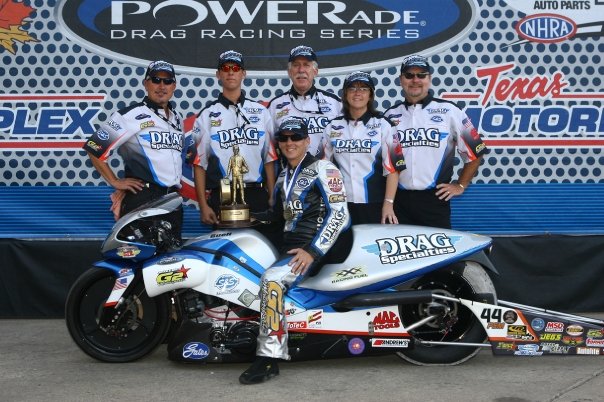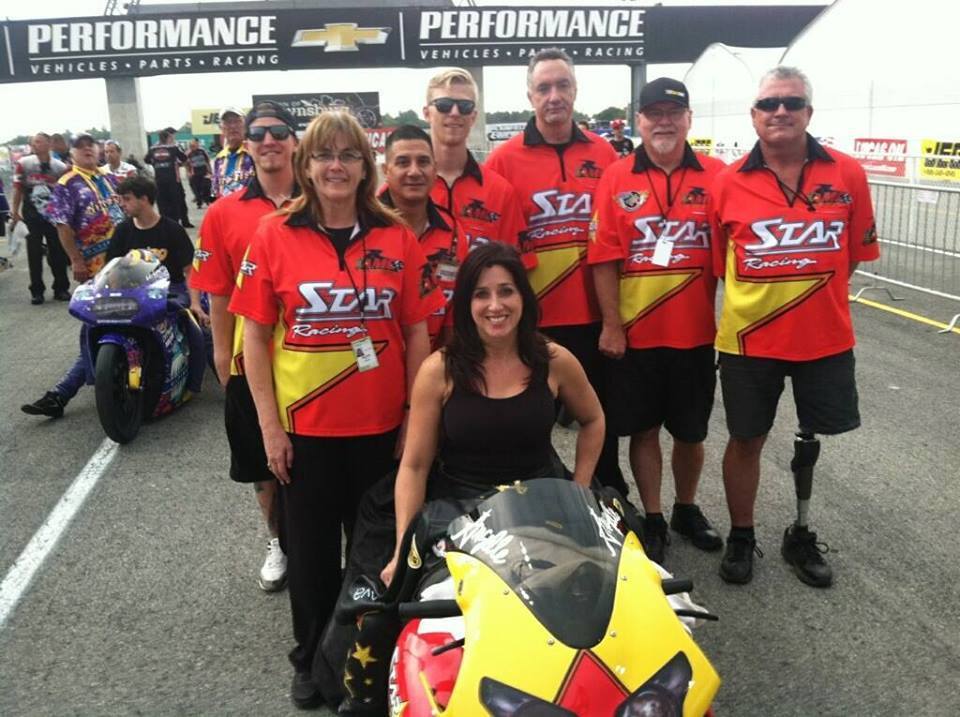 The competition fire still burns red hot for the undeterred, 61-year-old Bryce, who feels strongly optimistic about the team he has assembled for 2016.
Sampey will return to join talented newcomer and former Arenacross standout Cory Reed.
"We have more than 200 years of experience with all of us combined. We have been preparing, and I know other teams have been as well. I can't say where we will end up, but we will be competitive," Bryce said. "We are going to launch 16 attacks this year with a real serious effort and intensity. Angelle and Cory are both in great shape and are really fired up."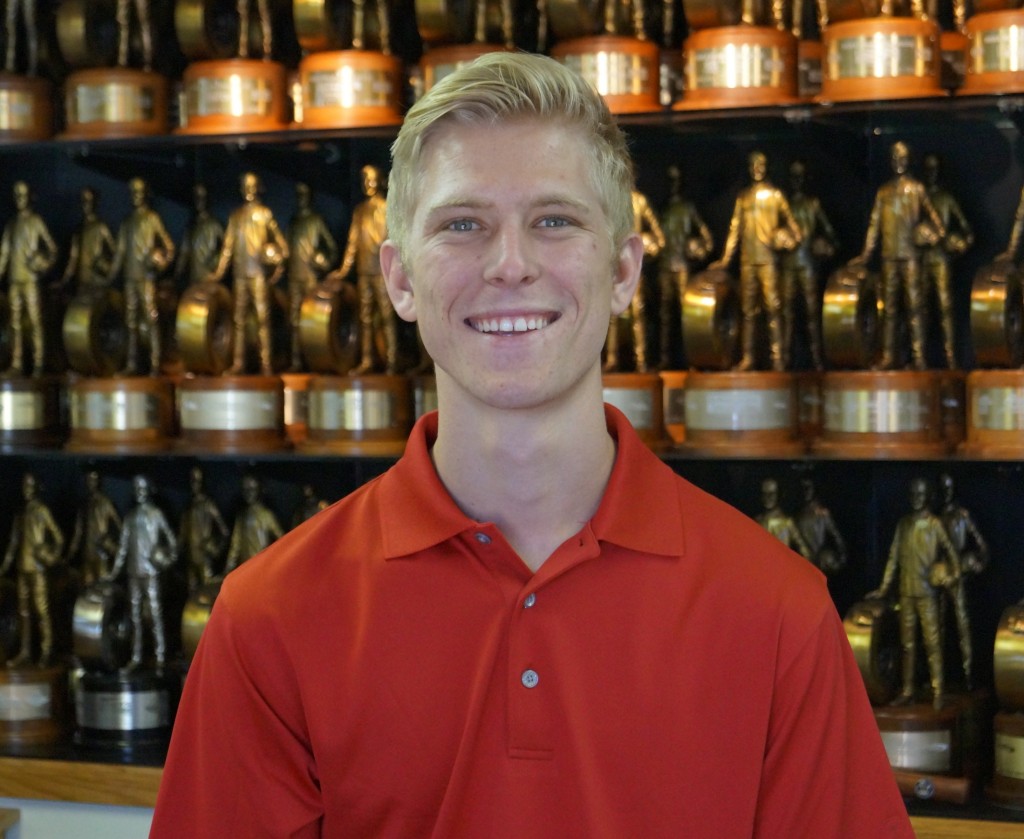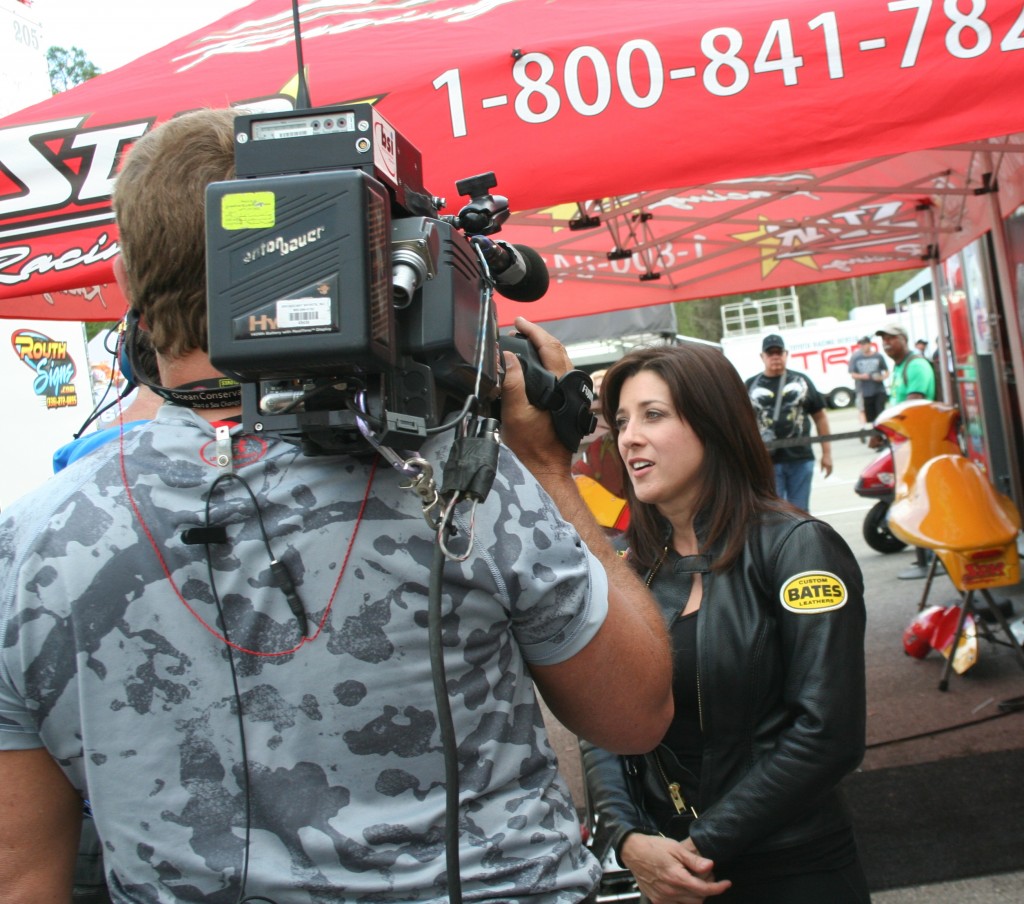 Bryce also sees the camaraderie and cohesion Reed has with Sampey as something that will greatly help the team.
"They work together really well," Bryce said.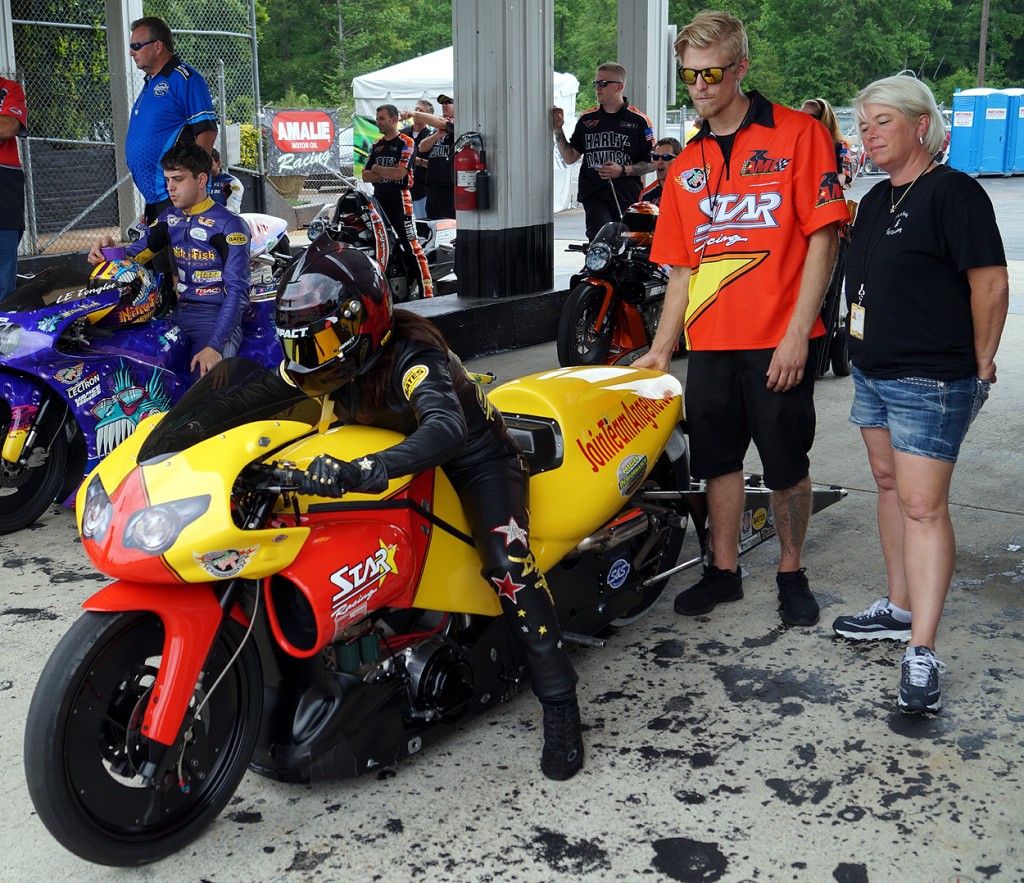 Bryce also has an explanation for the great growth and increased competitiveness the Pro Stock Motorcycle class has experienced since he began.
"John (Myers) was one of the first to get TV. The coverage got bigger and eventually the Wax Shop Dash (a special Pro Stock Motorcycle race the weekend of the U.S. Nationals George's wife Jackie Bryce helped put together) got its own TV show," Bryce said. "After that the ears perked up of everyone who had a motorcycle and they said, "I can do that." The exposure put the class on a pedestal and it grew like crazy. So many people starting dreaming of winning."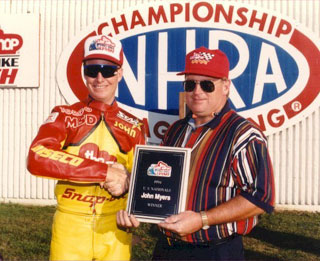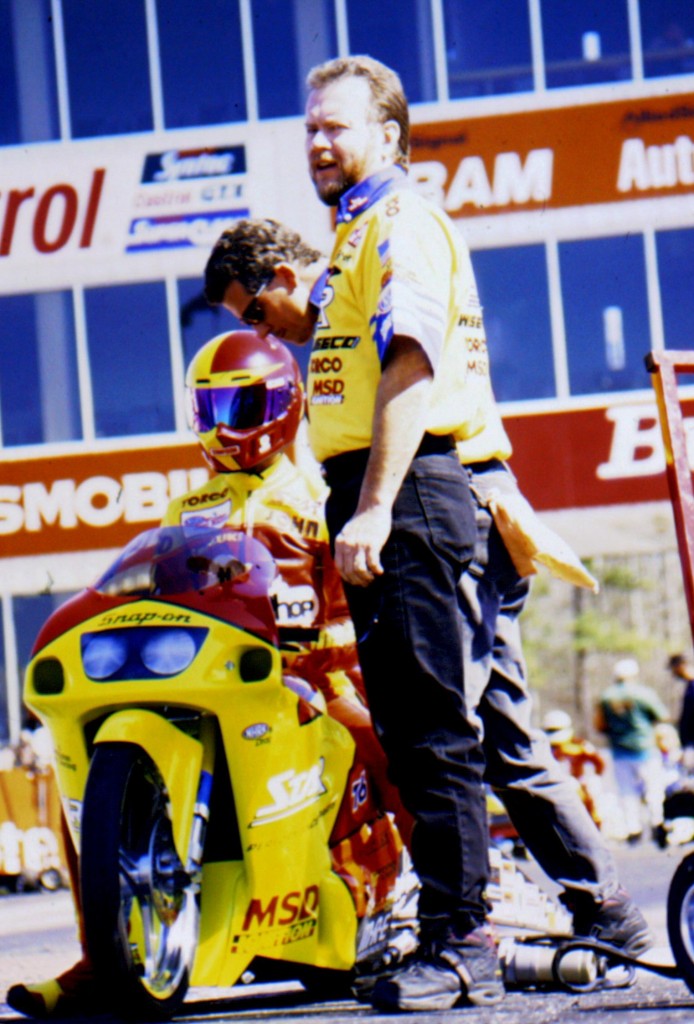 Bryce coaches other racers on competition psychology at his popular Pro Stock Motorcycle school in Gainesville, Fla.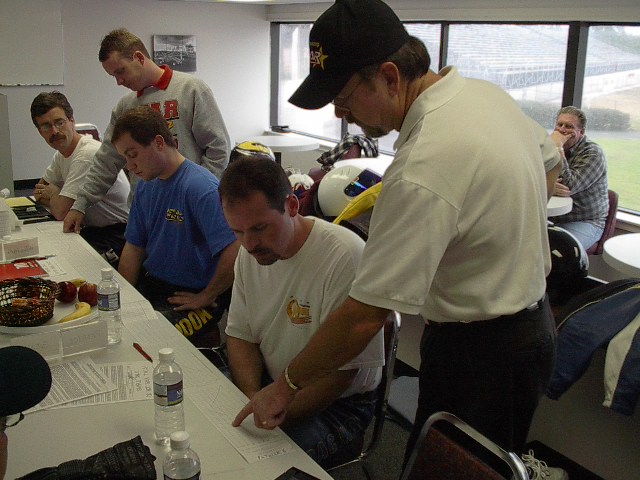 Perhaps it's that standpoint and perspective that causes him to refuse, or try to refuse, to focus on more than one race at a time.
But true feelings are often hard to hide.
In a moment of total honesty the veteran shared, despite his best efforts, sometimes the passion and desire for winning another championship can be overwhelming.
"I want it so bad but it's hard to even think about that right now because we still have so much more work to do," said Bryce, just about to put Sampey's motorcycle on his dyno. "Anyone who has ever played golf can relate; you have to play each hole before you can think about winning the tournament."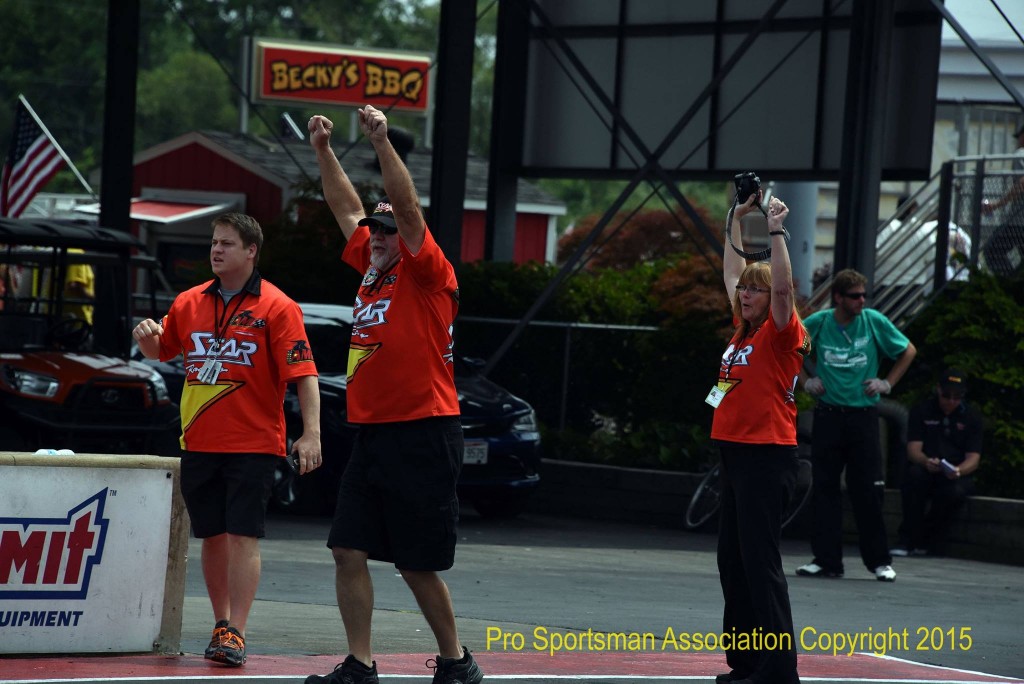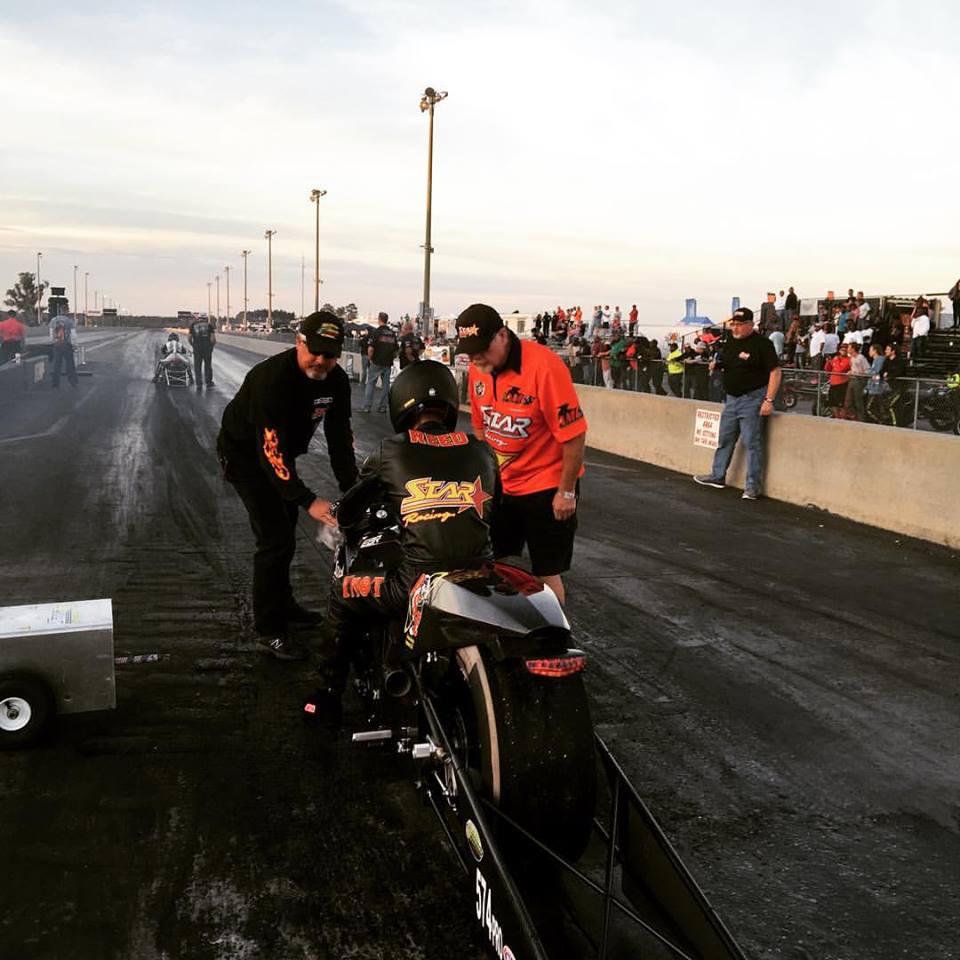 The proverbial "one round at a time" mindset is something Bryce has believed in since his days behind the handlebars.
Some younger fans, including some of the students who come to Bryce's school are unaware Bryce himself was a racer, who found success in Funny Bike, Pro Stock Motorcycle and multiple sportsman categories in the 70s and 80s.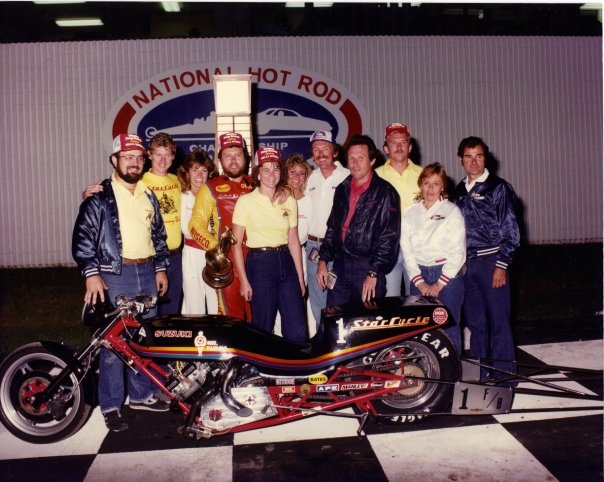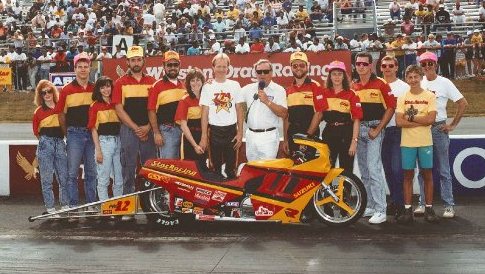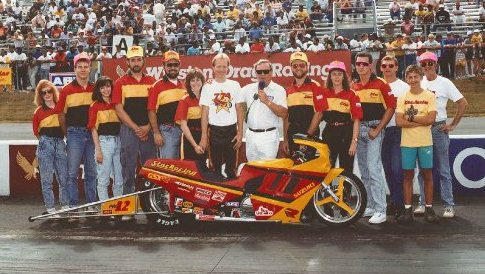 It was a 1988 test session with Myers, a talented young rider out of Alabama, who had just won the IDBA Top Gas Championship, that had Bryce rethink where he could best be used.
"He was so good and he had a style that was so unique. We went over to Warner Robins Raceway, (now closed with a school system built over it) and the first time John ever ran my bike he set a track record and went quicker than I ever did." Bryce said. "We did a lot of practicing that winter and he did so well, I said maybe if I concentrate on the bike and let John concentrate on the driving we can win more races than we could alone."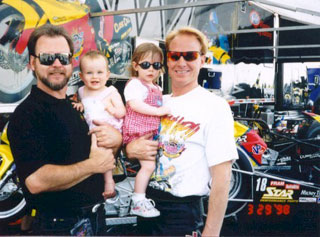 It was a decision that was second guessed by many of Bryce's peers.
"Jack O'Malley, (one of the original Orient Express founders) said, "you are the rider, you are the man and you will lose your glory and disappear if you get off,"" Bryce said. "Terry Vance (legendary Vance & Hines co-founder) told me the same thing."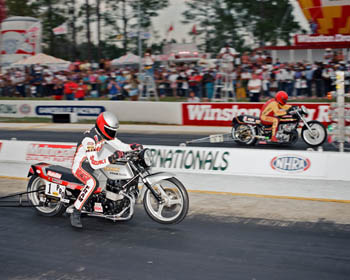 Myers and Bryce found immediate success. In 1989, their first full season together, Star Racing finished second in the points to "Pizza" John Mafaro, and in 1990 Star Racing outlasted the legendary Dave Schultz, Paul Gast and others to capture its first Pro Stock Motorcycle championship.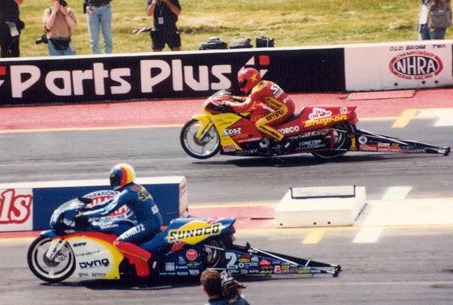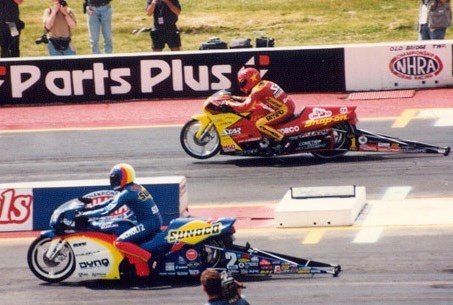 "It ended up being a life changer for us," Bryce said. "Back then were only running eight or nine races a year and John won 33 of them. That's crazy."
Contrary to what many may think, Bryce found his competitiveness to be even fiercer when he stepped off the bike and took over the role as team owner.
"As a racer it was easier for me to shake off a mistake. As an owner I have so many other people, families and livelihoods involved that the responsibility level just went right up," Bryce said. "It made me more dedicated."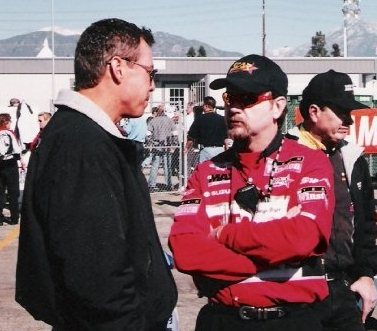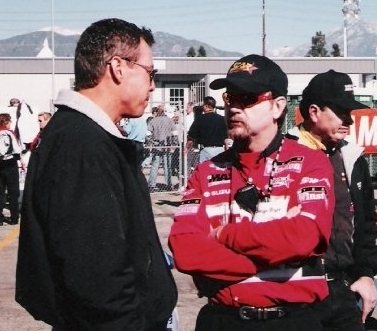 In the mid-90s, along came another young and hungry racer, this time it was an ambitious female nurse from Louisiana. It proved to be another special combination.
Together Bryce and Sampey went won three consecutive championship from 00-02.
"We had a really good picture of what it took to be successful," said Bryce, who captured 28 wins with Sampey and secured one of the richest, most illustrious sponsorships in the history of the class with Winston.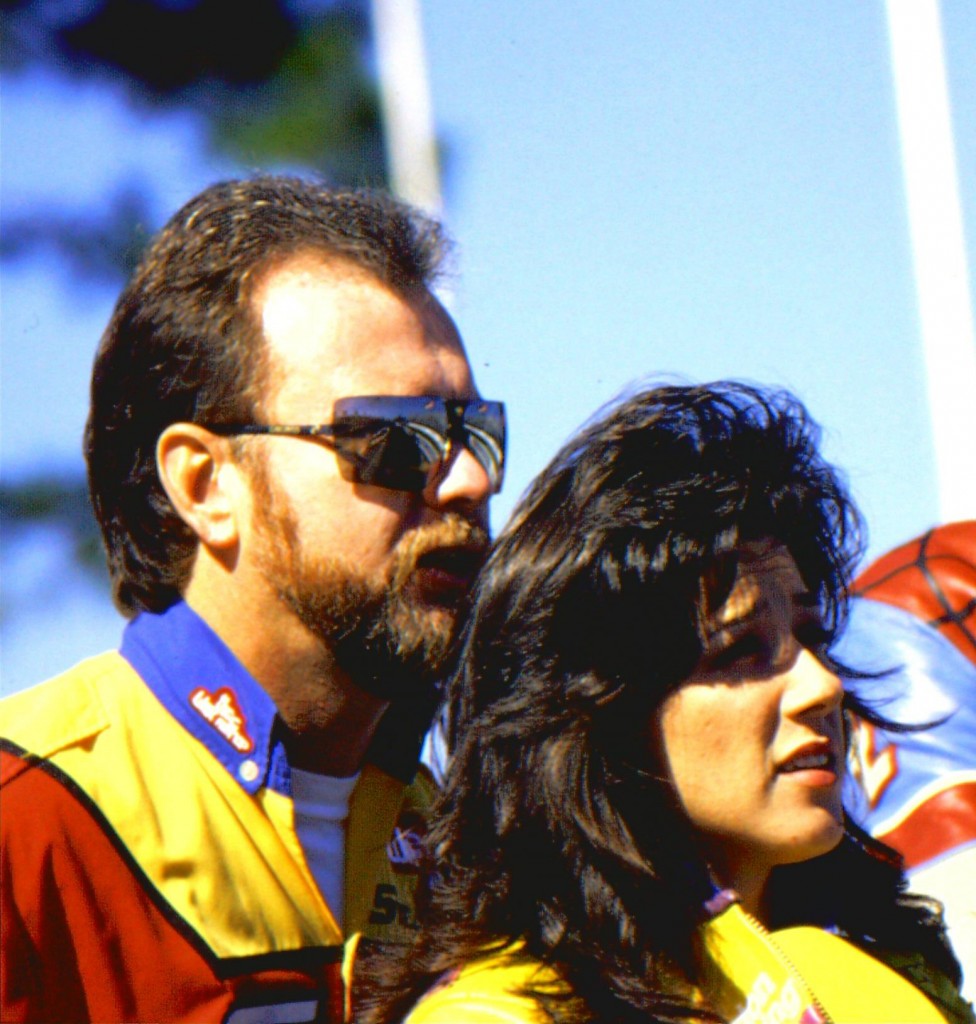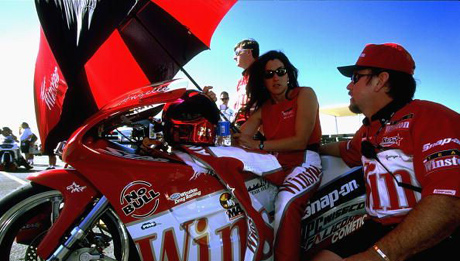 In 2002 Bryce and Sampey clinched the championship earlier than anyone in the history of the class in a field that included legendary racers; Matt Hines, Craig Treble, Antron Brown, Geno Scali and more.
Nearly a decade and a half later Bryce admits neither him nor Sampey understood at the time just how special their reign was.
"When you are good at something, it seems almost easy. If Angelle and I were to sit down and have a cup of coffee right this minute we would talk about how great it was, how much we expected it and how much we took each other for granted," Bryce said. "We didn't realize the true value of it until she went in her direction and didn't win as much, and I went in my direction and didn't win as much."
Their relationship has continued to evolve over the years.
"We respect one another's ability more than we ever did now that we are back together," Bryce said.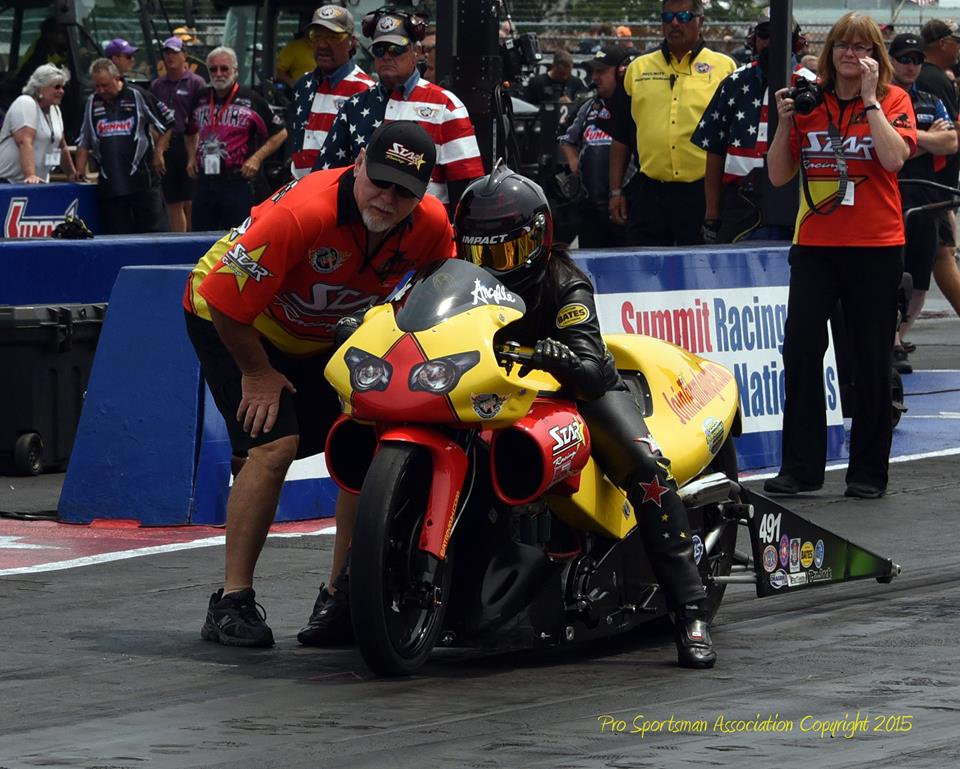 Throughout all the different riders, races and motorcycles one person has remained a constant and an integral part of the success for Bryce – his loving wife Jackie, who he met in 1973.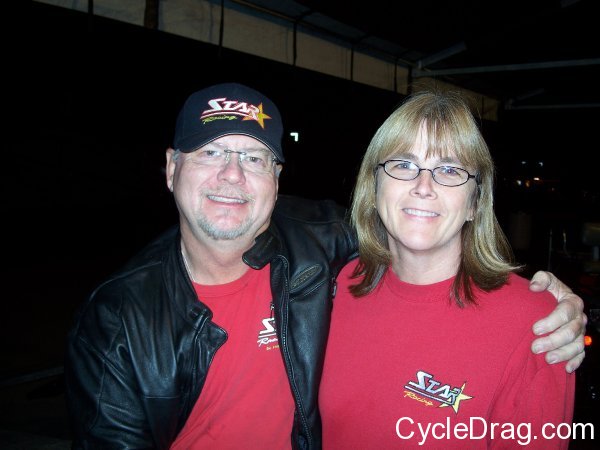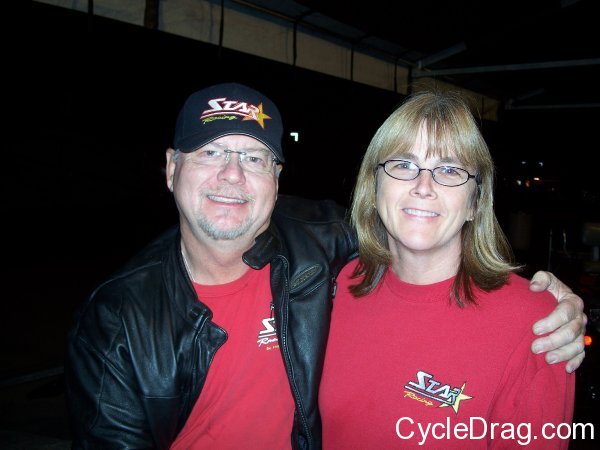 "She has been involved in everything. She brings a lot of brain space I don't have," Bryce said. "I'm competitive to a fault, Jackie is just a good person and balancing the two together gives us a pretty unique perspective. We work as one. I feel like I'm not as capable when she is not there."
After more than 40 years of burnouts Bryce says he's not burnout on the sport one bit and neither is his wife. In fact the Bryce's are more excited than ever for the future.
"I think our best days are ahead. The new NHRA Fox Sports 1 TV package will give teams more exposure than they ever had," Bryce said. "The class is in good shape too. It's hard for NHRA to keep it competitive with all the different makes and models, but I feel the people in charge of that are doing a good job."
Bryce has a lot of respect for the people who helped him win all those trophies.
"I alone would just be a racer. It takes lots of smart, hard-working teammates to pull off this many wins and to keep racing this many years," Bryce said. "At Star Racing we have longtime teammates and some of them have been with us for more than 30 years. It's all of us together that make this happen."
Bryce can't guarantee 2016 will be the season he breaks his championship drought, but he can guarantee his team and family will continue to pour everything they have into winning.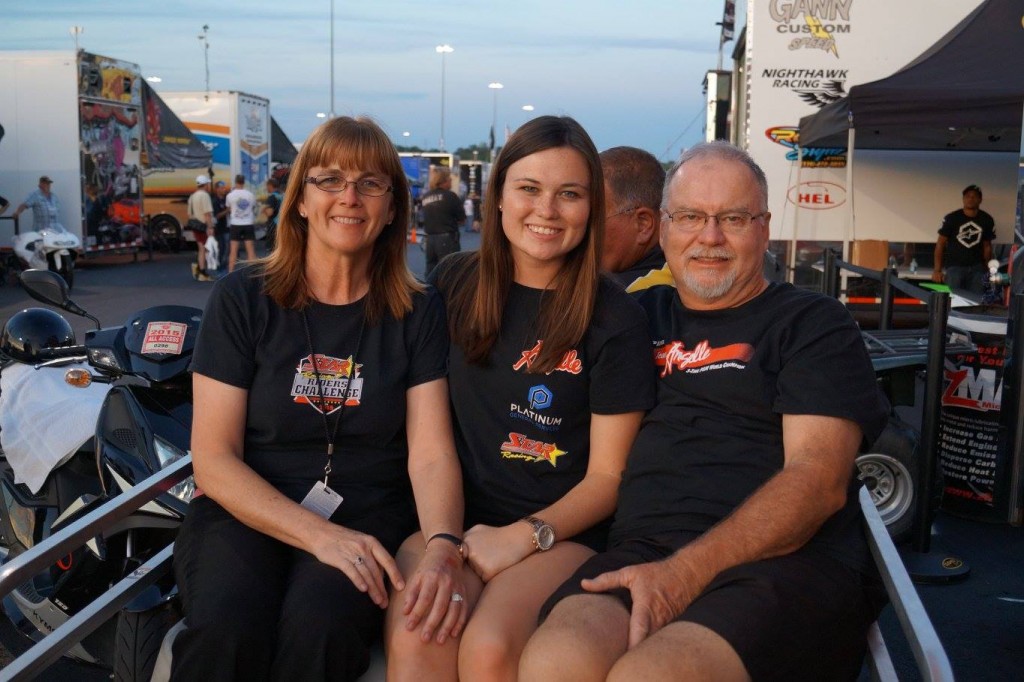 "It's survival of the fittest and it's a long year," Bryce said. "One round at a time."