Mix nitrous oxide with a healthy dose of tattoos and testosterone, then liberally apply the concoction to high-dollar motorcycles and men, and you have all the ingredients for a cocktail of drag racing, accompanied by clouds of smoke, roars of thunder, fist bumps and high-fives among grown boys with their toys.
The first-ever Buffalo Chip Street Drag Invitational proved to many that you can never have enough power, particularly when it's being delivered to a rear wheel.
"This isn't about money or trophies," one racer said. "It's all about pride and bragging rights for the next year, and some of these guys have egos bigger than the state of Montana."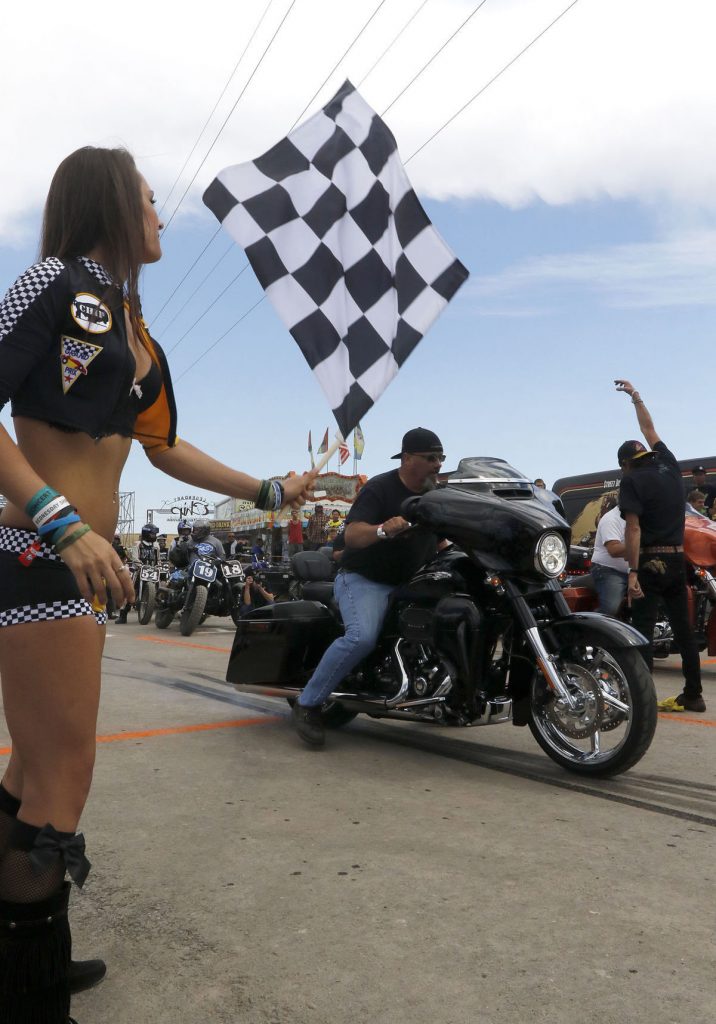 Kurt Peterson, a pro motorcycle drag racer with a shop in Perham, Minn., brought his hand-built "full-blown Street Fighter with a one-off chassis and a 117-cubic-inch engine," to Sturgis to compete on the Buffalo Chip's new one-eighth-mile strip that features a smooth 2-foot-thick asphalt overlay.
"It's time to burn some fuel," Peterson said before mounting his low-slung speedster. "Guys have been trash-talking all winter about what they built and now it's time to test 'em out."
"Big Ben" Smith, a burly 6-foot-4, 265-pound Minnesotan, pointed to his tricked-out Harley-Davidson and whispered, "Don't tell anyone around here, but I've got a stealth-mode surprise hidden on that bike — a 10-pound nitrous bottle that you can't even see."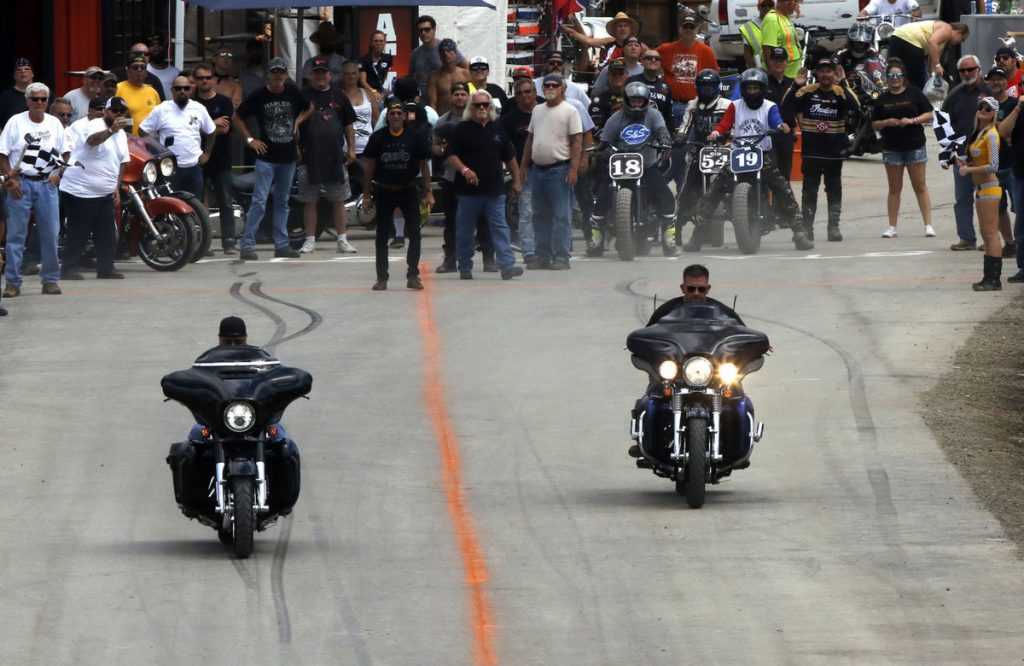 Jockey-sized Robbie Paster of Minneapolis, who drove limos for the recently deceased rock star, Prince, stood out on his lean and mean customized, sarsaparilla-colored rocket nicknamed "Root Buell." Despite a squirrely, fish-tailing start and a foot that dropped off a peg and tapped the track midway through the race, Paster easily shut down his opponent.
 With giant hay bales serving as guardrails, and runs by two sleek nitromethane-powered, two-wheeled dragsters so loud they may have been heard beyond Meade County, the drag races soon attracted some 500 observers. Several dozen moto-cross riders waiting to compete in the Super Hooligan Races later in the day even joined the fray, pitting younger against older on Ducatis, Indians and vintage hand-shifted bikes racing against Kawasakis, Buells, Triumphs and Harleys.
Buffalo Chip owner Rod Woodruff said the drag races were his latest attempt to provide new entertainment options at his campground and concert venue, and he was surprised by the crowd.