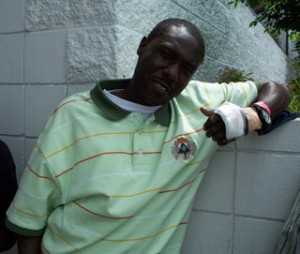 There was a scary moment at the AMA/Prostar Lucas Oil Spring Nationals from Petersburg, VA, on April 28th, when Pro Mod racer JP Mattox's motorcycle burst into flames at the 1000-foot mark and he was forced to get off at over 170 mph.
SEMDRA standout and AMA/Prostar Pro Mod racer JP Mattox, 32, of Atlanta, Ga, has been racing motorcycles since he was eight-years-old, but little could prepare him for the worst crash of his career at the Lucas Oil Spring Nationals.
Mattox, who qualified No. 1 at the AMA/Prostar Valdosta race this season, blasted off the line in Pro Mod final qualifying and appeared to be on another great run.  As Mattox approached the finish line he glided toward the retaining wall and was forced to lift off the throttle.  Just then a loud bang emanated from the bike and it burst into flames.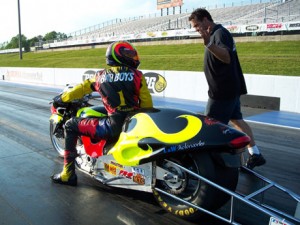 "When I left the line I thought it was going to be a good run and I envisioned myself going in the 6.70s," Mattox said.  "Then I started drifting to the right hard, so I shut it off.  After I shut it off I heard the bike pop and felt heat on my legs."
Mattox was forced to jump from the bike at over 170 mph
"I was getting burned too bad," Mattox said.  "I had no choice. I had to get off."
The bike was clocked at 6.99 when it crossed the finish line without a rider.
"I tumbled for a while and then slid to a stop," Mattox said.  "I sat up, looked around, and checked to see if I was alright."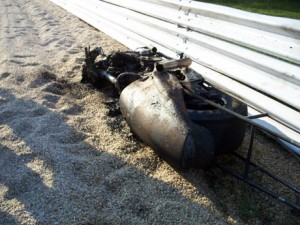 Fortunately Mattox escaped the disastrous and perilous situation relatively unscathed.  Although, he ground his knuckles down to the bone and sustained some road rash.
After a long emotional hug from his teary-eyed and concerned father Mattox was transported to the hospital for evaluation.  He was later released and was back at the track on Sunday.
"I feel a little more than happy.  I feel blessed," Mattox said.
After assessing the damage of the charred motorcycle Mattox discovered the cause of the fire.
"There was a malfunction with the throttle switch," Mattox explained. "When I shut it off the nitrous switch didn't shut the nitrous off.  It blew a motor, the oil and gas mixed and it made a heck of a fire. We later found the nitrous switch was still open nine seconds into the run and the nitrous kept pouring in."
For now, Mattox says he plans to take some time off and is unsure on his long-term future in motorcycle drag racing.
"I'm going to take some time off and settle myself down and look at everything, Mattox said. "If I return, great.  If I don't, I enjoyed my time."