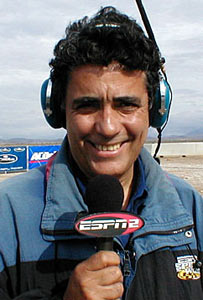 In case you haven't noticed, the women are suddenly wearing the pants in the NHRA's Pro Stock Motorcycle brigade. If you're a confirmed male chauvinist, this is not good news. But if you're a dyed-in-the-wool diversity freak, you've got to be lovin' the ladies torching the men in PSM.
I go back far enough in the NHRA continuum to remember when a woman on a drag racing motorcycle was harder to find than a guy selling Mary Kay makeup door to door.
It wasn't until the 1996 Mile-High Nationals at Bandimere Speedway in Denver that women and motorcycle drag racing were no longer mutually exclusive terms. In fact, it was at that very NHRA national event that no less than three female racers made their professional bike debuts. Angelle (at the time) Seeling, (soon to become) Savoie, (and now known as) Sampey; Stephanie Reeves, and Karen Stoffer all broke into the Pro Stock Motorcycle maelstrom that weekend and all three have rung up differing career paths in the last 11 years.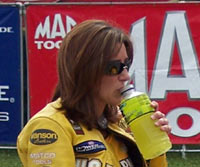 Of course, Angelle is a three-time POWERade champion and is the winningest woman in NHRA history with 41 national event victories including the O'Reilly Spring Nationals in Houston this year.
Stephanie moved from bikes to a brief stint in the NHRA's Sport Compact series and is now planning her next move in the sport.
Stoffer has become one of the real rising stars in the NHRA as she currently has two victories in '07 and is leading the POWERade points for the first time in her career.
While the PSM class in the NHRA fights to be recognized on the same level as the four-wheeled categories that dominate the attention, there are now four talented female competitors in the bike pits who have demolished the gender gap in a class which had been exclusively male oriented until that fateful day in Denver in 1996.
Along with Sampey and Stoffer, Peggy Llewellyn and Connie Cohen go wheel-to-wheel and peg-to-peg with the Andrew Hines', Antron Browns, and Matt Smiths of the world, and it's no longer a stunning shock to see the gals muscling the guys out of the winner's circle when an NHRA national event has been concluded.
This year is the quintessential example.
In Gainesville when the bike racing season opened in March, all eyes were on the Harley-Davidson and Buell pacesetters like Hines, his new Vance & Hines teammate Ed Krawiec, and G-Squared Racing's Chip Ellis. As a reminder, Hines has now won three consecutive POWERade titles aboard his "Screamin' Eagle" V-Rod and the preponderance of Suzuki GSX-R's, TL-1000's, and a sporadic Kawasaki in the class have had to take a supporting role in the last three championship sweepstakes. The NHRA has made some rules revisions over the past year to try to accomplish some parity between the domestic and imported machines and last year it appeared that those tweaks had paid off.
Hines failed to win a national event until Denver in July while the team of Sampey and Brown got out to a fast start on their U.S. Army Suzukis. Ultimately, Hines only won three races in 2006 but tallied enough round wins to come from behind and close out POWERade crown No. 3.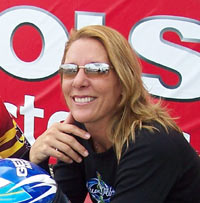 This year, Hines is off to his worst start in the last three years. Three events into the schedule, Andrew hasn't but a single round win. Things aren't a whole lot better for his teammate, Krawiec, who has two round wins and failed to qualify in Atlanta. Ellis has two round wins and his season highlight so far has been his semi-final finish in Atlanta after two first-round losses to begin his campaign.
Meanwhile, the girls are getting after it.
Stoffer won the bike opener in Gainesville and did so by virtue of three holeshot wins out of the four rounds of eliminations. Sampey, in the meantime, set a new NHRA national elapsed time record at the Gatornationals, 6.911-seconds. Angelle was the Belle of the Ball in Houston while Stoffer came back to go the distance in Atlanta.
Ladies: 3, Gentlemen: 0.
Obviously, the fairer sex would love to see this trend continue for the next 12 races but at some point, we all know one of the men-folk will break through and score that first elusive victory of 2007. But until then, there's only one thing any of us can say that might lend any relevance to what we're seeing in this year's Pro Stock Motorcycle battle of the sexes.
You go, girls!