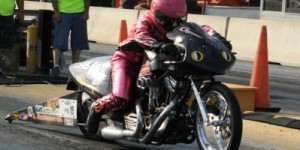 Team HeadBlade/Capone Racing sans Frank Capone attended the AMRA drag race at the Mason Dixon Dragway, near Hagerstown, MD. 
Capone said, "Amazingly, I felt very comfortable with my decision for the team to race without me.  We did communicate throughout the weekend, but between Mark Godin, crew chief and Rickey Stewart, former crew chief for Team HeadBlade and Shaun Reno and Lorne Buchanan and Harry Roberts things went very well."
"Holly Keller qualified number 1 on the Pro Gas bike with a 8.35 ET at 157 mph. She was able to win the first round but a little tire spin shut down weekend plans.  Holly did a great job, she was very comfortable with the team and they with her. She hasn't had an opportunity to compete much the last few years and is anxious to get some more points and passes under her belt."
"Shaun Reno was totally on his game, qualifying # 2 with a 8.70 ET and 153 mph and making it to the semi's only to be defeated by Maury Strobel".
"We have modified some plans for the remainder of the season. We are so pleased with the NHRA Harley-Davidson Drag Racing Series that we are going to Cordova for the Matco Tool Summer Showdown presented by Clinton Harley-Davidson.  We're anxious to compete at Cordova Dragway, I've heard they'll have a fast track ready for us and we're looking to take the information we've gathered and start putting down some numbers."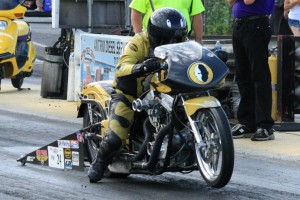 June 21-22 NHRA Cordova, Ill.   
July 19-21 NHRA Lucas Oil Drag Racing Series New England Dragway, Epping, N.H.
July 27-28 AMRA Kil-Kare Raceway, Xenia, OH
Sept. 20-21 NHRA Lucas Oil Drag Racing SeriesBristol Dragway, Bristol, Tn
Sept. 28-29 AMRA Beech Bend Raceway, Bowling Green, KY
Capone's team consists of Mark Godin, Craig Fisher, Lorne Buchanan, Katy Miller and Kelcie Edwards.
.
Capone Racing sponsors and friends supporting Capone include: HeadBlade Inc. G&G Engineering, DAS Performance, L. Buchanan Co., Gannos Machine, Energy One Clutches, PR Factory Store, Vanson Leathers and all the staff at Capone Landscape.
Capone can be reached at:
781-224-0700
Friend—Frank Capone and Holly Keller on Facebook