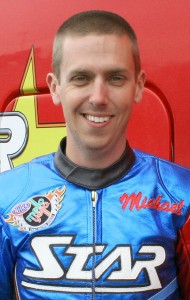 Sovereign-Star Racing's Michael Ray claimed his second career victory in his first final round appearance of 2013 at the Toyota NHRA Summernationals at Old Bridge Township Raceway Park in Englishtown, N.J., this past weekend.
This significant win marks the 79th NHRA Pro Stock Motorcycle win for Star Racing and the company's first since 2008. It also marked the first victory for the Sovereign-Star Racing combination that was organized last season by Star Racing's George Bryce and his Sovereign Racing partner Jenõ Rujp.
Ray will now join the list of nine other professional racers who have claimed wins for Star Racing, including John Myers and Angelle Sampey who won a combined six NHRA Championships for the team.
"There are 78 of these Wally trophies at our shop, and they were getting lonely! We needed to bring home a new buddy for them," Star Racing owner George Bryce said. "What really put this win into perspective for me was the fact that the last race we won was in 2008 at the Finals in Pomona with the Chris Rivas Drag Specialties team. When we came back from our three-year sabbatical of not racing during '09, '10 and '11, we didn't realize it would take us 14 months to get back to the front of the pack."
Ray won his first Wally at the 2012 AAA Texas NHRA Fall Nationals in Dallas, where he became the only non-Harley driver to win a 2012 NHRA Pro Stock Motorcycle national event and broke the Harley-Davidson/Vance & Hines Screamin' Eagle team's streak of 13 consecutive wins.
"Last year was such a roller coaster for the Sovereign-Star team to get everything going. So, to join them this year and to see that it's all really starting to come together is awesome. Everyone at the Star Racing shop has just been working so hard, and it has all paid off," Ray said.
After qualifying at No. 4, Ray's road to victory on his S&S-powered Buell began as he faced No. 13 Mike Berry in round one eliminations on Sunday.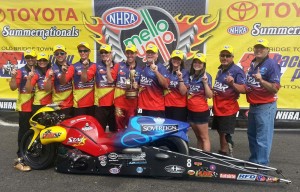 Following his win against Berry, Ray was up against John Hall for round two. In a close race, Ray's quick reaction time of .021 seconds gave him the jump he needed to take the holeshot win.
With engine trouble after crossing the finish line in round two, the Sovereign-Star Racing crew came together to pour all of their efforts into completing a successful engine swap within the short, 45-minute break between rounds.
In the semifinal round, Ray posted a 7.073 ET to take the win against Shawn Gann's 7.121 ET.
In the final round of eliminations, Ray faced Hector Arana. Ray once again won on a holeshot with his quick .008-second reaction time. This huge lead at the start earned Ray the win as he pulled away at the finish line to post a 6.954 ET at 193 mph to Arana's 6.952 ET at 191 mph.
Ray's win also broke the three-race winning streak of Arana's son, Hector Jr., who has faced fellow Sovereign-Star Racing driver Scotty Pollacheck in the past two final rounds of competition at Charlotte and Houston.
"I'm just the jockey racing the horse. We won on a true team effort, because we won on two holeshots and then just went really fast the next time. It was destiny for us to come out and win one of the biggest races of the year other than Indy," Ray said.
Ray's teammate Pollacheck did not qualify due to technical problems during all four qualifying rounds Friday and Saturday. The motorcycle experienced a failed crank sensor and throttle position sensor, as well as issues with the clutch and an engine swap between sessions.
"We made four runs and had four completely different problems every time. It was not really anything that was foreseeable or anybody's fault. That's just how it goes in racing sometimes," Pollacheck said.
Despite the disappointment, Pollacheck and the rest of the crew gave their full support as Ray raced to a win for Sovereign-Star Racing on Sunday.
"It was bittersweet because we weren't qualified. It was great that Michael was doing so well; he rode phenomenal. To get to a team win and a trophy and all that stuff was pretty awesome," Pollacheck said.
"Yesterday, I rode well because Scotty was there to be an awesome mentor for me," Ray said. "He never showed any frustration all weekend. I made a point to tell him that he was just as instrumental as everyone else in helping me to win, because it was a true team effort. I've never felt more a part of a team and family than I do right now. I also want to thank Scotty's wife, Susan, who really helped me out this weekend."
Although Pollacheck earned only a few points toward the championship this past weekend, his prior strong lead over third place kept him at the No. 2 position going into the next race.
Following his big win, Ray has moved up to No. 4 from the No. 8 spot in the overall NHRA Mello Yello Drag Racing Series points standings. He is now only five points behind No. 3 Arana and six points from Pollacheck's No. 2 position.
The Sovereign-Star Racing team will compete again June 21-23 at the Auto-Plus NHRA New England Nationals at New England Dragway and Motorsports Park in Epping, N.H.
The 2013 Sovereign-Star Racing Team is a partnership between Georgia-based Star Racing and the Hungarian-based Sovereign Racing Team, the 2011 UEM European Pro Stock Bike Championship Team, owned by sugar distributor Jenõ Rujp.
The Sovereign-Star Racing Team would like to thank the following sponsors: Sovereign, Star Racing, Americus Motorsports Complex, S&S Cycle, Daytona Sensors, Worldwide Bearings, CP Pistons, Cometic Gaskets, Quality Tire, and Uncle Hal Gottspeed Racing.
Star Racing Fast Facts:
·         Based in Americus, Georgia
·         Six-time NHRA Pro Stock Motorcycle Championships
·         78 NHRA national event wins with nine different riders
·         Owned by George & Jackie Bryce
Sovereign Racing Team Fast Facts:
·         Based in Budapest, Hungary
·         2011 European UEM Championship Team with rider Jesper Thiel
·         Owned by Jeno Rujp
Michael Ray Fast Facts:
·         From: New Braunfels, Texas
·         Job: Harley-Davidson Motorcycle Salesman
·         Years in drag racing: 11
Scotty Pollacheck Fast Facts:
·         From: Medford, Oregon
·         Job: Owns "Quality Tire" store
·         Years in drag racing: 27