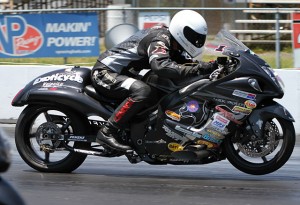 There appears to be no class that Jeremy Teasley can't win. The young Ohio racer doubled last time out in the Mickey Thompson MIRock Superbike Series, winning DME Real Street and Crazy 8s. This time, at the Fast By Gast Summer Nationals at Maryland International Raceway in Budd's Creek, Teasley won Real Street again as well as Louis Concrete 4.60, a class neither he nor builder/tuner Cecil Towner of HTP Performance had ever entered before.
The ongoing Real Street battle between Teasley and Johnny "Turbo" Dobrin is epic. Multi-time champ Teasley lost the class last year to Dobrin, who dominated on his smooth Exoticycle turbo 'Busa. But this year, Roger Starrette—the owner/builder/tuner of Teasley's nitrous-huffing Kawasaki ZX14—is focused and consistent. Dobrin is working to find more power and new ways to apply it.
Each round of qualifying was a seesaw battle between these two, with both bikes running mid-.70s pass after pass. Dobrin won the time trials battle with a 7.741, and of course the two met in the final on raceday. With both bikes set on "Kill," Teasley's '14 wheelied off the line and Dobrin's 'Busa spun. Both bikes were on and off the throttle down the quarter mile until the winlight came on in Teasley's lane.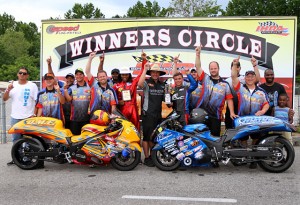 Towner decided to enter his two ADRL PXM Hayabusas in MIRock's 4.60 class, and the savvy Virginian quickly honed in on what it took for the bikes to run the number. Rider Ryan Schnitz rang up a 4.61 in testing Saturday night on one of the 'Busas, better than #1 qualifier Ronnie Smith's 4.629. But Schnitz's bike had nitrous controller problems on raceday and it was Teasley's turn to run 4.61s and he did, taking his second final of the day over Rockingham winner Kenny Cornell.
Dimey Eddinger's DME Racing team turned back all comers in hotly contested Orient Express Pro Street, despite serious challenges from three-time champ Rodney Williford and the potent Michigan combination of builder/tuner Ronnie Mitchell and rider Bud Yoder.
Any doubts that anyone may have had about Williford's skill and courage were certainly dashed by the display he put on aboard the "No Joke" 'Busa at MIR. Doing some work on the bike now owned by Starrette, and with his own bike undergoing a rebuild, Williford lapped the notoriously powerful and ill-handling bike to a hairy 6.98 #1 qualifying pass.
Williford raced the bike to the semis, where he faced DME's Terrence Angela. "I was so nervous racing Rodney, I nearly threw-up!" said Angela, a Pro Street rookie from Aruba. But with tuner Andy Sawyer turning up the boost, Angela held on and delivered with his first 7.0 pass ever to advance to the final.
Joey Gladstone ran a 7.06 against Yoder in the other semi to make it an all-DME Pro Street final round. Battle tested Gladstone nailed an .054 light on Angela, who laid down a 7.03 in hot pursuit. But with both bikes running over 209 mph, Gladstone's starting line advantage held up and he won despite a slower 7.06.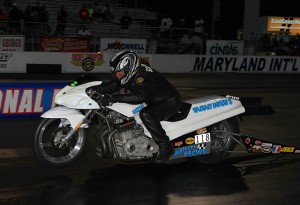 Needless to say, MIR's $10,000 Pro Street "Battle Royale" coming up in October will be an event that no one will ever forget.
Hillbilly Hustler Jimmy Shifflett won both Fast by Gast Pro ET races back in April and took up right where he left off, taking the final over Wayne Smith on Saturday night. That made it 23 consecutive round wins for Shifflett at MIR, whose streak finally ended on Sunday. Michael Herman Jr. took the win that day over Wilson Burkhead in the 7th and final round.
Shifflett's streak did carry him all the way to the Trac King/APE Top Sportsman final, where he lost to Mark Schwalm. Curtis Griggs Jr. took the FBR Shop 5.60 final over class sponsor Marion Ford. DJ Lockwood won the Crazy 8s final over Travis Boudreaux.
Saturday night's Pro ET runner-up Smith was keeping his 'Busa's clutch cool despite hot lapping two classes. He took that night's Brock's Performance Street ET win over Pro Street racer Tony Ficher. Jimmie Miller took Sunday's final over Bob Carlson, who won back in April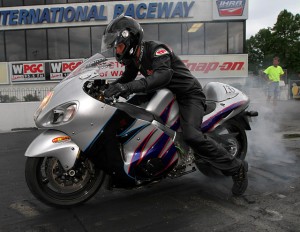 Grudge races spilled over from Saturday night's Afterdark Undergound into Sunday, with Lil' Daddy taking two on Slim's no-name 1000 over Derek Henderson's RG3—once with Darion "Nanu" Payne in the saddle and then Teasley on the rerun. Redskins fans are hoping for a better start to the season from their quarterback…
But the quickest team of the weekend? That was the MIR staff, who with the cooperation of all the racers pushed the event to completion as storms bore down on the southeastern Maryland facility. The skies opened up just after the last final.
Results: http://www.mirockracing.com/results/2013/race3-mir/index.htm
The stars of the Mickey Thompson MIRock Superbike Series return to action at Rockingham Dragway on June 28-30 for the Adams Performance Sportsman Summer Sizzler.
Find out more about the Mickey Thompson Performance Tires MIRock Super Bike Series at http://www.mirockracing.com
Find out more about Maryland International Raceway at http://www.mirdrag.com/
This report was prepared by Tim Hailey. Photos are for editorial use only. Enjoy everything there is to read, see and watch about motorcycle drag racing and more at http://www.eatmyink.com
Mark Schwalm photo courtesy of Terrence Belton of http://www.teesphotoshop.com/
-end-
High-res images for editorial use are available by e-mailing timhailey@earthlink.net