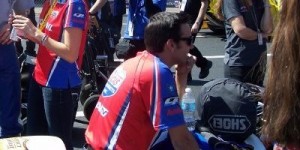 MavTV rider Adam Arana felt the joy of winning a round in Pro Stock Motorcycle for the first time, getting by past class champion L.E. Tonglet in the first round on Sunday at the Toyota NHRA Summernationals at Old Bridge Township Raceway Park.
Arana left first on Tonglet and then made a solid pass of 6.993 seconds at 188.17 mph to secure the first round-win of his rookie season.
"Yes, finally," Arana said. "The bike was drifting toward the left, so my shift points were not exactly right. I was drifting to the centerline and I was like, 'Don't pass me, don't pass me.' And then I crossed the line and thought, 'Man, I think I got this.' I didn't see the bulb that tells you you won, but I was like, 'Man, I tell you what, Adam, I think you did it. Good job buddy.' "
He was right, especially when NHRA officials in the shutdown area let him know.
"When we pulled off they said, 'Adam, come here,' " Arana said. "I was like, 'Yes, I got it!' It felt good."
Arana later lost in the second round to Shawn Gann, but the first-round victory moved him up one spot in the Pro Stock Motorcycle points standings to 12th, and he's within two rounds of 10th place, the final spot in the Countdown to the Championship playoffs.
Arana simply wanted to have fun this weekend in an effort to take some of the pressure off himself, and he accomplished that goal.
"I just wanted to go out there and ride," Arana said. "I wasn't worried about anything."
But in another learning experience, he missed the Christmas tree against Gann and fell despite a better elapsed time of 7.005 seconds at 190.73 mph to Gann's 7.082 at 187.57 mph.
"I was relaxed for the second round, but I took my eye off the light for a split second," Arana said. "We were both prestaged and then I staged. I looked at the Tree, and then the next thing I know he was on the two-step and I was like, 'Crap.' I got on it and as soon as I did the light dropped. If you look at the graph usually it spikes up and the two-step catches it, but mine spiked up, came down, and then it left."