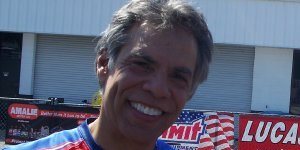 Lucas Oil Buell rider Hector Arana Sr. had a little extra pep in his step on Sunday at Old Bridge Township Raceway Park after reaching the final round of the Toyota NHRA Summernationals. Arana Sr. fell to Michael Ray, but the smile wouldn't leave his face.
"Overall it was a great day," Arana Sr. said. "It was a good day."
The final-round appearance was his first since the U.S. Nationals at Lucas Oil Raceway in Indianapolis last September, and along the way Arana Sr. became the first rider to defeat his son Hector Arana Jr. this season.
Father and son met in the first round Sunday, and Arana Sr. got the best of his oldest son in their seventh career matchup (Arana Jr. holds a 4-3 edge). Arana Jr. had won the first three races of the Pro Stock Motorcycle season and was gunning to match Dave Schultz's class record of winning the first four events.
But Arana Sr. left first with a .034-second reaction time and sped to victory with a pass of 7.002 seconds at 191.67 mph. Arana Jr. lost for the first time this year with a 7.800 at 125.69 mph.
"Overall I know I struggled in qualifying and it put me up with Hector, and I was not happy about that," said Arana Sr., who qualified No. 15. "I wanted to win but it was not an enjoyable one, especially when he wasn't heads-up right there. We were able to go in the right direction. We found some little things, and on each run of eliminations we were able to start tuning this motorcycle and to my surprise it came around."
Arana Sr. was then matched against old rival Eddie Krawiec in the second round. The two left with identical .019-second lights, but Arana Sr. raced past Krawiec with a run of 6.994 seconds at 190.43 mph to Krawiec's 7.066 at 186.61 mph.
"In the first run I had Hector and I said, 'Wow, man, this is going to be a tough run,' " Arana Sr. said. "The bike ran better, so I was happy with that. In the second run we saw some improvement, and on each run the bike starting picking up and I picked up more confidence. I was more happy that I had found the problem with the bike than anything else.
"We need to do this more often. We just need to learn how to not have Hector and I or Adam meeting too early, but overall it was a great weekend."
In the semifinals, Arana Sr. faced Matt Smith, the No. 3 qualifier. Arana Sr. was again up to the task on the tree, getting the better of Smith with a .022 light. Arana Sr. ran quicker as well, going 6.999 seconds at 190.11 mph to Smith's 7.005 at 190.00 mph.
"You want to win every round, but yes that was sweeter," Arana Sr. said. "I did celebrate on that one."
In the final against Michael Ray, Arana Sr. had a decent .043 light, but Ray was able to pull off a .008-second reaction time and hold on for the win despite a slower e.t., 6.954 at 193.49 mph to Arana Sr.'s 6.952 at 191.02 mph.
Arana Sr.'s .043 light in the final was his worst of the race; he averaged a .029 throughout the day.
"I am happy because you start doubting sometimes," Arana Sr. said. "You start thinking, 'Man, am I getting old?' But I was calm and I knew I would find the problem with this bike, and sure enough I thought of something and we found it.
"I just need to learn how to get in the zone like I was this Sunday. It sounds easy: 'Stay focused.' But everything was slow motion and it was a good feeling. I just need to learn how to get there faster and more often."