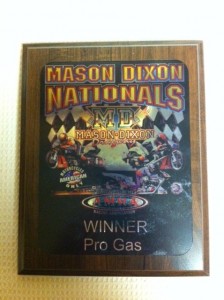 Tom Caldwell is ramping up his program for 2013 and the data he's gathering is starting to pay offfor his new combination. 
At the AMRA Hagerstown, MD event, Caldwell was able to regain his performance edge for the win and during his assault, took the OLD GUYS DO RULE RACING former Pro Stock bike to new AMRA records forthe Pro Gas class.
Caldwell said, "We all struggled with the clutch tune up, trying  to get hold of the slippery  track and qualified 2nd by .040 seconds.
You all know, I was not satisfied with that!  The 95 degree heat and average 50% humidity was oppressive.
I ran two 8.15's at over 163 mph, one in the 1st round and another in the 2nd , then I posted a 8.18, against Joey Thompson in the final."
"We were back In Knoxville  Monday evening and are prepping the bike for the next AMRA race in Bowling Green , KY on June 29 & 30th."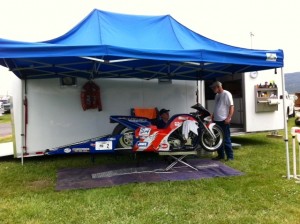 Caldwell gives much credit to Steve Allstaedt of SA Racing and Dana Eckhardt, his long time crew member.  "These guys work and work and work, I mean I work, too. Anyone who races know that late nights and sacrifice of racing, but this OLD MAN gets to ride and I LOVE to race, it's in my genes."
Caldwell's new records are 8.153 ET @163.95 MPH in that heat.
Contact Tom at tcaldwellps9@comcast.net.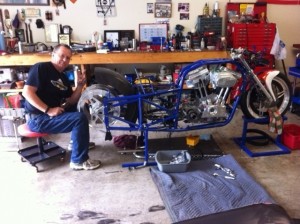 2013 Sponsors:
SOUTHERN BIKER MAGAZINE
SA RACING  
TRAMMEL CREEK CYCLE WORKS
S&S CYCLE
RED LINE OILS
JIMS USA
ENERGY ONE CLUTCHES
WEST HAVEN SPEED EQUIPMENT
VP FUELS
M/T TIRES
TEAM:
DANA ECKHARDT
STEVE ALLSTAEDT
MARY LOU BREWTON
ROBERT MINGE
CRAIG COCHRAN
RAY MATLOCK
GARVIN WIAWIAOLE
JERRY CARDWELL
JANET (Sister)