Both Lucas Oil Buell Pro Stock Motorcycle racers caught a break in the first round of the AAA Texas NHRA FallNationals
on Sunday
at Texas Motorplex. But then, both Hector Arana Sr. and Hector Arana Jr. ran out of luck in the second round.
Arana Jr., the No. 7 qualifier, was fortunate to get a first-round win over Mike Berry after his clutch lever got stuck when he tried to leave the starting line. But Arana Jr. went -.003 seconds red against second-round foe Eddie Krawiec.
"I catch the biggest break in the world in the first round," Arana Jr. said. "We had some issues with the clutch; it was hanging up. That was something I've never experienced before. I noticed it a little bit in the burnout, but I didn't really think anything about it. Then, when I popped the clutch the first round, the lever hung up. I grabbed the handle bar to hold on, but I felt the clutch lever still in my hand, so I shoved it forward.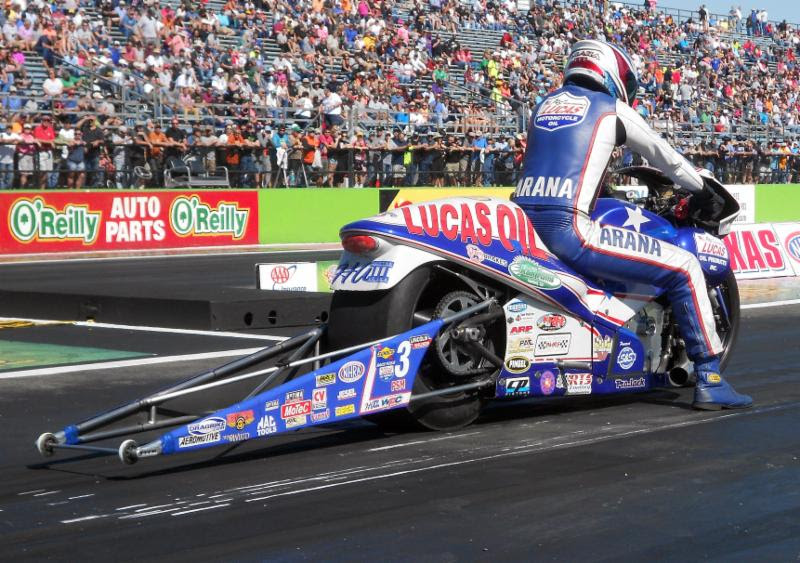 "We took off, and fortunately for me, Mike Berry had some issues, and I was able to get the win."
Arana Jr. and his Lucas Oil team replaced the clutch lever with a new assembly for Round 2, and it worked fine. It might have worked too well.
"We polished everything up, put in a new clutch lever and added lubricant to make sure everything was free," Arana Jr. said. "It was working very nicely. The clutch lever was nice and smooth, better than what it was working, and I went out and go -.003 red."
Arana Sr. put smiles on the faces of the Countdown to the Championship contenders in the Pro Stock Motorcycle class by knocking out points leader Andrew Hines in the first round. After losing his chain, Hines slowed to a run of 7.378 seconds at 138.76 mph, while Arana Sr. sped to the round win with a pass of 6.904 seconds at 195.34 mph.
Arana Sr. left first with a .014-second reaction time, but Hines had gotten around him early in the run.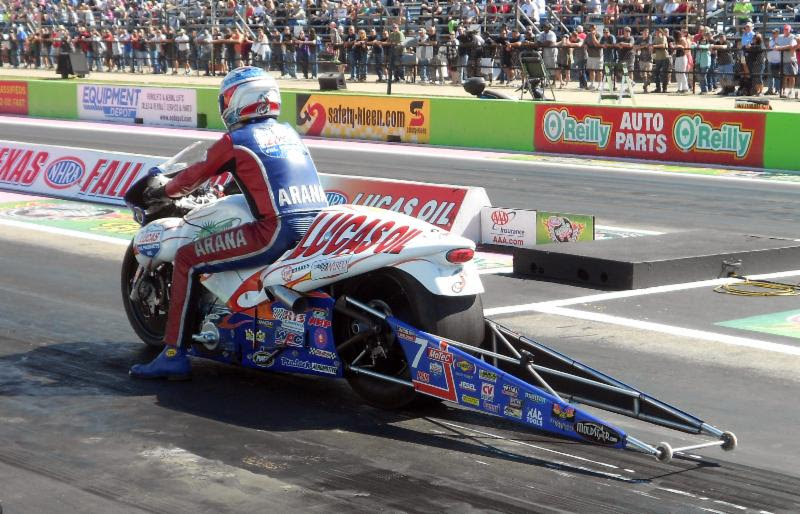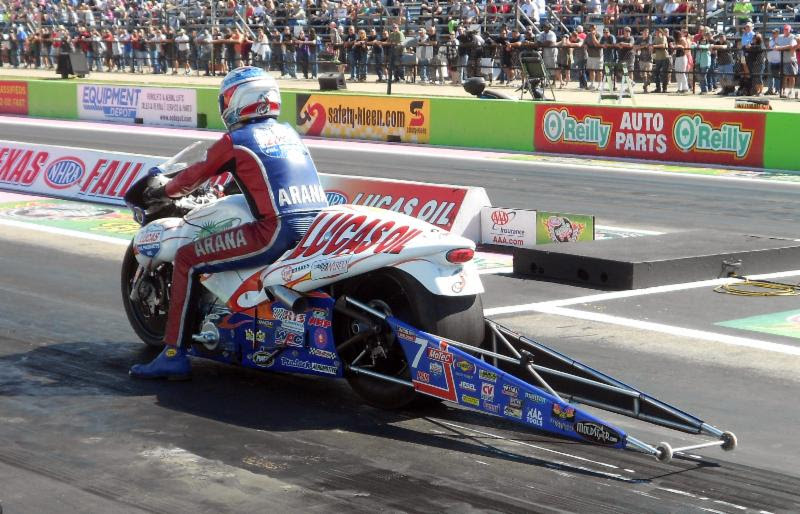 "Yeah, a win is a win, but those wins, I don't care for them," Arana Sr. said. "But it just goes to show you that you can't quit until the end because anything can happen.
"I had an excellent light, and right at the 60-foot he jumped on me and was ahead of me. Now, I'm chasing him, and when he slowed, I wondered what happened, but I just stayed focused and made my run. You can't quit, and as long as everything is safe, I'm going to stay on it."
But against Chip Ellis in the second round, Arana Sr. could only watch as Ellis won with a pass of 6.840 seconds at 196.33 mph, while Arana Sr.'s run was 6.895 at 195.45 mph.