The two most recent Pro Stock Motorcycle races have been run in cool weather conditions, but that will change at the AAA Texas NHRA FallNationals this weekend at Texas Motorplex, and Lucas Oil Buell Pro Stock Motorcycle rider Hector Arana Jr. is ready for the warmer temperatures.
"We'll have a different engine tune-up, and we'll have a little different setup as far as the bike goes," Arana said. "It takes that to be able to run in the heat as quickly as possible. In the past, we've always really done well in the heat.
"We've done well at these Texas races, as far as good times, and we've run well in the heat. I'm looking forward to it. Hopefully, it can give us an advantage and we can run well."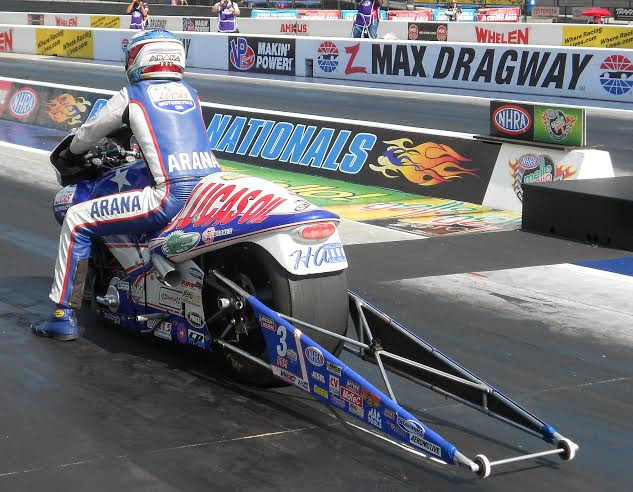 Arana raced to the final round in Dallas in 2011 and has qualified No. 1 there twice, in 2011 and 2012.
In addition to having his Lucas Oil bike ready, Arana is ready for the higher temperatures, which are expected to be in the 80s this weekend. Arana has also worked hard on his physical fitness in recent years, improving his conditioning while dropping some weight.
"Working out helps," Arana said. "When you're working on the bikes and rushing in between rounds, you have to have stamina to stay strong and stay focused. You'll be mentally stronger, too, and therefore you'll be better on the Tree, hopefully."
Arana has two victories in 2015, including in St. Louis in the second Countdown to the Championship race. He's third in the Pro Stock Motorcycle points standings, about five rounds of racing out of first place, but points will not be on his mind this weekend.
"I'm just going to go and try to do my best and win this race," Arana said. "I'm not even thinking about the points. There's no sense in adding that extra pressure of thinking about the points and who's doing what.
"We've got some ideas for this weekend, and we're going to try to be one and two in qualifying and then try to duplicate St. Louis again. That's our goal."
Pro Stock Motorcycle qualifying sessions are scheduled for
2:45 and 5:45 p.m.
,
Friday
, and
12:45 and 3:45 p.m.
,
Saturday
. Eliminations are scheduled to begin at
noon
,
Sunday
. All racing action will be shown on ESPN2.