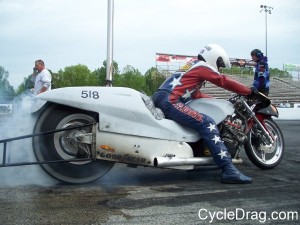 Rockingham Dragway has added a special qualifying session for Mickey Thompson Tires Pro Mod motorcycles during the sixteenth annual Schnitz Racing Summer Sizzler, Aug. 12-14. In addition to pro qualifying sessions at 1 pm, 4 pm and 7 pm on Saturday, Pro Mods will have a "last chance" to qualify for the MIRock Superbike Series event at noon on Sunday. This extra session gives racers competing in the ADRL event at nearby Virginia Motorsports Park on Saturday a chance to double-up on the weekend and take home the MIRock purse on Sunday.
Furthermore, qualified riders in Orient Express Pro Street and DME Real Street will get one Sunday shakedown run at 9:30 am, along with a shakedown run for the Pro Mods. Eliminations begin at 12 noon on Sunday for Pro Street and Real Street, with first round of Pro Mod run in conjunction with round 2 of the Pro's at approximately 2 pm.
Ronnie Procopio of Wake Forest is the MIRock Pro Mod points leader with Hughesville, Maryland's Robbie Hunnicutt in second place. Three-time winner Procopio was runner-up to Hunnicutt at the most recent MIRock Rockingham event, the FBR Shop Bike Week Nationals held in May. Procopio won the Honda-Suzuki of Sanford Spring Bike Open and two events at Maryland International Raceway.
The Schnitz Summer Sizzler is the sixth event in the eight race, $400,000 Mickey Thompson MIRock Super Bike Series.