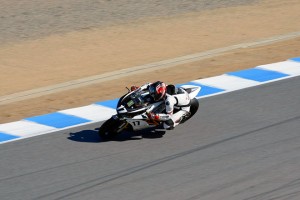 Last year Top Fuel legend Larry "Spiderman" McBride stunned the world of drag bike racing when he was able to motor the Shawn Lawless/Orange County Chopper's electric drag bike to a world record elapsed-time and speed, 7.24 at 185 mph.
This past weekend another electric motorcycle made history when factory rider Steve Rapp lapped Mazda Raceway Laguna Seca in 1 minute, 31.3 seconds. The lap marked a track record for an electric vehicle of any kind and would have put Rapp fifth on the grid for that weekend's AMA Supersport race.
"Actually, it's easier to accelerate because you don't have to shift gears now. There's nothing hard or awkward," Rapp said. "If anything, it's actually easier to ride because of that. It's just one gear, smooth power, there's no hits in the powerband like you have with a gas engine, it's easy to maintain partial throttle, everything. It's just so fun to ride."
As the electric-based technology becomes more refined, advantageuos and inexpensive, will we see more individuals build such race bikes?
The truth may shock you.