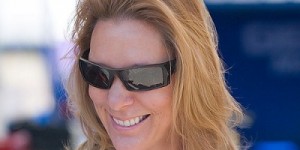 GEICO pro Karen Stoffer has spent enough time leading the Full Throttle championship points this season to know she likes the view from the top. Although in her typical understated way, she refuses to look beyond the next round of Pro Stock Motorcycle racing, which begins Friday with two rounds of qualifying at the fourth annual O'Reilly Auto Parts NHRA Nationals.
"We just need to race," said Stoffer, who was the first rider in the class to lockdown a playoff spot. "All the other stuff will take care of itself. If we do the right things to prepare this GEICO Suzuki and I do my job riding the bike, then everything will work out for us."
After recently suffering through a few races with subpar results, Stoffer and her crew chief/husband Gary Stoffer finally found their groove again at the recently completed U.S. Nationals in Indianapolis. Stoffer qualified third on the grid there and posted her best pass of the weekend — and quickest of the entire session — in Round 1.
"We wanted better results in Indy, for sure, but to find that power and put it on the track like that was very encouraging," Stoffer said. "We'll need to run well to stay up front over these last six races. We know what to do on the track and we know how to win, so it'll come down to execution, especially in those key match-ups you have to take."
Stoffer led the points after four of the 10 regular season races and has never dipped below third place all year. She's raced to four finals overall, winning the difficult Mile-High NHRA Nationals in Denver. She's also qualified in the favored top half of the field nine times.
"Being consistent carries so many good benefits," she said. "If we stay within our program and do what we we've been doing for most of the season, things will work out.
"It's exciting to start the Countdown and to return to zMax Dragway because it's such a beautiful facility and the fans that come out are so supportive. We've got six races to see what we can do but we're certainly not going to look past our next trip down the quarter mile."