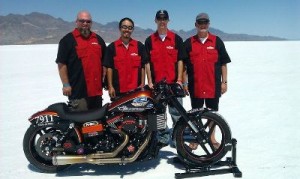 Hiro Koiso Racing returned to the salt at the 2011 BUB Speed Trials, August 27th -Sep.1, at the legendary Bonneville Salt Flats in northwestern Utah and garnered four new AMA records and two new FIM World Records:
3000 M-PBG 188.509mph,
3000 M-PBF 190,413mph,
3000 MPS-PBG 188.231mph,
3000 MPS-PBF 191.507mph
Koiso's 2006 Harley FXD-I is powered by a JIMS 131 cubic inch, twin-cam engine modified by T-Man Performance. The motorcycle is ridden on the street and Koiso had boldly proclaimed the machine to be the world's quickest street legal Harley-Davidson prior to setting the records at Bonneville.  Koiso backed up his claim.
"This year's preparation was tough but it was all worth it. I was so glad to be back on the salt to redeem myself," said Koiso, who suffered a crash during the 2010 campaign.
Koiso's engine boasts a plentiful 224 rear-wheel horsepower.