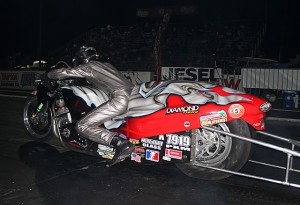 Multi-time AMA/Dragbike and MIRock Superbike Series champion Jeremy Teasley made quite an impression at his first ADRL race, qualifying number 1 and going to the semis where his race was ended by world record holder Ashley Owens. That it was his first time ever on a Pro Extreme Motorcycle makes Teasley's performance at the ADRL's Dragstock VIII at Rockingham Dragway in North Carolina all the more remarkable.
Riding Robbie Hunnicutt's "Superman" Suzuki, Teasley had the luxury of skipping the final qualifying session and retaining the top spot with a 4.04. Jeremy gave up the tree to Paul Gast in round 1 of eliminations but nicked him by .004 at the stripe. He then ran a 4.05 to put Dave Norris on the trailer, setting up the anticipated semifinal match-up with Owens, who had lost one round in nearly two full seasons. Jeremy did his job, nailing a .006 light on Ashley. But Teasley's bike spun and ran a 4.059 with only a 1.04 60 foot time, well short of the tune-up that was in the bike, while Owens posted a new record 3.964 to take the win. "It was a little aggressive," Teasley said about the tune-up, noting that they had no choice but to go aggressive against a 3 second motorcycle.
"I think lane choice cost us," said Starrette.
Hunnicutt agreed. "It turned into a one lane race track, I think that's why Ashley pushed it when he had a bye run. We came to race Ashley, he's the best guy out here, we just had to run him a little early. Jeremy did his job. If Ashley ran a .99 we win." Which is exactly what happened in the final where Owens lost on a holeshot to Billy Vose.
It was a spectacular start to what looks like a steady gig for Teasley. His backer Roger Starrette intends to buy the bike from Hunnicutt and will definitely make the next race in Jeremy's home state, Ohio. "We'll have the spare motor there," Teasley said with a smile. "We didn't have a spare motor at this race."
"This is a different ball game for sure, it's a blast," said Starrette.
Teasley now has eight passes on the bike. Some Pro Extreme Motorcycle riders have raced years and never run quicker than a 4.20. Jeremy's never run slower than the 4.16 he ran his very first pass and there's no going back. The streetbike drag racing community has followed Teasley's success since he was a shy 16 year old who spoke only with his throttle hand, but now the drag racing community at large will know all about this remarkable young man.
Jeremy Teasley's next ADRL race is September 23-24 at Summit Motorsports Park in Norwalk, Ohio