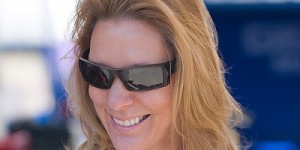 Karen Stoffer opened the 2011 NHRA Full Throttle Series Pro Stock Motorcycle season with a runner-up finish on the GEICO Suzuki at the 42nd annual Tire Kingdom Gatornationals.
The finish was the culmination of several years of searching for the right tuneup and after three days of quick, consistent laps, Stoffer said everyone – and every thing – in the GEICO Suzuki pit is feeling fine.
"Going rounds this weekend definitely boosted our confidence," Stoffer said. "We've been to two different tracks now and the bike's done great. We've got the correct shoes on the correct feet and we've seemed to gotten it right.
"When the bike's happy, the rider's happy. When the rider's happy, the crew is happy and everybody's happy."
The GEICO Suzuki mowed through Michael Ray, Matt Smith and new national record holder Hector Arana before Stoffer squared off against Eddie Krawiec in the finals.
Stoffer said the bike's Achilles' heel all weekend was its 60-foot times and changes were needed against Krawiec, which led to her red light start in the money round.
"We knew being in the lane that was the weaker of the two, we had to do (improve the 60 time). So, we kind of changed everything around," Stoffer said. "That's just how it goes. I know we had a red light but it was a close one, it was a .002 and with the changes to the bike it's not too surprising."
Before the finals, Stoffer was always one of the three fastest bikes in every round and went no slower than a 6.84
"We are really happy and now we have a long break," Stoffer said. "I'm not sure if we are doing testing in the long break. I know we are putting away a happy bike and then we will shoot for Houston."