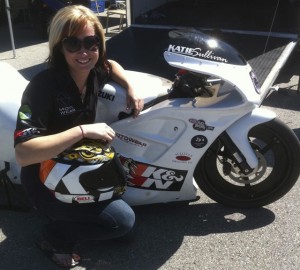 For twenty-year old NHRA Pro Stock Motorcycle driver Katie Sullivan, the past couple of years have been filled with valuable lessons in patience since debuting as the youngest female to pilot and qualify in Pro Stock Motorcycle at the age of eighteen. The family-run Sullivan Racing team operates as most team's do, built from the ground up, spending countless hours in the garage on the weekends, using the resources of the family business and help from valuable friends and family volunteering along the way. There have been many bumps and bruises for the team so far. It's been a test of will and a test of determination. It's a patient fire that burns deep, a fire, which will soon lead to greatness.
This weekend signaled the kickoff of the NHRA Pro Stock Motorcycle season at the 42nd Annual Tire Kingdom NHRA Gatornationals in Gainesville, FL. A brand-new season, a brand-new start, and for the Sullivan Racing/Girls For A Change race team, an introduction of their new partner, K&N Filters. "I want to give a huge thanks to K&N filters, I think Gainesville was a great way to kick off our new partnership. I look forward to such exciting things ahead for both of us." Sullivan said. "I also want to thank everyone for their amazing support. Without my family, friends, and fans, we wouldn't be here." The Gatornationals is a major event. An event where legendary drag racing history has been made, so the stage was set for that brand new start and some personal history to clash this weekend.
The weekend's race conditions were ideal, with several of the Pro Stock Motorcycle teams threatening the 200 MPH mark. The entire weekend was filled with firsts for Katie. Her first round base run, while off the pace, was a career best for the team running a 7.064 at 185.97 MPH (7.089 previous best – World Finals 2010). The team and conditions got much better in the second round, as Katie ran her first ever 6-second pass, with a 6.980 at 191.97 MPH, also notching her career best top speed (previously 189 MPH). Though the first two rounds were personal successes, the team sat in the number fourteen spot just missing the guaranteed Top-Twelve field.
Heading into Saturday, there was no room for error, knowing that a high 6-second pass would be needed to even have a chance at racing on Sunday. The team didn't blink as they dialed in a third round qualifying pass of 6.995 at 189.10 MPH followed by an even quicker 6.990 at 191.43 MPH in round four to secure the number fifteen spot in the field. This meant a race day start for the first time since the Mopar Mile-High Nationals in Denver in July of 2010. "I really have a hard time putting this weekend into words." Said Sullivan. "After over a year of struggling our team showed up in Gainesville with more determination then ever and man did it pay off. When my dad came to pick me up on the top end all we could do was smile about our first 6 second pass." The fifteen spot would be no easy task though, as she would match up against newly crowned top speed record holder , eventual race winner and friend, Eddie Krawiec in Round one.
Greeting the world on Sunday with a facebook post that said, "Good morning race day! Man I have missed you", the always-positive Sullivan was ready to tackle her friend Krawiec in round one. While she found magic off the line running a quicker .027 light to Krawiec's .087, the power of the Vance and Hines Screaming Eagle pulled past her to take the round one victory running a 6.829 to Katie's losing 7.016. While the loss was tough, the friendship and knowledge Krawiec and the Vance and Hines team has given Katie and her team over the past couple months is far more valuable than a single round win. "I owe a big thank you to Eddie Krawiec and Vance and Hines," Said Sullivan. "He really has helped get our team headed in the right direction. I couldn't be more excited for what's to come for this team." While the day ended early, Katie and the Sullivan Racing team learned another lesson in patience this weekend and are excited to see what the rest of the season brings. "I couldn't be more excited for what's to come for this team, all I have to say is look out racing world, because we are taking this K&N Filters Suzuki to the top." Said Sullivan.
The Pro Stock Motorcycle class takes a month and a half break before their next event at O'Reilly Auto Parts NHRA Spring Nationals in Houston, TX April 29th through May 1st, 2011. The team hopes to race that weekend, and will continue to test on the side in the meantime.