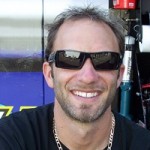 Matt Smith and his Al-Anabi Racing Buell headed into the first race of the season for the Pro Stock Motorcycle class in Gainesville, Florida knowing he was down on power.
The 2007 Pro Stock Motorcycle Champion raced all winter in Qatar, and needed a little more time preparation for the first race on the 2011 NHRA Full Throttle Series tour.
"We knew coming here we had a sixth to ninth place bike," said Smith. "We have a few off weeks, so we will go back to the shop and tackle the horsepower department. Got a lot of R&D to do."
Smith qualified in the number five spot, and had to face his wife, Angie Smith, first round. The two Smith's would rather face off in the final round, but come as it may one of them had to lose. Running the fifth quickest time of the round, Matt Smith would take the win light and advance to the second round.
"I hate racing Angie," says Smith. "It is fun to race each other, but not under these circumstances. I wish it would have been closer, but it is what it is and hopefully we can meet up next time in the finals."
Second round the Al-Anabi Pro Stock Motorcycle racer had to take on Karen Stoffer. Smith would run well, but not good enough.
"The bike went real lean against Karen," said Smith. "I am not really sure why, since the weather didn't change that much, but the bike definitely did. Either way, we got some work to do, so we will be ready for Houston at the end of April."