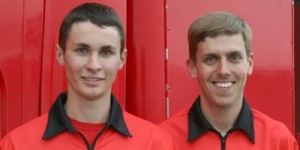 The Star Racing team is getting back into "race mode" with a new but familiar color scheme and engine improvements to their S&S-powered Buell motorcycles just in time to race in their home state of Georgia at this weekend's Summit Racing Equipment NHRA Southern Nationals at Atlanta Dragway in Commerce, Georgia, just north of Atlanta.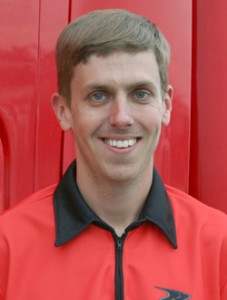 So far this season, Star Racing driver Michael Ray has claimed two No. 1 qualifier positions, and set new career and company bests for ET and speed. His teammate, Rookie of the Year contender Chaz Kennedy, has also had a strong start to his first full season of NHRA professional competition as he claimed his first Pro Stock Motorcycle (PSM) round win, set new career bests for ET and speed, and qualified at every event entered so far. Both drivers are currently in the top 10 in the points standings.
This weekend's race, May 16-18, will be the third of 16 events for the NHRA Mello Yello Series Pro Stock Motorcycle class after the teams received a five-week break following the Four-Wide Nationals in Charlotte, N.C. The Southern Nationals will also mark the return of the PSM class to this historical Georgia racetrack.
"Atlanta is a great place for the racers in the Pro Stock Motorcycle class, because there's always a great turnout of motorcycle fans there. Also, our Star Racing team is excited to be able to race close to home for at least one event so that we can have our local friends and family come out for the weekend. We expect to see a lot of people from our hometown of Americus there this weekend," Star Racing co-owner and team crew chief George Bryce said.
Americus, Georgia-based Star Racing is located only a couple hours south of the Commerce event and has a long history of racing at that track.
"I think it's huge for our sport to be able to go back to Commerce this season. There's a lot of history there at that track, especially with Star Racing and NHRA. Considering the success that I've had there in the past, I think it will help me to be more comfortable and focused this weekend. I ended up in the final (round of eliminations) at the last NHRA event I competed in at that track. I've also won at Commerce several times in the AHDRA and Pro Star series. I feel really at home at those old racetracks, and to return to a track that you're comfortable at is priceless," Ray said.


During the somewhat long break between the Charlotte and Atlanta events, the Star Racing team took the time to make several strategic changes and improvements to their engine program that they hope to see payoff at the Southern Nationals this weekend.
"We studied the differences between all of our engines very carefully and measured everything that we knew how to measure to duplicate our best engine combinations. We are closer now than we have been in the past to having more fresh "bullets" (spare engines) that are all equally fast," Bryce said.
"We've had a lot going on at the shop and have been busy getting everything ready for this race. Even with all that's going on, I just continue to keep my mind set on racing all day every day, no matter what I'm doing. Making mental runs and sitting on the bike at the shop whenever I get a minute has also helped me to keep my focus during the break," Kennedy said.
Although some of the changes will show through subtle shifts in the numbers posted on the track, other modifications will be much more obvious to the fans and media. At the suggestion from an old friend, Bryce and the team decided to return to the traditional Star Racing signature red and yellow paint scheme for their two Buell motorcycles and will be rolling out this new combination at the Atlanta event.
"We had an old friend, Rolfe Schnur, come by and visit us at zMAX during the Four-Wide in Charlotte, and he asked why our motorcycles were flat black when everything else – our 18-wheeler, team uniforms, and leathers – all represented that Star Racing red and yellow. He suggested that if we're not obligated to represent a sponsor company's colors, then why not highlight the 34-year history and legacy that Star Racing brings to the table? Luckily, Kevin Haase at Master Paint and Body, a local shop that does the paint for our bikes, agreed to put a rush on the job for us so that we could roll out the new paint in time for the Atlanta race," Bryce said.
Now that the team is beginning to settle in for the remainder of the season, the racers are ready to get serious about making progress toward the race to a championship. Although Ray has already claimed two, back-to-back No. 1 qualifier positions for the team to start the season off, he realizes that other components also go into creating that championship season.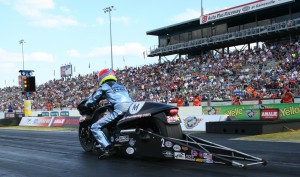 "The bike has been fast enough and I've been driving well enough that I'm ready to turn on some win lights. The No. 1 qualifier says a lot, especially about the guys at the shop and all their hard work. That's really their time to shine, but it's to the point now that we need to get into race mode. Dyno drags and horsepower don't win championships. We just need to turn that into some round wins, and hopefully Atlanta can be the chance for us to do that," Ray said.
"We've been working really hard at the shop to make more horsepower and improve reliability as far as parts go. We're doing pretty good at that, so I'm excited to go see what numbers and improvements we'll see on the track this weekend compared to what we've seen at the shop recently. Plus, Commerce is where I won my first race when I was competing in AHDRA, so it will be exciting to go back to that track," Kennedy said.
With his dual role as team crew chief and racing instructor for his drivers, Bryce plans to use the engine improvements to further enhance the skills and performances of his racers.
"Since both Michael and Chaz have very fast motorcycles at this point, they need to focus on the basics of just making good runs and doing what they know how to do. They need to remain calm and execute the procedure. It sounds so simple, but if they just focus on making good laps, then the round wins will take care of themselves," Bryce said.
ESPN2 television coverage of the NHRA Southern Nationals will begin with qualifying from 6 – 8 p.m. (EST) on Saturday, May 17 and final eliminations from 9 p.m. – midnight (EST) on Sunday, May 18.
The Star Racing Team would like to thank the following sponsors: Star Racing, Georgia International Raceway Park (formerly the Americus Motorsports Complex), HopUpYourHarley.com, Underground Professionals Inc. (UPI), S&S Cycle, Daytona Sensors, Worldwide Bearings, Arrow M, Jay Warner, and Uncle Hal Gottspeed Racing.
The HopUpYourHarley.com campaign represents Star Racing's state-of-the-art upgrade options for Harley-Davidson® and other Big Twin street motorcycles. Star Racing offers a full range of S&S Cycle V-Twin replacement engines for Harley-Davidson® Dyna™, Softail®, and Touring models that deliver huge increases in horsepower and torque. For 2007 and up Harley models, Star Racing has also developed a 107" Thrasher Upgrade Kit that produces 120+ horsepower while maintaining the stock appearance and reliability.
• Star Racing Online:
o HopUpYourHarley.com
o Twitter: twitter.com/StarRacingGA
o Facebook: facebook.com/StarRacingGA
o YouTube: youtube.com/StarRacing6X
Star Racing Fast Facts:
• Based in Americus, Georgia
• Six-time NHRA Pro Stock Motorcycle Championships
• 80 NHRA national event wins with 10 different riders
• Owned by George & Jackie Bryce
Michael Ray Fast Facts:
• From: New Braunfels, Texas
• Job: Harley-Davidson Motorcycle Salesman
• Years in drag racing: 12
Chaz Kennedy Fast Facts:
• Age: 19 years old
• From: Ormond Beach, Florida
• Job: Sovereign-Star Racing crew member
• Years in drag racing: 4