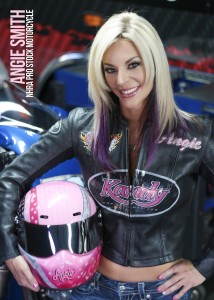 Matt Smith Racing, the current NHRA Pro Stock Motorcycle Champion, and Kandy Magazine have announced today that Kandy has agreed to extend their relationship with a multiple race agreement. "Based on the success of the initial race sponsorship in Charlotte and the welcoming of the NHRA community, along with the great work ethic of Angie and her crew, made it an easy choice for us to continue the sponsorship," explains Ron Kuchler, President of Kandy Magazine. "I am ecstatic that Kandy Magazine is expanding their sponsorship with me and this MSR team. This partnership we have been working on fits so well for me and for Kandy. I could not have asked for a better sponsor, and this is a dream coming true before my eyes," added Angie Smith.
The sponsorship agreement will continue with Kandy branding on Angie's bike, team shirts, trailer and a surprise unveiling at 1:00pm at the MSR pit that you don't want to miss. The famous Kandy Girls will be making personal appearances in the pit, taking pictures, and giving away complimentary Kandy Magazine towels while they last each day.
Kandy Magazine is happy to announce that Matt Smith Racing has partnered with BarkAID for an Associate Sponsorship program for Angie Smith.
BarkAID's sole mission is to raise funds for shelters and pet adoption organizations throughout the entire U.S.
BarkAID's largest fundraiser is the 50 States Tour. The 50 States Tour was created and made possible by Patrick Lomantini. Patrick is a master hair stylist and owner of Lomantini The Salon.
Patrick travels to all 50 States – in 50 continuous days – and does at least 50 haircuts in each state donating 100% of the proceeds to the participating shelter.
"I am grateful for BarkAid coming on board with us. I have such a love for animals and I have two dogs that travel with me all year on the racing circuit. BarkAid is a great organization because they are helping animals find great homes and I am very honored to be a spokesperson for them," explains Angie Smith.
In addition to Angie Smith, Kandy Magazine and Kandy Racing model Claudia Schott will serve as the official spokesmodel for the program.
"BarkAID couldn't be more pleased than to be partnered with such great friends as Kandy Magazine and Matt Smith Racing. BarkAID through all the awareness the NHRA brings, will continue its mission to further inform and hopefully raise funds for homeless animals everywhere. With these partnerships our strategy will be stronger and faster than ever," added Patrick Lomantini
To learn more about how BarkAID can help your local shelter, to donate or how you can help BarkAID's mission, including a full list of BarkAID's 50 States Tour please visit www.barkaid.org.
The management of Kandy has been involved in motorsports marketing since 1997. The team has successfully married corporate brands, rock stars, and icons with top NHRA race teams. Now, the team is applying 17 years of motorsports marketing experience to one of its favorite race teams, Matt Smith Racing and Angie Smith.
Kandy Magazine is the fastest growing men's lifestyle brand in the world, covering the latest in movies, music, tech, sports, and of course the famous Kandy Girls. Its' mens magazine app was ranked #1 in the world on iTunes in January 2014 and is downloaded in 140 countries.