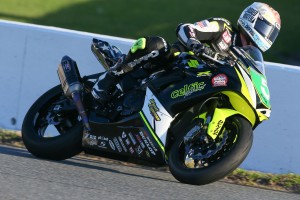 Corey Alexander, the current 2014 AMA SuperSport points leader, suffered a broken collarbone in a training related accident Wednesday near his home in Carmel, New York. Alexander, who rides the #5 Celtic Hudson Valley Motorcycles Suzuki GSX-R 600, flew from New York to California on Thursday to see the renowned sports surgeon Dr. Arthur Ting at his clinic in Fremont, California. Dr. Ting has worked with Corey in the past with great success, and everyone expects a quick recovery.
In a statement provided late yesterday evening, Alexander said he was "very bummed to be heading into surgery today. I can't thank everyone enough for getting together to try and make it possible to ride at Road America. I don't really know what to expect but can only hope for the best. It's unfortunate that it had to happen and I apologize to all our Celtic/HVMC sponsors, my crew, and my personal sponsors. I'll do my best to get through this and hopefully get some points to make the best of it next weekend. Special thanks to my Uncle Richie, Dr. Ting, and everyone that rushed to get me fixed up as quickly as possible."
Updates to follow as they become available. Everyone at Celtic/HVMC Suzuki Racing appreciates the tremendous support from our sponsors and fans!