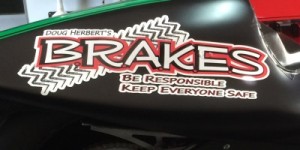 Doug Hebert's BRAKES Foundation has entered into a marketing agreement with John Hall and Matt Smith Racing starting with this weekends NHRA Summit Southern Nationals in Commerce, GA.
After losing his sponsor right at the beginning of the 2014 season John had "Your Ad Here" decals on his bike looking for some sponsorship help. John ran into Doug at the NHRA zMax 4 Wide Nationals and they started talking about BRAKES. John has a daughter Mika that is getting ready to start driving so he thought it would be a good idea for her to go through the BRAKES program. Then John reached out to Doug to discuss helping spread the word by running the BRAKES Logo on his bike.
"John came to me and offered his bike as a 190 mph billboard at the NHRA races to help raise awareness for the BRAKES program. The fact that he has a daughter that will go through the program in June makes it that much better" said Doug Herbert
"With Mika getting ready to start driving Ivette and I wanted her to go through the BRAKES Program so she can learn to be a safe driver. We wanted to do something to help Doug kind of like what DSR is doing with the "Make A Wish" Foundation Funny Car. This is strictly for charity and to get the word out about BRAKES." Said John Hall
Stop by the Matt Smith Racing PSM pits, say hello and get an autograph or your picture taken with John Hall and the BRAKES PSM.
BRAKES:
When NHRA drag racing star Doug Herbert lost his two young sons, Jon and James, in a tragic highway accident in January of 2008, his grief led to his resolve to create a driving program which would help to prevent other families from experiencing similar heartbreak by teaching young drivers more conscientious and confident skills behind the wheel. Herbert wasted no time in putting his mission into motion. That same year, he created B.R.A.K.E.S. (Be Responsible and Keep Everyone Safe); a 501(c) 3 organization, which provides free, advanced driver's education in a program entitled the Teen Pro-Active Driving Course. Over 5000 teenagers lose their lives each year across the country in traffic accidents. This staggering number of fatalities can be reduced through the efforts of B.R.A.K.E.S. and its Teen Pro-Active Driving Course.
For more information about BRAKES visit their website www.putonthebrakes.org or contact: Matt Reilly mattreilly@putonthebrakes.org
For more in formation about John Hall or Matt Smith Racing contact: Colbert Seagraves cseagraves@triad.rr.com