The Lucas Oil NHRA Nationals this weekend at Brainerd International Raceway is a special event for every racer backed by the company founded by Forrest and Charlotte Lucas, but the race is even more special to Hector Arana Sr., the 2009 Pro Stock Motorcycle champion, who has been associated with Lucas Oil since the mid-1990s.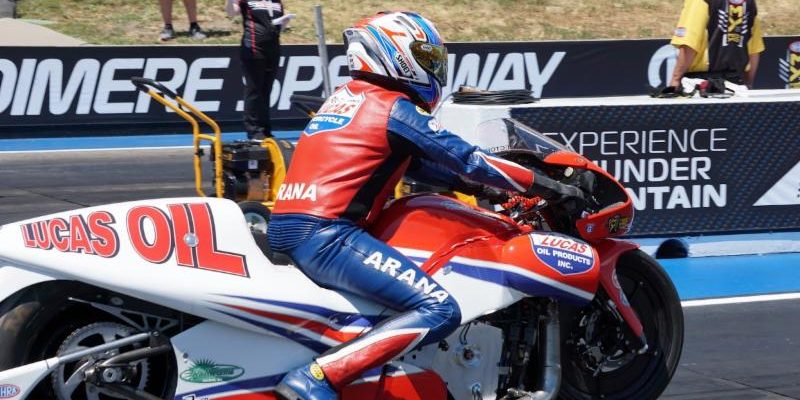 "If you stop and think about how many years I've been racing with Lucas Oil, it's amazing," Arana said. "Not only have they stuck by me when things weren't going so well for me, but to give me the opportunity to have both of my boys race with me also and keep the family together, that's what it's all about with this company.
"They love this sport and they love to help people. They have the biggest heart. So everyone in our company, from the president to the regular guy that works there, it's all a big family."
Arana joined that family in 1995, racing a Lucas Oil-sponsored Pro Stock Motorcycle long before the company grew into the corporate giant it is today.
In his championship season of 2009, Arana won the Lucas Oil NHRA Nationals in Brainerd, receiving the Wally trophy from Charlotte Lucas that day.
"Morgan (Lucas) won also, and (Lucas Oil-sponsored driver) Frank Manzo won in the event," Arana said. "It is great to win and have the trophy handed to you by the sponsor. That's sweet. It's icing on the cake."
Brainerd has always been a popular race among NHRA competitors, mostly for the fun to be had in the famed "Zoo" campground. Arana, a popular racer among Pro Stock Motorcycle fans, likes to mingle with the fans in the Zoo.
"I'm looking forward to going to Brainerd because the fans there are so great," Arana said. "To go there and then go after the race and see the fans partying, it's great. They invite us to the pit and want to give us some drinks and have us participate with them, and that's a good feeling. I think that it's good that we can go back and participate with them and make more friends."
Pro Stock Motorcycle qualifying sessions are scheduled for 3 and 5:30 p.m., Friday, and 1 and 3:30 p.m., Saturday. Eliminations start at noon, Sunday. FOX Sports 1 will air qualifying action from 9 to 11 p.m., Saturday, and eliminations live from 1 to 4 p.m., Sunday. (All times listed in CT).