Victory Motorcycles rider Matt Smith wants to win every race he enters. That kind of desire has made him a two-time Pro Stock Motorcycle champion and one of the racers to beat every week on the NHRA Mello Yello Drag Racing Series tour.
But he would really love to win the Lucas Oil NHRA Nationals this weekend at Brainerd International Raceway because Victory Motorcycles is based in Medina, Minn., not far from Brainerd.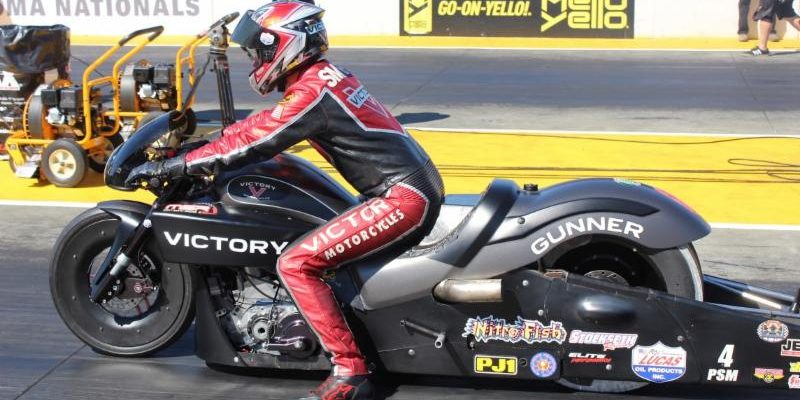 Smith and wife/teammate Angie are in their second season racing Victory Gunners in the Pro Stock Motorcycle class. This weekend, 180-plus Polaris employees from offices in Medina, Roseau, Bass Creek, Osceola, and Spirit Lake will be on hand to see them perform live. Polaris is the parent company of Victory Motorcycles.
"Any race would be a good one to win right now for Victory, but to win the home race would be even better," Smith said. "Maybe I will go talk to my competitors and pay them a little money and see if they can do a little laying down for us.
"All joking aside, we are going to do our best. We try our best every weekend."
Smith has wrung plenty of speed out of his Victory Gunner this season, with a No. 1 qualifier in Chicago to go along with four other top-six qualifying efforts, but his race days have been stung by misfortune. Maybe Smith is due some luck to come his way.
"It's Victory's home race," Smith said. "Their headquarters are an hour and a half from Brainerd. Hopefully we can put it together and have some luck on Sunday. You know, we are running good, we are qualifying good. We've got one of the top-five or -six bikes out here, but we just gotta have some luck on Sunday. Hopefully that will change before long."
Smith last raced in Sonoma, Calif., the second of the two-race Western Swing for the bike class. He has spent the time in between races freshening up his team's engines in preparation for Brainerd and the Countdown to the Championship, which begins in two races.
"We've reloaded that gun and we are coming to Brainerd with all the bullets in the chamber," Smith said. "We are going to be ready."
Pro Stock Motorcycle qualifying sessions are scheduled for 3 and 5:30 p.m., Friday, and 1 and 3:30 p.m., Saturday. Eliminations start at noon, Sunday. FOX Sports 1 will air qualifying action from 9 to 11 p.m., Saturday, and eliminations live from 1 to 4 p.m., Sunday. (All times listed in CT).