With more than 180 Polaris and Victory Motorcycle employees visiting from the Twin Cities, Victory Motorcycles factory riders Matt and Angie Smith are doing all they can to impress their team sponsors at this weekend's 35th annual Lucas Oil NHRA Nationals.
Through four qualifying sessions, Matt has been the stronger of the sport's only husband/wife professional duo, locking down the No. 6 position overall with a strong 6.879-second pass at 194.66 mph on his Victory Gunner.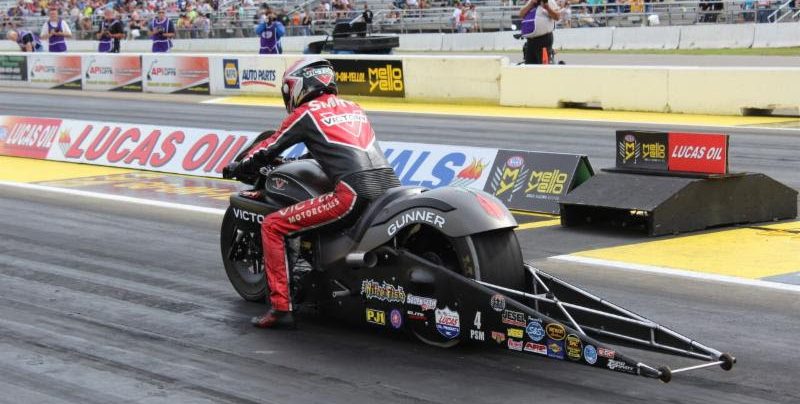 "I'm very pleased with everything so far," Matt said. "We were No. 1 qualifier after the first session and in Q3 we posted our best e.t. and had the fastest run of everyone out there, so it's hard to ask for more. I think we probably had a 6.86 in it last night (in Q2), but the bike wouldn't shift into 2nd gear. That's happened enough times now that I pretty much spent the night reworking my transmission so it won't happen again.
"You know, it's never good when you have on-and-off rain like we did today. It's just a drag for everyone, especially here with all our special guests. The silver lining is we actually got to hang out more with everyone, so that was a nice bonus. Now we'll shift our attention to race day and see if we can put a Victory in the winner's circle."
Two-time world champ Matt will open eliminations against veteran rider and fellow past champion Hector Arana Sr., who qualified 11th with a best pass of 6.917 at 194.94 mph.
It's been a slightly tougher weekend for Angie so far as she's only been able to squeeze a best of 7.007 at 189.66 out of her identical Gunner.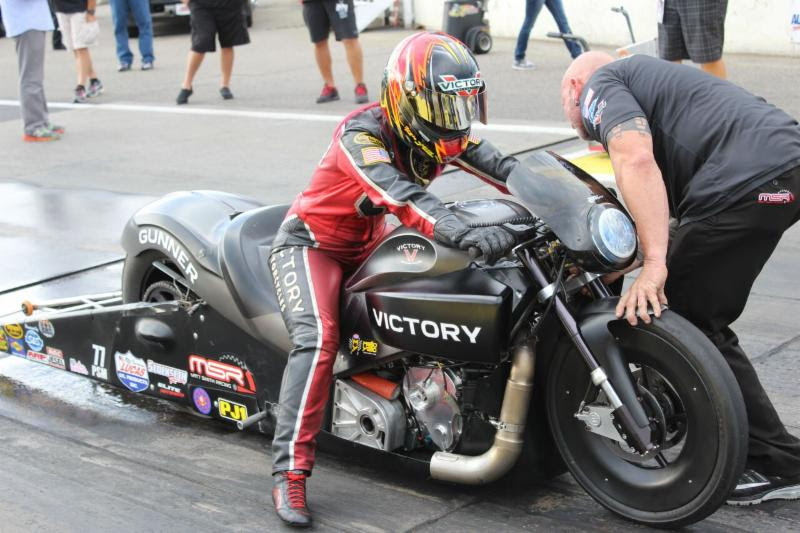 "I'm having issues getting to 60 feet," she said. "If you don't launch properly, it just knocks the breath out of your run and that's been where we've stumbled so far. The guys are zeroing in on a solution, as witnessed by the last qualifying run, and we hope to record a big ol' upset in Round 1 and take out the No. 1 qualifier. I know we'll have a lot of Victory supporters pulling for us."
As the final qualifier, Angie will have the dubious honor of facing three-time world champion Angelle Sampey, who zipped to a 6.830 at 196.64 mph in qualifying on top of the grid.
"I'll have my hands full for sure," Angie said. "She won Englishtown and was runner-up in Chicago, so that team is running well, but that won't stop us from trying to trip her up. She can be beaten, and I'm going to do what I can to knock her off."
Pro Stock Motorcycle eliminations start at
noon
,
Sunday
. FOX Sports 1 will air eliminations live from
1 to 4 p.m. CT
,
Sunday
.