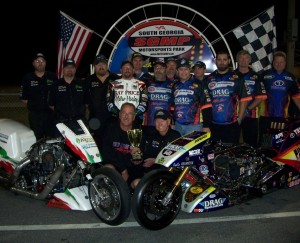 Top Fuel superstar Larry "Spiderman" McBride triumphed in opposition to one of the toughest fields the 33-year veteran had ever seen at the Manufacturers Cup in Valdosta, Ga., Nov. 11- 13. Import rival Chris Hand and nine of the world's quickest nitro Harleys provided unparalleled competition.
Adding to the immense challenge, McBride's weekend couldn't have started much worse.  During his first qualifying run, the Spiderman's 1500-horsepwoer motor misfired, blowing out a head gasket and bending the connecting rods.  During his second qualifier, McBride smoked the tire and damaged a cylinder.
This put McBride's team in a very unusual, pressure-filled predicament. Heading into the final qualifying session, the world's quickest motorcycle drag racer was qualified No. 6 with a 6.55 and in danger of being bumped out of the eight-bike field.
"We cannot smoke the tire," McBride said after installing his third motor of the weekend. Traction was a major concern for the chilly, nighttime final qualifier.
McBride blasted off the line and felt his giant rear tire begin to shake violently.  The 10-time champion called on his many years of experience and with a lightning quick snap of his wrist, McBride let off of the throttle and grabbed the rear brake to stop the excessive tire spin. McBride quickly reapplied the gas and took the pole position with a 5.97 at 240 mph.
"I've used that technique before, but it has been a very long time since I have had to," McBride said. "Normally we can throw a run like that away."
If McBride would have aborted the run, he would not have qualified.  At the end of the session, the bump spot stood at an unprecedented 6.42 and, astoundingly, Chris Hand suffered a DNQ with a 6.53.
"It reminds me of how competitive Top Fuel used to be in the early 80s.  You were lucky to qualify back then," McBride said.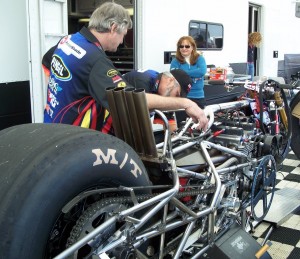 In opening eliminations McBride recorded his best pass of the weekend at 5.81, 237 mph to defeat Canadian Devin Pelrine, who smoked the tire hard.  McBride's run was just two hundredths off his 5.79 world record, but amazingly the pass was far from flawless.
"I had to really hang off. It was walking toward the centerline. I said to myself there is no way I can let it cross," said McBride, who would have been disqualified if he had crossed into the other lane.  "If it went down the racetrack straight, that pass would have been in the 5.70s for sure."
In the semifinals McBride ran 5.89 at 235 mph to defeat No. 4 qualifier Joey Sternotti.
"The track was really good. We adjusted the clutch and backed down the tune-up just a bit to keep from smoking the tire," McBride said.
This set up a rematch from last year's Cup final between McBride and Tommy Grimes and the team led by nitro Harley legend Ray Price.
Drastically changing conditions provided a huge challenge for crew chief Steve McBride. From second round to the final, the air temperature went from 75 to 63 degrees and the corrected altitude was 800 feet better. The humidity level increased by 20 percent and would prove to be a huge factor in the race.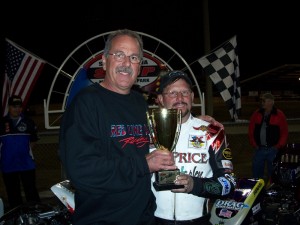 A 1.05 60-foot time gave McBride the early lead and the Spiderman was able to hold off fast-charging Grimes with a 6.00 at 222 mph to Grimes' 6.33 at 219 mph. Again, McBride's extensive experience helped him avoid disaster.
"I shut the throttle off 5.3 seconds into the run at the 1,000 foot mark because my glasses fogged up and it felt like there was a sheet in front of my face. I couldn't see anything," McBride said.  "It was by the grace of God that I was able to keep the motorcycle straight and get it stopped because it is even darker in the shutdown area. Once I slowed down enough, I was able to open my shield and get some air into my glasses to clear them up."
The hard-fought victory and the tremendous turnout at the Cup, which included 11 entries in Top Fuel and over 640 motorcycles combined, gives McBride much satisfaction and optimism heading into the off-season.
"This is proof that Top Fuel and motorcycle drag racing is alive and well. This ranks right up there as one of the top three races in history," McBride said.  "I'm very excited for the future of the sport."
McBride extended a special thank you to all of his supporters who keep the sport alive. The team thanked; Pingel Enterprise, Drag Specialties-Parts Unlimited, Red Line Synthetic Oil Corporation, K&N Air Filters and Web-Cam as well as his other sponsors.
Trim-Tex Drywall Products, Vance & Hines Motorsports, PR Factory Store, Muzzys Performance, Ferrea Valves, Kibblewhite, Precision Machine, World Wide Bearings, Vanson Leathers, Performance Machine, Belt Drives Ltd, Street & Competition, Simpson Race Products, Nitrous Express, APE, EK Chain, Arias Pistons, R/D Spring Corp, Autolite, MSD, Protect ALL, Whipple Industries, Cometic Gaskets, B&J Transmission, Carolina Cycle, L.A. Sleeve, PJ1, Mickey Thompson Tires, Valco, Goodridge, Carlisle Belts and Gates Belts.