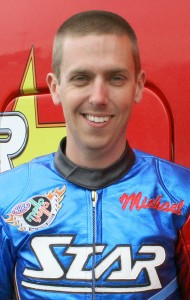 Sovereign-Star Racing driver Scotty Pollacheck advanced to the semifinal round of competition this past weekend at the Chevrolet Performance U.S. Nationals at Lucas Oil Raceway in Indianapolis, Ind., as he and teammate Michael Ray both entered the NHRA Mello Yello Series Pro Stock Motorcycle Countdown to the Championship.
The U.S. Nationals is the last event before the six-race Countdown to the Championship begins on Sept. 13 with the NHRA Carolina Nationals at zMAX Dragway in Charlotte, N.C. The top 10 drivers in the points standings following the U.S. Nationals at Indy will now compete during the next six races for the 2013 NHRA Pro Stock Motorcycle Championship title.
The Sovereign-Star Racing teammates have remained in the top six competitors of the Pro Stock Motorcycle points standings for the last seven races. Following their performances at Indy, Ray entered the Countdown at the No. 3 position and Pollacheck at No. 6.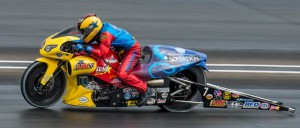 "Our Sovereign-Star Racing team makes up a third of the top six competitors for the NHRA Championship title. We think those are pretty good odds to help us finish out a very strong season for our race program," Star Racing owner George Bryce said.
At the biggest NHRA event of the year this past weekend, Ray qualified in this competitive field during the first round and held onto the No. 7 position going into Monday's eliminations. Pollacheck made a huge improvement up to the No. 4 qualifying position after the crew swapped out his S&S Cycle engine.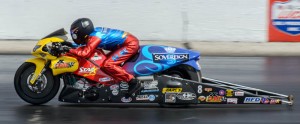 "We tried a bunch of stuff that didn't work and changed engines on a 'Hail Mary' type of move. It worked out really well. Scotty drove it good and the engine made good power, so we moved up to fourth in the tightest field I ever remember seeing in Pro Stock Motorcycle," Bryce said.
In round one eliminations on Monday, Pollacheck got the jump on Mike Berry at the line and led the rest of the way to take the win with his 7.005-second Elapsed Time (ET) against Berry's 7.008. Ray took the win against Steve Johnson, who fouled at the start and turned on the red light.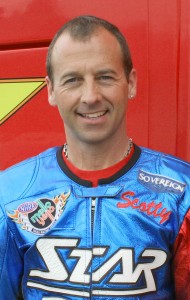 Pollacheck continued to post quick reaction times with his .018-second start against Jerry Savoie's .051 in round two eliminations. Pollacheck went on to take the holeshot win with his 7.032 ET against Savoie's 7.027 seconds. Also in round two, Ray was taken out by John Hall's nearly perfect reaction time of .006 seconds. Ray's quicker 7.116-second ET against Hall's 7.156 was not enough to overcome Hall's advantage at the start.
"We saw a lot of progress after our team practice session and from this weekend at Indy. I didn't do as well as I could have with driving, and the bike could have been a little faster. But, I was really excited to see how fast Scotty went this weekend, and I'm proud to carry that No. 3 into the Countdown now," Ray said.
In the semifinal round, Pollacheck faced Matt Smith in an extremely close race. With only a .002-second difference between reaction times off the starting line, the pair remained within a small fraction of a second of each other down the track. Smith took the win with only a .001-second difference between his 7.018 ET and Pollacheck's 7.019.
"It was a good weekend. It was nice to see the motorcycle running good, and I got back to where I needed to be with my reaction times. The first run we made on that new engine ended up being our best run of the weekend, so that was cool. Now, we have some data from it and can do good on that one. Even when we did lose, it was a super close, competitive race against Matt in the semis," Pollacheck said.
So far during the 2013 NHRA season, the S&S Cycle-powered Sovereign-Star Racing Buell motorcycles have claimed two national event wins, five final round appearances, two No. 1 qualifying positions, two low ETs of the event, and a new track speed record. The team hopes this wave of success can catapult them to even more accomplishments as they compete for the coveted 2013 NHRA Pro Stock Motorcycle Championship title.
"Of course we want to be aggressive, but I also want to go out there and enjoy racing for what it is. There are a lot of people that would love to go out there and race in the Countdown. Now that we have two bikes in the top six, I think we're really setting ourselves up to go represent well in the Countdown," Ray said.
"There are only ten of us that even have to worry about points, and now every single round and run will count more than ever. Before the Countdown, you could afford to lose a round and it not hurt you as bad – as long as you stayed in top ten. Now, we have to focus on winning as many rounds as possible with only six races to go. Plus, we already have some catching up to do to get to (Hector Arana) Jr.," Pollacheck said.
No. 3 Ray and No. 6 Pollacheck will begin the six-race NHRA Mello Yello Series Countdown to the Championship on Sept. 13 with the NHRA Carolina Nationals at zMAX Dragway in Charlotte, N.C.
The 2013 Sovereign-Star Racing Team is a partnership between Georgia-based Star Racing and the Hungarian-based Sovereign Racing Team, the 2011 UEM European Pro Stock Bike Championship Team, owned by sugar distributor Jenõ Rujp.
The Sovereign-Star Racing Team would like to thank the following sponsors: Sovereign, Star Racing, Americus Motorsports Complex, S&S Cycle, Daytona Sensors, Worldwide Bearings, CP Pistons, Cometic Gaskets, Quality Tire, and Uncle Hal Gottspeed Racing.
Star Racing Fast Facts:
·         Based in Americus, Georgia
·         Six-time NHRA Pro Stock Motorcycle Championships
·         80 NHRA national event wins with 10 different riders
·         Owned by George & Jackie Bryce
Sovereign Racing Team Fast Facts:
·         Based in Budapest, Hungary
·         2011 European Motorcycle Union (UEM) Championship Team with rider Jesper Thiel
·         Owned by Jeno Rujp
Scotty Pollacheck Fast Facts:
·         From: Medford, Oregon
·         Job: Owns "Quality Tire" store
·         Years in drag racing: 27
Michael Ray Fast Facts:
·         From: New Braunfels, Texas
·         Job: Harley-Davidson Motorcycle Salesman
·         Years in drag racing: 11