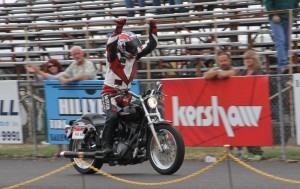 Verl "Smitty" Smith's Racing 4 VETS has been staying home, testing tuning and getting ready to peroform locally AND PERFORM he did.  In the last few weekend it's been back to back events with great results.
According to Smith, "It all began at Woodburn, OR with Northwest Drag Bike Associatio. We, went to the semi-finals with the street-pro bike and found a little more power.  So off we went to Seattle, WA to Pacific International Raceway for the NHRA Divisional Screamin' Eagle Series."
This was a little nerve racking as it was our first event with NHRA, but we placed 1st in Hot Street & Street-Pro, WINNING OUR 1ST WALLY'S!!!! 
After that back to Woodburn but in transit we made a stop at the Vancouver Wa.VA facility for our 3rd Annual VSR4VETS bike show. Wwe were joined with Jerry Cameron & his grandson, Gavin Barret ( dirt track racers), Oak Grove choppers, Lee Swaner, Lori Post and many others.THANK YOU ALL!!!!!
The next stop was The Beaches Cruz In at Portland International Raceway. We were thrilled to be with Steve Dorn Racing to promote The 20th annual Woodburn Nitro nationals we did some exhibition passes at Woodburn on our Street-pro bike & won Hot-street over Rick Baldwin! 
I'd like to thank my crew Lori Post, Joel Gittleson, Sqyre Pottle,, Chris Spohn,and Bruce Truax;  also our sponsors, we couldn't do it without your support!!! 
Remember …..IF IT WASN'T FOR OUR VETERANS ,WE COULDN'T DO WHAT WE DO!
Air-Tech                                   Avon Tires                                   
Baker Drivetrain                       Biker's Choice
Black Widow Cams                  Bitchin Seat Co.                           Blue Lightning Spark Plugs
Burnside Towing                       Camille B Hook                            LMT
Celorie Bros Trucking, Inc.         Columbia HD                               Davey Rocket RV Repair
Deka Batteries                         Drost Racing
E/T Performance                     Evolution Industries                       Feuling
GMS Racing Engines                JIMS USA                                   Hanson's Auto Body
Mickey Thompson Tires             Milwaukie Tire                             Motor Whiskey
Mulligans & More                      Movers & Shakers                        Oak Grove Choppers
PBI Sprockets                          Robbins Performance                   R/T Performance
Rush Racing Products               Spark of Life Chiropractic              S&S Cycle
Spyke, Inc.                              SA Racing                                   Tek Battery
West Cost Action Photos                                                            Works Performance Shocks
Friend us on Facebook