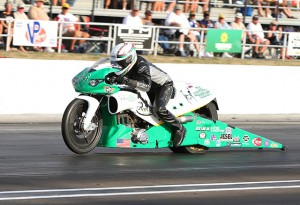 Second year NHRA Mello Yello Pro Stock Motorcycle racer John Hall raced from the 15th starting position all the way to the win at the 59th annual Chevrolet Performance NHRA U.S. Nationals. Making the triumph even sweeter for the Matt Smith Racing/Viper Motorcycles team that Hall races with was his final round opponent—teammate Matt Smith, himself a former U.S. Nationals winner.
Qualifying started out great for the MSR/Viper team, with Smith leading Friday's session and all four MSR bikes in the top 12. Hall was 3rd, part-time teammate Dawn Minturn 8th, and Matt's wife Angie 11th. Saturday's sessions saw the team get bumped down a few notches, but Sunday was nearly calamitous for MSR/Viper, and for Angie it was.
The Sunday morning session saw the best racing weather so far of the weekend, and with the temps slated to rise in the afternoon, this was everyone's last shot to perform. Hall's mistake was the most lurid—leaving before the tree was activated. Fortunately, his Saturday morning 7.022 held up for 15th—second to last place. Matt's 6.989 placed him 9th, Minturn's 7.012 14th, but Angie's 7.033 put her 17th and out of the field.
To make matters worse, the crank in Hall's bike had tightened up. "Dean 'Guido' Antonelli at John Force Racing helped us press the crank out of the engine," reported Viper Marketing and Racing Operations VP Colbert Seagraves. "We didn't have the necessary tools with us and those guys helped us out."
Working late Sunday night, the MSR/Viper team completed the swap and Monday—Labor Day for the nation and Raceday for the NHRA—saw an unusual turn of events. The Vance & Hines Harley-Davidson team had looked very strong in Sunday's qualifying, nailing the tune-up and looking as if they were finally back in contention after the 2013 rules package put them on a level playing field with the rest of the class.
Hall faced the toughest draw—V&H/H-D rider Eddie Krawiec, the three-time national champ. Connecticut resident Hall and New Jersey native Krawiec first started racing against each other many years ago at Englishtown before they both started touring with the AMA/Prostar series. Both competed in the hotly contested, factory-based Supersport class. And in all that time, from the local track to the AMA and now NHRA Pro Stock, Hall had never beaten Krawiec.
And Krawiec—now an Indianapolis resident and comfortable with his new home track—oozed confidence after rising from 11th to 2nd in the order on Sunday. And why shouldn't he be? His team did the best job of adapting to Sunday's changing weather and now he faced his old whipping boy Hall. And so it was a stunning turn of events when 15th qualifier Hall turned the winlight on against his old rival.
eliminations round 1
(W) John Hall         .060 rt  6.977 at 188.62 mph
Eddie Krawiec .054 rt  7.011 at 189.73 mph
(W) Matt Smith      .028 rt  6.994 at 190.00 mph
Andrew Hines .024 rt  7.034 at 188.70 mph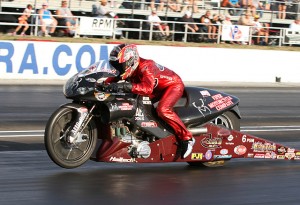 Smith faced the other V&H/H-D three-time national champ, Andrew Hines, and when Matt's winlight also flashed on the proof was in the pudding—this time it was MSR/Viper that nailed the tune-up while V&H swung and missed.
In round 2 it was two Buells in the other lane—Sovereign/Star Racing's Michael Ray against Hall and number 1 qualifier Hector Arana against Smith.
The Hall/Ray match-up has a history. Last year Ray raced with MSR/Viper and Hall was a Sovereign/Star team member. The two effectively swapped seats in the off-season, with Ray leading the change when he announced he would leave MSR for Star. While Smith and Ray mostly get along, there is still a strong strain of bitterness between them. Hall is a cool customer and mostly remains above the fray, but he delivered one for the MSR/Viper team when he nailed a .006 light and beat Ray on a holeshot.
eliminations round 2
(W) John Hall      .006 rt  7.156 at 186.25 mph
Michael Ray .073 rt  7.116 at 186.82 mph
(W) Matt Smith     .000 rt  6.992 at 191.00 mph
Hector Arana .060 rt  7.001 at 192.77 mph
And if Hall's .006 light was a home run, Smith's perfect .000 against Arana was a grand slam! And speaking of history, just try Googling "Matt Smith Hector Arana Englishtown" and settle in for an exciting read…But now, both MSR/Viper Buells were advancing to the semis of the U.S. Nationals.
Hall faced young former champ LE Tonglet, who locked himself in as the only Suzuki racer in the Countdown to the Championship in round 2 and knocked Minturn out in round 1. Both Hall and Tonglet had good reaction times but LE's bike bogged badly at the start, crawling to a 1.24 60-foot time. Hall ran a good, consistent lap to advance to the final.
eliminations semifinals
(W) John Hall    .024 rt  7.006 at 190.24 mph
LE Tonglet  .031 rt  7.256 at 188.12 mph
(W) Matt Smith             .035 rt  7.018 at 190.54 mph
Scotty Pollacheck .037 rt  7.019 at 189.92 mph
In perhaps the best PSM race of the day, Smith faced Ray's current (and Hall's former) teammate Scotty Pollacheck. Both riders left within .002 of each other and ran ETs only .001 apart. You can't ask for any better racing than that and for the MSR/Viper team, Smith's winlight loaded the final round in their favor.
Seagraves has spent his whole life in the motorsports sponsorship business, and he knows a good thing when he sees it. He was all pink cheeks and bright smiles when he rode up to the Indy starting line, because both bikes competing for the prestigious U.S. Nationals win—the Super Bowl of drag racing—had his Viper logo on them. It was the first time ever that two bikes from the bottom half of the qualifying order would meet in a U.S. Nationals final.
It is often said in these situations that team orders prevail, and the haters assumed that ultra-competitive team leader Smith would never put a winning tune-up in Hall's bike when the two were facing off in a final, and certainly not the final of the U.S. Nationals! But when Hall got his first win at the inaugural New England Nationals in New Hampshire earlier this year, he had to get past Smith in the semis to do it. And now, as then, the teammates raced straight-up for the win.
"Handle your biz bro!" was a text that Hall received from former U.S. Nationals winner Reggie Showers just before the final, and Hall planned on doing just that. With lane choice and a better light from the semis in hand, Hall had every reason to think this win could be his. Doubt must have sunk in, though, when he gave up .020 to Smith at the tree. He was still further behind at the 60 foot and had only gained .001 back by the 330. It was there his Buell made a move, pulling dead even at the eighth mile. At 1000 feet, Hall had built a .012 advantage but Smith's bike was now adding a little steam for higher MPH through the traps. At the stripe Hall retained a 3 foot gap for his second Pro Stock Motorcycle win, and this one was at Indy!
eliminations final
(W) John Hall   .056 rt  7.034 at 188.38 mph
Matt Smith  .035 rt  7.065 at 189.66 mph
"Matt put the tune-up in the bike," said Hall. "There's no mistrust going up against my teammate. I knew he was gonna cut a good light. I didn't have a great light, but his bike fell off a little bit and luckily I got the win. With this great team behind me, and a guy like Bobby Webb turning the wrenches, I know I just have to do my job and the bike will be there. I also want to thank my wife Ivette and our kids John and Mika. You can't travel the country and do this without a very supportive family and I've got the best."
"We knew after the semifinals that my motor was starting to go away," said Smith. "But we didn't have time to change it. It was a team final, so it was one of those deals. I thought I could leave on him enough to pull it out, but he was too close to me and I didn't hit the tree hard enough. A .035 just didn't cut it. But it was a great day for MSR/Team Viper."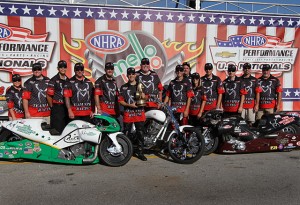 Smith has had a long relationship with Steve Nichols, the ECU master who brought the Magneti-Marelli to motorcycle drag racing and now champions the Australian Haltech system. Nichols was hustling around the track this weekend, as he often is at big events. Did his presence have any effect on the outcome? "I mighta helped," said Nichols. "I twisted some knobs. But these guys gotta ride the bikes."
"Steve was a big help with the maps on my bike this weekend," said Hall. "Our team always does well when he's at the track."
The all-Viper Motorcycles final meant huge exposure for the new brand as it continues to build the racing program towards putting their own chassis and bodies onto the track, and eventually it's own engine developed from the gorgeous Ilmor motors that makes Viper's stylish streetbikes the most powerful V-Twin cruisers in the world.
But for now the team still runs the venerable S&S Pro Stock Motor, and Hall was quick to give the boys from Viola, Wisconsin their due—especially the motor with the new cam chest that has carried him to both of his victories.
While the Viper dragbike build is a slow grind, the streetbikes and dealer network are full speed ahead. "We've got the two new bikes that will likely debut at the start of the new year, including the new one that the NHRA bike will be modeled after," said Seagraves. "We've also got a few 2013 Diamondbacks left, so customers or potential dealers should contact us in Auburn." You can find out everything you need to know about Viper Motorcycles at http://vipermotorcycle.com/#
The MSP/Viper team clearly has momentum heading into the Countdown, with five finals, three wins and two number 1 qualifiers in the last six races starting with New Hampshire. Smith won the U.S. Nationals in 2006 and went on to win the championship the following season. Hall hopes to do just a little better than that, winning both in the same year—THIS year. With Smith second in the Countdown points and Hall fourth only 20 points behind, you can be sure they will be waging a friendly war with each other as well as the rest of the top 10. Hector Arana Jr. is the points leader with Ray in third and Arana Sr. fifth.
"I think the Countdown is gonna be extremely exciting," said Seagraves. "Anybody in the top 10 has a legitimate shot and we like that, especially with two players in the game. But the Harleys are coming on and Eddie will be tough, the Hectors will be tough, and Star Racing will be tough."
Hall, who actually considered skipping The Big Go for his dad's 93rd birthday, has a long history of racing no-bar bikes in the former AMA/Prostar series, but still considers himself new to the world of wheelie bar bikes—let alone Pro Stock. "My biggest competition is myself," Hall admits about his chances in the upcoming Countdown. "I have to go up against myself every round. You can be your own worst enemy out there. Everybody out there is tough, I take that for granted. You saw qualifying, and then I came from fifteenth and won this race. Clearly, anybody can win. You have to be on your game, your lights have to be consistent and good, and your times also.
"Last year was a learning year, and this year I've felt comfortable. You just never know if you're gonna get a win like this, there are so few opportunities. But it felt great to get this one, and I want to get another one and another one." It should be noted that Hall was the only driver to bring his Wally to the post-race interview, and indeed took it to the team dinner a short time later. "It's my buddy."
"Last year with Michael Ray, we were the only team to beat the Harleys," beamed Seagraves. "This year John's joined us and he's got two wins. There were people last year that said John couldn't ride, but he's won the U.S. Nationals and proved them all wrong. When John had a couple of races he didn't do well, he didn't point fingers—he went out and won the U.S. Nationals. The guys at Team Viper and MSR are harder on themselves than anybody. I don't have to beat them up about mistakes because they do that themselves."
All through the loud, raucous celebration dinner that had fellow diners posing for photos with the team's Wally, Smith and Seagraves were every bit as thrilled about the win as Hall. "I've been with a lot of great race teams in winners circles at the U.S. Nationals, the Daytona 500, and everywhere," said Seagraves. "And to have two bikes in the winners circle here was huge and really exciting. I'm really excited for John, Matt, the team and our company."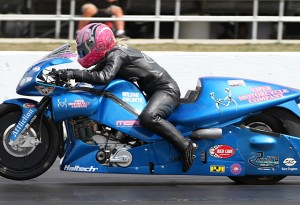 Even Guido and the folks at John Force Racing were thrilled that they'd contributed to the Indy win. "We definitely appreciated their help and they were excited to hear that it was the motor they worked on that won the race," finished Seagraves.
Now if Hall, Smith and the whole MSR/Viper team can just keep all their motors powering through to the championship at season's end, an even louder and crazier dinner will certainly be the result.
John Hall, Matt Smith and Colbert Seagraves would like to thank Matt Smith Racing http://www.mattsmithracing.com/ , Viper Motorcycle Company http://vipermotorcycle.com/ , Rush Racing Products http://www.epiflex.com/ , Red Line Oil http://www.redlineoil.com/ , PJ1 http://www.pj1.com/ , S&S Cycle http://www.sscycle.com/ , Mark Stockseth Racing https://twitter.com/markstockseth, Worldwide Bearings http://www.worldwidebearings.com/ and Haltech http://www.haltech.com/
John Hall and the Matt Smith Racing/Viper Motorcycles team races next September 13-15 in the Sixth annual Carlyle Tools NHRA Carolina Nationals presented by NAPA Auto Parts at zMAX Dragway in Concord, North Carolina.
contact John Hall: jhall451@aol.com
contact Colbert Seagraves at Viper Motorcycles: cseagraves@vipermotorcycle.com
for media inquiries: Tim Hailey timhailey@earthlink.net
for more about the NHRA: http://www.nhra.com/
This report was prepared by Tim Hailey. Photos are for editorial use only. Enjoy everything there is to read, see and watch about motorcycle drag racing and more at http://www.eatmyink.com