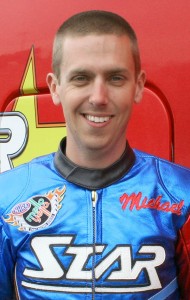 Sovereign-Star Racing teammates Scotty Pollacheck and Michael Ray kicked off the NHRA Mello Yello Series Countdown to the Championship with a competitive performance this past weekend Sept. 13-15 at the Carlyle Tools NHRA Carolina Nationals at zMAX Dragway in Charlotte, N.C.
Following this first race of the Countdown, Pollacheck moved up one place in the Pro Stock Motorcycle points standings to No. 5, while Ray moved to the No. 4 position. Ray is now less than three rounds out of first place behind points leader Hector Arana Jr., and Pollacheck is only four rounds below Arana Jr. This very competitive field became even tighter after the win by Harley-Davidson Screamin' Eagle Vance & Hines driver Andrew Hines, who is not in the Countdown.
"I think our team really delivered on their promise to show up for the Countdown with machines that were 100 percent prepared. It's like George (Bryce) said, 'When we need to be fast we will be; just wait.' I couldn't be more excited or confident. With the freight train of momentum that we have, I'm ready for next weekend at Dallas," Ray said.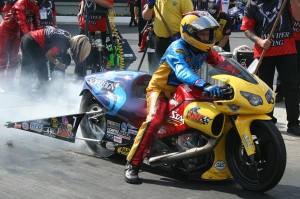 "I think we're in a pretty good spot. If we go to the next five races and move up one spot every time like we did this weekend, then we've won the Championship," Pollacheck said.
Ray claimed the second quickest elapsed time (ET) for each of the four rounds of qualifying on Friday and Saturday, earning an additional eight bonus points toward his Countdown position.
In the final qualifying session, Pollacheck jumped from the bottom half of ladder to the No. 4 spot with his quickest pass of the weekend at 6.891 seconds.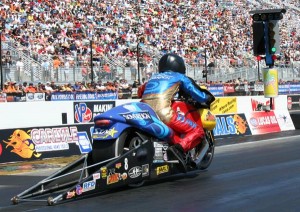 Ray continued to improve during round one eliminations on Sunday when he posted the quickest pass of the day for Pro Stock Motorcycle and his quickest pass of the weekend with a 6.864 ET at 193 mph against Jerry Savoie's 6.955/192, advancing Ray to round two.
Also in round one, Pollacheck posted a nearly perfect .001-second reaction time and a 6.919 ET to take the win against Shawn Gann's 6.970 ET.
However, this quick reaction time got the better of Pollacheck in round two when his -.002 red light forfeited the win to LE Tonglet.
"I just didn't stage as well as I should of; I rolled in about an inch deeper than I usually do. I'm looking forward to us getting a little more consistency with my motorcycle so that we can have some good data from our qualifying runs to do well on Sunday. We could always use some of those bonus points from qualifying to get that momentum going early," Pollacheck said.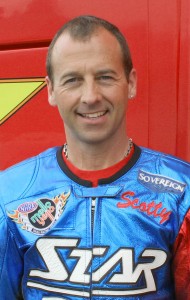 Ray also had staging issues during the second round of eliminations against Arana Jr. Ray, who didn't realize how far his bike had already rolled into the staging beams, was somewhat delayed in his reaction to the Christmas tree. With the late start off the line, Ray could not quite make up the ground against Arana Jr. Ray still managed to post a competitive 6.894/193 mph run against Arana Jr.'s winning 6.891/193 mph pass, which was the quickest of the round.
"I took too big of a bite out of the pre-stage beam; I rolled in too far to where my wheel was probably a quarter-inch from the stage beam. I heard Hector (Arana) Jr. on the two-step and realized I was already in the stage beam. At that point, I knew I just had to get down the track because I had a lot of explaining to do," Ray said.
The six-race NHRA Countdown to the Championship will continue with three back-to-back race weekends in Dallas, St. Louis and Reading, Penn.
"We are in a good place to run for the Championship. Michael earned us the low ET of eliminations. Scotty did well on Sunday, too. He went in a little deep on staging and left two-thousandths (of a second) too early. Michael just didn't realize he had rolled in so far. We have a plan for more precise staging at Texas in a few days. There are still five other races in the Countdown (to the Championship). Everything didn't go our way yesterday, but we're getting ready for tomorrow," team co-owner and crew chief George Bryce said.
This coming weekend, Sept. 20-22, the Sovereign-Star Racing team will compete at Texas Motorplex in Dallas, Texas, where Ray won the first national event of his career last season to also break the Harley-Davidson team's 16-race winning streak. Although Ray was the only non-Harley racer to win last season, he was also one of the first to congratulate the team on their win by Hines this past weekend that marked their first win since the NHRA rules change that came into effect for the 2013 season.
"The Harley team did a good job, and Andrew (Hines) won the race because he was the best. He didn't have the fastest bike, but he was the best racer on Sunday. We've had six different winners this year in only 11 races (for Pro Stock Motorcycle). It's good for our class because it shows that it's open for competitors to come out and race," Ray said.
After his support for the NHRA rules change this season, Bryce has also been happy to see the renewed excitement and attention that the Pro Stock Motorcycle class is receiving now.
"I'd like to say congratulations to Andrew (Hines) and the Harley-Davidson team for their first win in 2013 and their first win with their new engine combination, because I know how hard it is to go that fast with a two-valve per cylinder V-twin," Bryce said.
The Sovereign-Star Racing teammates, No. 4 Ray and No. 5 Pollacheck, will compete again this coming weekend Sept. 20-22 at the AAA Texas NHRA Fall Nationals at Texas Motorplex in Dallas, Texas.
The 2013 Sovereign-Star Racing Team is a partnership between Georgia-based Star Racing and the Hungarian-based Sovereign Racing Team, the 2011 UEM European Pro Stock Bike Championship Team, owned by sugar distributor Jenõ Rujp.
The Sovereign-Star Racing Team would like to thank the following sponsors: Sovereign, Star Racing, Americus Motorsports Complex, S&S Cycle, Daytona Sensors, Worldwide Bearings, CP Pistons, Cometic Gaskets, Quality Tire, and Uncle Hal Gottspeed Racing.
Star Racing Fast Facts:
·         Based in Americus, Georgia
·         Six-time NHRA Pro Stock Motorcycle Championships
·         80 NHRA national event wins with 10 different riders
·         Owned by George & Jackie Bryce
Sovereign Racing Team Fast Facts:
·         Based in Budapest, Hungary
·         2011 European Motorcycle Union (UEM) Championship Team with rider Jesper Thiel
·         Owned by Jeno Rujp
Scotty Pollacheck Fast Facts:
·         From: Medford, Oregon
·         Job: Owns "Quality Tire" store
·         Years in drag racing: 27
Michael Ray Fast Facts:
·         From: New Braunfels, Texas
·         Job: Harley-Davidson Motorcycle Salesman
·         Years in drag racing: 11