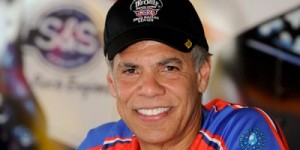 Lucas Oil Buell rider Hector Arana Sr. reached the final round on Sunday at the Carlyle Tools NHRA Carolina Nationals but recorded a red-light in his attempt to claim the Wally.
"Overall the outcome was not what we totally wanted but we got to the final," Arana said. "The way I see it, you have to get to the final before you can win."
In the final Arana hit a -.028 red-light in the right lane against eventual winner Andrew Hines, who had a stellar reaction time of .001-second. Arana reached the final by scoring a first-round win after Angie Smith's bike was unable to launch and a second-round victory over Eddie Krawiec. He then stopped son Hector Jr. in the semifinals.
"Today the big thing was that the weatherman was wrong; it was overcast," Arana said. "The track felt good. The sun came out and we started losing traction. We lost something in the clutch combination and the tune-up because of it."
After going rounds on Sunday, Arana now sits third in points behind leader Hector Jr. and second-place Matt Smith.
"We are leaving with a good points position and I am going for the championship," Arana said. "They (sons Adam and Hector Jr.) have more time than me to get one.
"I told Adam after his run, 'You have to go for it.' I wanted it today. I made a few mistakes that they pointed out after.
"We have to learn from it. I am a little frustrated because I almost broke my body because I beat on it so bad. At the end we learned something anyway. As long as I did that, I am OK with it."