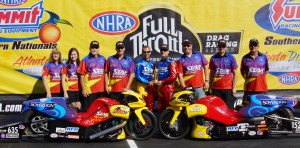 As a newly assembled crew this season, the Sovereign-Star Racing Team was extremely proud to take home a small Wally for "2012 Best Appearing Crew" at the Summit Racing Equipment NHRA Southern Nationals in Commerce, Ga. The recipient of this award is chosen from the approximately 400 team entries at each event.
After adding a co-sponsor this season, the Star Racing Team transformed their normally red and yellow ensemble to incorporate the blue shades of the new Sovereign logos. The change can be seen throughout the crew's presentation, including new paint and decals for their 2010 S&S powered XB12R Buells, custom racing leathers from Vanson Leathers, an eye-catching logo addition to the team's transporter and newly-designed crew shirts that were also made available to the public.
The Sovereign-Star Racing Buells and S&S Cycle engines, which competed in and won the 2011 UEM European Championship with the help of Star Racing owner George Bryce, were provided by the team's Hungarian co-owner, Jeno Rujp. The Commerce race was the second NHRA event that Rujp attended with the team. His first visit to the Houston race was followed by an opportunity to travel back to Americus, Ga., on the Sovereign-Star Racing transporter with several of the crew members.
"I think Jeno had a fantastic time at his first two NHRA races! He was able to get to know our team and racers, and he got some great photos for us at the track. He got to see a little bit of the country, too, while he was here," Bryce said. "We're glad he'll be here again for the next race in Englishtown."
At Commerce, the Sovereign-Star Racing drivers, Scotty Pollacheck and John Hall, qualified 9th and 10th, respectively, in the Pro Stock Motorcycle class, despite running in the 7.0's during qualifying. However, the crew improved both bikes' performances to run in the 6.90's on Sunday in Eliminations.
"Even though the qualifying runs we made got us in the show, they mainly just frustrated us because we knew the bikes weren't performing at their best," Bryce said. "But, we slept on it and pondered tons of data from winning rounds in 2008 and found gearing, jetting and round-by-round history with runs getting better each time, instead of slower. After the changes we made, both bikes picked up a ton! Scotty's bike made so much power that it drove through the clutch for five gears. John hit the limiter in second gear for a while and still went 6.97."
Pollacheck said. "We struggled a little bit in qualifying, but in the midst of that we fixed some things. We went faster Sunday than we did all weekend."
Pollacheck took the hole-shot win in Round 1 with a 6.983/187.68 against LE Tonglet on his GT Racing Suzuki. Hall, who redlit against Karen Stoffer in the first round, ran a 6.971/189.34.
"In the first round, we got our tune up right; everything was right except for me," Hall said. "We both staged at the same time and it threw me off a little bit. I just anticipated the light, and it threw my timing and concentration off just enough to mess me up."
In Round 2 Eliminations, Pollacheck faced #1 Qualifier Hector Arana on his Lucas Oil Buell. Arana took the win against Pollacheck with the quickest run of the weekend at 6.863/195.28.
"I think that the biggest and best thing was qualifying # 9 again and winning the first round again from the #9 spot," Pollacheck said. "We beat a very formidable opponent in 2010 Pro Stock Champ LE Tonglet." Pollacheck also qualified 9th and won Round 1 at the Pro Stock Motorcycle season opener in Gainesville, Fla.
"We've made a lot of improvements since Gainesville – driving wise, clutch wise, tuning wise," Hall said. "So, I think we have a good shot of doing something at Englishtown. Even though we went out in the first round, there are still a lot of positives. We just need to get ready for the next 13 races."
Pollacheck is currently #8 in the Full Throttle Series Point Standings, and #11 Hall trails the Top 10 by only 7 points.
"The future is bright and we are gaining on them pretty darn quick. We ran as quick as the runner up – Michael Ray – every round," Bryce said. "John had his career best run, Scotty won a round, we got a small Wally – which is very hard to get out of 400 cars and teams – and we qualified at every race so far."
The team's next appearance will be June 1-3 at the 43rd annual Toyota NHRA SuperNationals in Englishtown, N.J.
The Sovereign-Star Racing Team would like to thank the following sponsors: Sovereign, Star Racing, S&S Cycle, Daytona Sensors, Worldwide Bearings, Americus Motorsports Complex, Who's Up Next?, and Quality Tire.