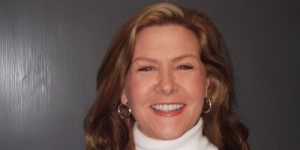 Carrie Seifert Tate a.k.a. "The AMAZON" set a new record for a female pilot on a Nitro Harley running a 7.29 @ 168.45 mph in the quarter mile this past weekend in Rockingham, NC.
The AMAZON starts the AHDRA season opener as the #2 qualifier after running a 7.460 @ 174.03mph  at Gainesville, FL, on her 121 cubic inch Hawaya Racing Pro Drag Nitro Harley-Davidson.
Facing the one and only Rocky Jackson of Rockstone Racing in the semi-finals, Carrie knew she had her hands full.  "Rocky is a fierce competitor and a great rider", says Carrie. "I knew I had to be on my game to beat him.  I was really looking forward to running with him.  Apparently, it wasn't meant to be.  My Nitro stallion, I affectionately call Brutus, was running strong when we started him. However, when I grabbed my rear brake so the guys could bring him down off the stand they realized we had a clutch problem.  We had to shut him down and let Rocky make a bye run.  It was disappointing for the whole team, but that's drag racing.  Next time, Rocky!"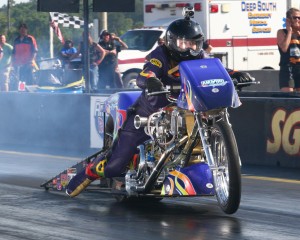 At her second AHDRA race at Rockingham, NC, The AMAZON was able to qualify 5th with a 7.49 @ 160.29 mph.  It was a very competitive field. During the first round of eliminations she was lined up with Steve Pier who had won at Gainesville and the current #1 in national points. Carrie ran a 7.356 against Steve's 7.540.  The AMAZON was going to the semi finals!
Carrie was heading in to the semi's going up against the #1 qualifier the legendary Mark Cox. After the dust cleared the AMAZON ran a 7.29 setting a new record for a female Nitro Harley pilot.  Mark won the match up with a very quick 7.167.  "It was an honor lining up with Mark", Carrie said. "He and his team are true professionals.  I had my mind focused on the task at hand as I threw my leg over Brutus.  My run was crisp and straight as an arrow, but not enough to beat him.  He made a wicked fast pass.  I look forward to lining up with Mark again in the near future."  He and his team went on to the Winner's Circle.  Congrats, Mark!
All in all it was a great start of the season for Carrie and the AMAZON Racing Team out of Mount Vernon, Arkansas.
We appreciate our sponsors:  Engineered Performance Tooling, Beene's Baggers, Conway Collision and Superior Interiors.  Thanks to Johnny Vickers, Steve Vickers and Leanne Purvis of Hawaya Racing for building this wonderful bike.  We thank the passionate Harley drag racing fans who come out and support our wonderful sport!