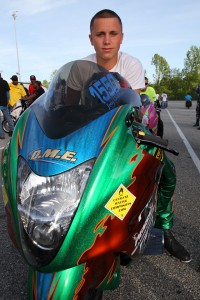 When longtime Mickey Thompson MIRock Superbike Series racer Dimey Eddinger decided to step out of the seat of his DME Racing sponsored Orient Express Pro Street bike, he probably didn't expect the move to pay off so quickly. But new DME Racing rider Joey Gladstone joined the elite 6 second club and followed through with DME's first Pro Street win at the Fast By Gast Spring Nationals at Maryland International Raceway.
It was only last October that MIR's super sticky track surface delivered the world's first 6-second, quarter mile, streetbike pass, and Gladstone and DME are only the fourth combination to cross this exclusive barrier.
Qualifying started off with a near disaster for Gladstone, as the oil filter blew off in the burnout box. As Joey shot towards the starting line, a wide layer of oil sprayed out under the rear tire and the bike slid out from under him. DME bikes always sport some of the finest paint jobs in the pits, so seeing the beautiful Suzuki Hayabusa on the ground made everyone wince. "I cracked up Dimey's nice bike, messed up my leathers, and cost a couple thousand dollars worth of damage," groaned Gladstone, who recovered to qualify third in the field.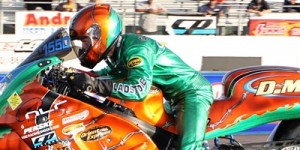 Gladstone opened eliminations with a win over DME teammate Greg Wallace, then took out Shannon Maylee in round 2. Gladstone was scheduled to meet recent record holder Bud Yoder in the semi, but Yoder blew his second motor of the day in round 2 and failed to show. It was then, with a broke-bye to the final, that Gladstone nailed the 6.994 at a record 211.23 mph. At DME's previous race in Valdosta, Georgia, Gladstone rang up a 213.94 on the mile-per-hour scoreboard, so the DME 'Busa is no stranger to big speed.
"When we came here to Maryland on Thursday, we did some testing, and we were just wanting to be consistent and not be greedy," said Eddinger. "We took power out and just kept it smooth. We were trying to make a decision on whether to add power, and as the weekend went on we were having some wheelie issues on some of the passes. It was just because of the weather, so we kept with the plan and everything came through and it turned out real well."
Gladstone met two-time Pro Street champ Rodney Williford in the final. Williford became the world's third 6 second streetbike pilot on Saturday, qualifying number one for eliminations. But Williford spun badly right off the starting line in his earned semifinal bye run, and his final round launch looked for all the world like a rerun of the semi. In the other lane, Gladstone streaked down the track for the first Pro Street win for both him and DME. "These DME guys really came together and gave me a helluva bike," said Gladstone. "They made it really smooth, really easy to ride, and it's fast too man! It's awesome. They're an awesome team, real fun. To come back from dumping the bike, go a 6, get a mile-an-hour record, and to win the race is just unreal. As a team, these guys have really come together."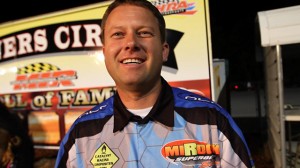 "Getting off the bike is a decision I made last year and I'm glad I stuck with it," said Eddinger, who—though not a big man—still packs on a few more than jockey-sized Gladstone. "It's about a 45-50 pound weight difference. I used to be smaller, but now that I'm not riding I can eat more freely!"
Former AMA/Dragbike Supersport racer Gladstone had only one other Pro Street appearance to his credit before this season, so a win and a record so soon bids well for things to come. "My last win was about two years and two months ago in Valdosta, 2010, in Supersport," said Gladstone. "I've been in a bunch of finals since then but haven't gotten a win."
"We came close to winning several but never came through," Eddinger said about DME's Pro Street history. Eddinger was a winner in Pro Sportbike, a class that was replaced by the longer wheelbase Pro Street bikes a few years ago.
For most of the last two years, Gladstone has raced in the class that fills the gap between Supersport and Pro Street—the DME sponsored Real Street class. "Compared to the Real Street bike, of course the power is different," said Joey, who is in school for mechanical engineering. "You can feel it a whole lot more. The Real Street bike sits a lot higher, and you feel like you can lean over a lot more on it. But this bike's cool 'cause it's got a throwaway clutch. It's like a Pro Stocker, a Pro Stocker with a turbocharger.
"I want to thank Dimey, team crew chief Andy Sawyer, and Cole Seitzinger from Penske. He came here with a brand new shock, got it all right for us, got our 60 foots down, and hung out all weekend with us. He's a great guy. And I gotta thank my parents. They make this possible. I couldn't do this on my own, they're the entire reason that I'm out here."
Eddinger also wanted to thank Andy Sawyer, Penske, his own DME Racing, MPT Oil, Catalyst Racing Composites, NLR, Vanson Leathers, CP/Carillo, and Joey's dad Skip Gladstone. "Skip's been a real big help to the team. I also especially want to thank the people who help support DME Racing and all of our customers that make it possible for us to do what we love to do everyday."
Joey Gladstone and Dimey Eddinger thank DME Racing http://www.dmeracing.com/ , Penske Shocks http://www.penskeshocks.com/ , MPT Oil http://www.mptindustries.com/index.htm , Catalyst Racing Composites http://www.catalystracingcomposites.com/ , NLR http://www.nlrsystems.com/ , Vanson Leathers http://www.vansonleathers.com/ , and CP/Carillo http://www.catalystracingcomposites.com/
The DME Racing Team races next back at Maryland International Raceway for the Fast By Gast Summer Showdown, June 2-3, 2012
Results: http://www.mirockracing.com/results/2012/race2-mir/sunday/ORIENT_EXPRESS_PRO_STREET_2012-04-29.html
Find out more about the Mickey Thompson Performance Tires MIRock Superbike Series at http://www.mirockracing.com
This report was prepared by Tim Hailey. High-res images for editorial use are available by e-mailing timhailey@earthlink.net . Enjoy everything there is to read, see and watch about motorcycle drag racing and more at http://www.eatmyink.com