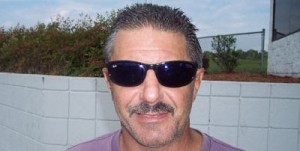 Larry "Drums" Brancaccio and Bammer Racing had one of their more exciting races with the AHDRA and most of the excitement was in transit TO the track.  Even if you're a serious nitro fan, sometimes we don't realize how much is involved with just getting to the track. There's hours and hours of preparation, rebuilding parts, going through almost mind-numbing (to me) reading and reviewing computer downloaded information and then re-adjustments to that data. THEN you have to pack, secure and prepare the rig and actually leave on time to be at the track a day early to complete registration, unload and be ready to race about the time fans start packing coolers at home and making one more stop for ice.
When cruising down I 95, just south of Richmond, VA with the Bammer trailer attached (or so they thought) to the 38 foot home on wheels, a frenzied Mom and daughter pulled up beside the RV and waving hysterically. When Crew chief, Michael Hopkins looked in the rear view mirror, there was NO trailer. Check out www.bammerracing.com for the results of a broken trailer hitch. Amazingly no one was hurt, the bike was totally unscathed and only limited clutter to clean up inside the trailer.  Many thanks to the Virginia Highway Patrol, a local wrecker Service and the Capone Race team who quickly gathered roadside to offer assistance when the cell phones started ringing.
Once arriving at the track, Brancaccio qualified the Bammer Screamin Eagle Top Fueler although computer/shifter problems held the team off their standard pace at the AHDRA Carolina Spring Nitro Nationals presented by Carolina Harley-Davidson Dealers Assoc at Rockingham Dragway, Rockingham, NC.
Bammer Racing invites all of their fans to join them at ATCO Dragway,Atco, NJ,  May 19-20th for the AHDRA Northeast Nationals, the show must go on. See ya' in the pits.
Track Info
Atco Raceway – Elevation: 93'
1000 Jackson Road
Atco, NJ 08004
Phone 856-768-2167
Bammer Race Team consists of:
Drums Brancaccio
Crew Chief: Michael Hopkins
Dickie Roberts
Joe Wysocki
Richard Murray
Sponsors for 2012 include:
Central Metal Fabricators www.CentralMetalFabricators.com
Anthony Augliera, Inc  www.augliera.com
Richard Murray
Keith's Custom Seats  www.keithscustomseats.com
World Wide Bearings  www.worldwidebearings.com
Capone Landscape  www.caponeracing.com
Vanson Leathers  www.vansonleathers.com
Tattooville Tattoo  www.tattooville.com
Autolite   www.autolite.com
phone 973 667 8504
website. www.bammerracing.com