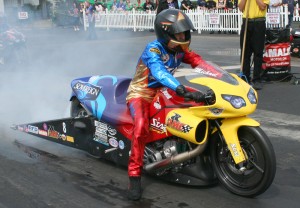 After more than a month off for the NHRA Mello Yello Series Pro Stock Motorcycle class, Sovereign-Star Racing drivers Michael Ray and Scotty Pollacheck are ready to hit the track again this weekend Aug. 30 – Sept. 2 for the Chevrolet Performance U.S. Nationals at Lucas Oil Raceway in Indianapolis, Ind.
"I think we're very well-prepared for Indy. We have a good handle on the engines now. Both drivers know what they have to do. I'm going to do my best to keep them in the present, because Indy is always distracting since the media, the fans and the history of the event begs for attention. We also have to pace ourselves because we don't race until Monday, and we're already excited on Thursday," Star Racing owner George Bryce said.
The U.S. Nationals is the last event before the six-race NHRA Mello Yello Series Countdown to the Championship begins on Sept. 13 with the NHRA Carolina Nationals at zMAX Dragway in Charlotte, N.C. The top 10 drivers in the points standings after this weekend's U.S. Nationals at Indy will compete during the next six races for the 2013 NHRA Pro Stock Motorcycle Championship title.
The Sovereign-Star Racing teammates have remained in the top six of the Pro Stock Motorcycle points standings for last six races. Ray is already locked into the Countdown at the No. 3 position, and Pollacheck is currently No. 6.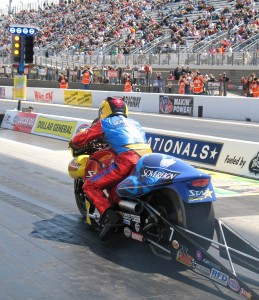 So far during the 2013 NHRA season, the S&S Cycle-powered Sovereign-Star Racing Buell motorcycles have claimed two national event wins, five final round appearances, two No. 1 qualifying positions, two low ETs of the event, and a new track speed record. The team plans to use what they have learned through these recent successes to continue their momentum throughout the rest of the season.
"I'm excited about Indy! I think the break really allowed us to take some time to regroup both mentally and physically. We had gone so hard, so fast and had such success that it was a good opportunity to have a fresh start going into the Countdown," Ray said.
During the long break between races, the team had ample time to test and fine-tune their engines on their in-house dynamometer and even squeeze in a few track days for the motorcycles near the Star Racing shop in Americus, Ga.
Since it is always scheduled during the Labor Day holiday weekend, the U.S. Nationals event adds an extra day to the normal three-day NHRA race weekend. The U.S. Nationals schedule includes one qualifying session on Friday, two on Saturday and two on Sunday. The event concludes with final elimination rounds held on Monday during the Labor Day holiday.
"I think you just have to take it day to day. It's a really different setup and race program (than normal). Fortunately for me this year, it's a 'free' race because I'm locked into the points (Championship Countdown) already. We are 100 percent racing for a trophy, so I say let's just see how fast we can go and enjoy Indy for what it is," Ray said.
"I'm just going to be in my normal routine. I want to ride as well as I can and win every round that I'm in. I don't think any of that really changes because of the Countdown coming up or the long Indy weekend ahead," Pollacheck said.
Although the stakes seem a bit higher at the U.S. Nationals every year with the Countdown looming, the teams remain focused on making one great pass at a time as they inch closer to that championship position.
"It feels the same no matter where we are in the points, because we want our guys to win regardless of what place they are in. Having said that though, it feels pretty cool this year having two players for the championship, because that means our team makes up 20 percent of the Countdown," Bryce said.
The Sovereign-Star Racing teammates will compete this weekend Aug. 30 – Sept. 2 at the Chevrolet Performance U.S. Nationals at Lucas Oil Raceway at Indianapolis. Television coverage on ESPN2 will begin with qualifying sessions from 1-6 p.m. (EST) on Sunday, Sept. 1 and final eliminations from 12-6 p.m. (EST) on Monday, Sept. 2.
The 2013 Sovereign-Star Racing Team is a partnership between Georgia-based Star Racing and the Hungarian-based Sovereign Racing Team, the 2011 UEM European Pro Stock Bike Championship Team, owned by sugar distributor Jenõ Rujp.
The Sovereign-Star Racing Team would like to thank the following sponsors: Sovereign, Star Racing, Americus Motorsports Complex, S&S Cycle, Daytona Sensors, Worldwide Bearings, CP Pistons, Cometic Gaskets, Quality Tire, and Uncle Hal Gottspeed Racing.
Star Racing Fast Facts:
·         Based in Americus, Georgia
·         Six-time NHRA Pro Stock Motorcycle Championships
·         80 NHRA national event wins with 10 different riders
·         Owned by George & Jackie Bryce
Sovereign Racing Team Fast Facts:
·         Based in Budapest, Hungary
·         2011 European Motorcycle Union (UEM) Championship Team with rider Jesper Thiel
·         Owned by Jeno Rujp
Scotty Pollacheck Fast Facts:
·         From: Medford, Oregon
·         Job: Owns "Quality Tire" store
·         Years in drag racing: 27
Michael Ray Fast Facts:
·         From: New Braunfels, Texas
·         Job: Harley-Davidson Motorcycle Salesman
·         Years in drag racing: 11