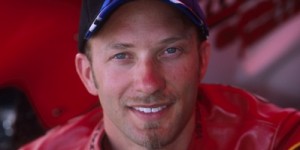 Even though the 2007 NHRA Full Throttle champion, Matt Smith is third in the Pro Stock Motorcycle point standings, Smith needed sponsorship to keep going. After losing his main sponsor Al-Anabi Racing less than a month ago, Smith knew without a sponsor he couldn't continue racing this year.
After working long and hard in such a short amount of time, Smith found a few sponsors to help get him through these next races. Smith's primary sponsor will be Best Tech Brands and FastSharkSupply.com, as well as an associate on his wife, Angie Smith's Buell. And with Red Line Oil, Wilson Concrete and Senecal Construction stepping up, Smith knew he could hit the road for the Mile High city.
Best Tech Brands is a Houston, Texas based company and they are in the process of launching their new product called Synergyn. Synergyn is a fuel additive for gasoline and diesel engines.
Best Tech Brands, which is associated with Yonke Motorsports, will team up with the Smiths for Denver and Sonoma with hopes of carrying forward beyond Sonoma.
"We want to promote these new products through drag racing," said Bob Yonke. "And we thought what better way than to team up with Matt Smith and Angie Smith, who are proven winners; and not only promote Synergyn, but help Matt win a championship during the process."
Yonke, who represents Best Brand Tech has also partnered up with FastSharkSupply.com and Gary Lee Gregory on this business venture. Gregory is the Owner/President of FastSharkSupply.com, which is a global distribution company of quality products, tools and parts for the auto, marine, recreational and heavy equipment industry.
"Fast Shark Supply is very excited about our partnership with Matt Smith Racing and Yonke Motorsports," said Gregory. Gregory is the Team Owner/Driver of KALMAK RACING, who will debut in the Pro Stock car class at the Mac Tools U.S. Nationals in Indianapolis later this year. "We are looking to do more races, but will take it two at a time for now. FastSharkSupply.com and KALMAK RACING look forward to being a part of Matt winning another NHRA championship. This is truly a great opportunity for all of us and the timing was perfect. Matt is a great guy and we look forward to watching him win."
Advancing to the final in the last two of three races, Matt Smith has launched himself into just three rounds shy of the NHRA Full Throttle championship point standings.
"I can't thank everyone enough," said Matt Smith, who won the 2007 and 2008 races at Denver's Bandimere Speedway. "We are so excited to be promoting Synergyn for Best Tech Brands and FastSharkSupply.com, with Red Line Oil, Wilson Concrete and Senecal Construction stepping up as well; we are pumped and ready for the West coast. We have worked our butts off to get here and we want to make our sponsors proud for helping us out, so we will do all we can to win for them."
And with Angie Smith just three rounds out of the top 10, the husband and wife duo will be the ones to watch out for on the West Coast.
"I am pumped that we get to go out West," said Angie Smith. "We have had a great bike the last few races, but have just come up against the wrong opponent. We will work hard on qualifying better this weekend and trying to go some rounds. There are only a few races left before the Countdown to the Championship cut-off, so every pass counts."