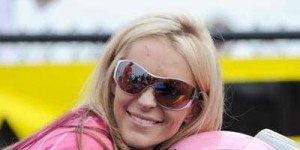 Despite a night of hard work and the belief the gremlin had been found, Angie Smith's Buell was unable to complete the pass in Round 1 of eliminations at Route 66 Raceway in the NHRA Full Throttle Series Pro Stock Motorcycle class. In a rematch of last year's semi-final round here, defending event winner and class champion LE Tonglet once again took the victory.
"Well, we worked really late last night and we really thought we found the problem," Smith said from the Matt Smith Racing pit following her exit from the O'Reilly Auto Parts Route 66 NHRA Nationals. "I went up (to the starting line) and had a lot of confidence that my bike was going to go down the track. I went to shift the 1-2 and had to stab it three times and I wasn't happy. Then it didn't shift into fourth. I don't know. We're going to have to go home and take the whole bike apart, but we're going to figure it out."
Another big problem for both her and her team owner and husband, Matt Smith, is lack of funding. As of now, it is unknown whether either rider will be able to make the trip to Denver in a couple weeks.
"Hopefully, we can get some funding to go to Denver," she said. "We're kind of fifty-fifty right now so if you know anybody, give us a call! For a small amount of money, you can be on one of these Pro Stock Motorcycles."
Matt Smith was able to avenge his E1 loss from last year at this event by making it to the semi-finals Sunday, but was also taken out by Tonglet in a very tight race.