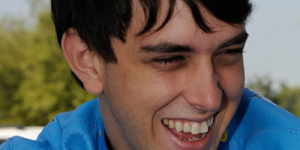 For a guy who grew up in a drag racing family, LE Tonglet recently found himself in an unfamiliar place at the races – on the sidelines. It was a visit he never wants to repeat.
The reigning NHRA Full Throttle Drag Racing Series Pro Stock Motorcycle champion was stunned he didn't qualify the Nitro Fish/Tonglet Racing Suzuki GSX-R into the starting 16 on June 26 at Norwalk, Ohio.
"It was the first time I didn't qualify (in NHRA competition)," he said. "It was weird being up at the starting line on Sunday with no driver introduction and without (racing) leathers. It really brought us back to reality and showed us how tough it is out here. You just can't take qualifying lightly."
There were extenuating circumstances – losing two qualifying runs to rain and a motor that wasn't performing as expected – but all that will be forgotten Friday when Team Tonglet returns to Route 66 Raceway for the O'Reilly Auto Parts Route 66 NHRA Nationals, Friday through Sunday.
It will be a special reunion for Tonglet, who will attempt to re-energize his quest for a repeat championship at the track where a year ago he scored his first professional victory.
"It's a really cool track," he commented. "I like it a lot … and I will never forget that first win."
He doesn't have the same feeling for his last result, which he pushed back into a corner of his mind. "I get better each day that goes by, but I won't be at 100 percent until we qualify at Joliet. We are still sixth in points (283)."
In the first five races, Tonglet was No. 1 twice (Houston and Atlanta), and he earned his first 2011 win at Atlanta.
"After Atlanta, we thought we would do really well the rest of the year," said Tonglet. "And then the race at Englishtown (N.J.) came around and we broke all our motors. We said 'oh, well, that's probably going to be the worst race of the year,' and Norwalk was even worse.
"Hopefully, this is the bottom of the pit for us and we can start coming back up. If something like this is going to happen, now is the time. You don't want to not qualify, but you really don't want to do it in the (six-race) Countdown to the Championship."
Tonglet began last season's playoff in seventh place before putting on an extraordinary title charge that included four victories. He also earned the Road to the Future (rookie of the year) award and joined Frank Hawley and Gary Scelzi as the only rookies to win series championships.
"We sent my motor to (builders) Vance & Hines and they were going to check it out," he said. "We should be fine. We just want to have a result here like we did last year."