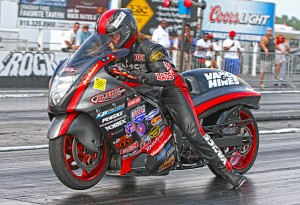 This Halloween weekend will be like no other, as the frighteningly good 2014 Mickey Thompson MIROCK Superbike Series comes to a close with the 16th Annual Lee's Performance World Finals at Steve Earwood's Rockingham Dragway in the autumn-cloaked Sand Hills of North Carolina.
Orient Express Pro Street champion Joey Gladstone has something to say to all the haters getting fatigued by his success—get used to it! Gladstone's shooting for his fifth straight MIROCK win on his DME Racing, turbocharged Suzuki Hayabusa as the 650 horsepower,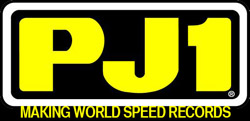 To do so, Gladstone will have to race past 3X champ Rodney Williford, newly crowned NHDRO champ Jeremy Teasley, Darion "Nanu" Payne, John Gover and Doug Gall, as well as his own teammates Jason Dunigan, Terence Angela and Ehren Litten.
The Pro Street championship may be settled, but the DME Real Street battle is full-on. Superstar Rickey Gadson has his turbo Kawasaki ZX14R hot on the tail of Jeremy Teasley's nitrous-huffing ZX14. Teasley's teammate David Merks is also in the mix, and Johnny "Turbo" Dobrin, Super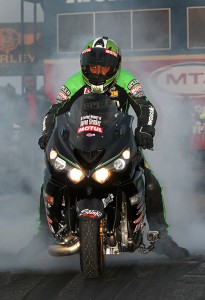 Dave Stewart, Eddie "Who" Chapman, Anibel Merced, Sherrell Blake and more will all be fighting for the win.
For the first time ever, MIROCK will run a 9.50 Streetfighter class, featuring streetbikes nailing the index. Veteran racers such as Stanley Russell, Fun For All Motorsports racer Ron Arnold and others will be going for the prestigious first win.
An annual highlight of the Lee's Performance World Finals is the Tournament of Champions, settled between the season's winners of Nitrous Express Pro ET and Brock's Performance Street ET. Bar none this is the hardest fought 2-wheeled battle of the year in any class, any sanction. These tough guys refuse to lose.
The world's quickest motorcycle index class—Louis Concrete 4.60—has a points battle as narrow as the margins of victory at the eighth mile stripe. Maryland racer Eran Pielert leads Ronnie Smith by 40 slim points, with Darryl Hollins close behind. Outgoing champion Kenny Cornnell, March winner Dale Nilles on his nitro Harley, Baybay Yarbrough and more will all be fighting for the win.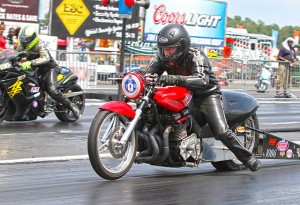 The FBR Shop 5.60 eighth mile index class gives its racers a full extra second to play finishline games. Michael Ostrowski has a healthy points lead over the hardest working man in motorcycle drag racing, Ben Knight. Kyron Drake and Michael "Ice Cold Killer" Herman Jr. will be amongst the others looking for a trophy and check.
Cycle Connection Crazy 8s is for streetbike combinations quicker than Streetfighter. Jeremy Teasley also leads this class and Ron Arnold is within striking distance. Gall, Clay Davies, Robert Parker and more will all be fighting to win this 8.88 index class.
Turbo 'Busa rider Brian Canoles takes a strong Trac King/APE Top Sportsman points lead to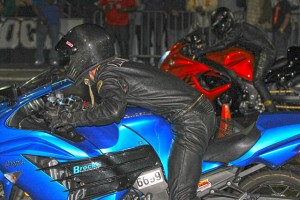 The Rock, but studs like Jay Windsor, George Shriver, legendary Virginian Boo Brown and Connecticut Kawasaki Kingpin Bob Carlson all will be fighting for the final win of the year.
In addition to the Tournament of Champions, Nitrous Express Pro ET and Brock's Performance Street ET will run Saturday and Sunday as usual.
And Saturday will heat up the nighttime chill with the energy that made The Rock famous—Afterdark Undergound's siren song of Big Money Grudge Racing. The East Coast's loudest trash talkers, longest bikes and edgiest riders will be out in full force at the spiritual home of motorcycle grudge racing.
This is it, the last chance for the thrills, chills and good times of the world's largest motorcycle drag racing series. Your winter will be tricked if you miss this treat!
Find out more about PJ1 motorcycle products at http://www.pj1.com/
Find out more about the Mickey Thompson Performance Tires MIRock Super Bike Series: http://www.mirockracing.com
Find out more about Rockingham Dragway: www.rockinghamdragway.com
This report was prepared by Tim Hailey. Photos are for editorial use only. Enjoy everything there is to read, see and watch about motorcycle drag racing and more at http://www.eatmyink.com