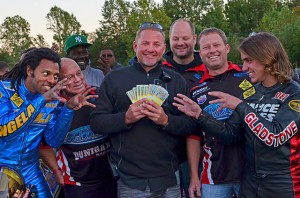 There have been two $10,000-to-win, Orient Express Pro Street Battle Royales and North Carolina-based DME Racing have won them both. When MIROCK Superbike Series promoter Jason Miller staged the first Battle at Maryland International Raceway last year, Terence Angela took the big check back to his Aruba home after riding his DME Racing turbocharged Suzuki Hayabusa to the win. This year he met DME teammate Joey Gladstone in the final and it was champion Gladstone's turn for Battle Royale glory.
The sport's first-ever 6.80 street tire pass dropped the week before the big race in Budd's Creek, and if Team DME was going to have a chance they'd have to get past the 6.90 barrier. It wasn't easy. Gladstone had to bump his way back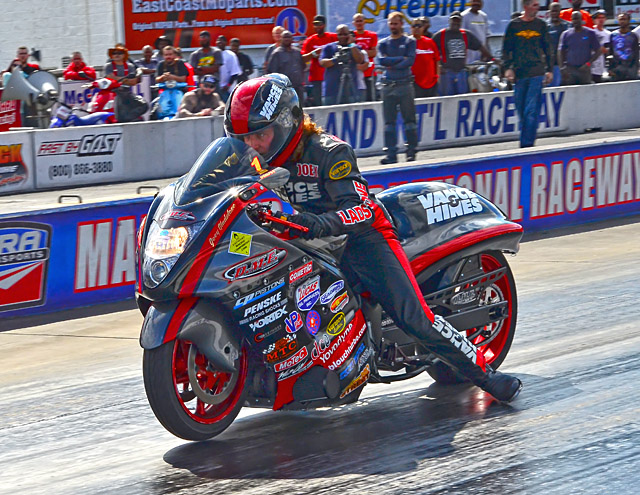 into the A field on his final qualifying pass, a dramatic 6.872 that shot him all the way to second. With the Battle Royale emptying the US and Caribbean islands of virtually every Pro Street bike in the Western Hemisphere, the competition was fierce. Many big timers struggled in qualifying and 7.0 bikes were sprinkled throughout Pro Street fields A, B and C.
DME's Ehren Litten returned from his August top end crash at Rockingham on a brand new, stealth gray, DME Racing Hayabusa. Litten qualified number two in the B field with a 7.17 and went on to win Pro Street B. Teammate Jason Dunigan qualified 15th in the A field and had to face Gladstone in round 1.
Joey Gladstone and the whole DME team thank DME Racing http://www.dmeracing.com/ , Penske Shocks http://www.penskeshocks.com/ , Catalyst Racing Composites http://www.catalystracingcomposites.com/ , NLR http://www.nlrsystems.com/ , Vanson Leathers http://www.vansonleathers.com/ , Lucas Oil http://www.lucasoil.com/ , CP/Carillo http://www.cp-carrillo.com/ , Web Cams http://www.webcamshafts.com/ , Worldwide Bearings http://www.worldwidebearings.com/ , Cometic Gaskets http://www.cometic.com/ , R&D Motorsports http://www.r-dmotorsports.com/ , VP Racing Fuel http://www.vpracingfuels.com/ , Dunigan Racing http://www.duniganracing.com/ , DCE http://www.wiringlooms.com/ , MTC http://www.mtceng.com/ , APE http://www.aperaceparts.com , Vance & Hines http://www.vanceandhines.com , Beringer Brakes http://www.beringer-brakes.com , and Blouch Performance Turbo http://www.bptstore.com
This report was prepared by Tim Hailey with photos by Genie Muldoon.
Enjoy everything there is to read, see and watch about motorcycle drag racing and more at http://www.eatmyink.com